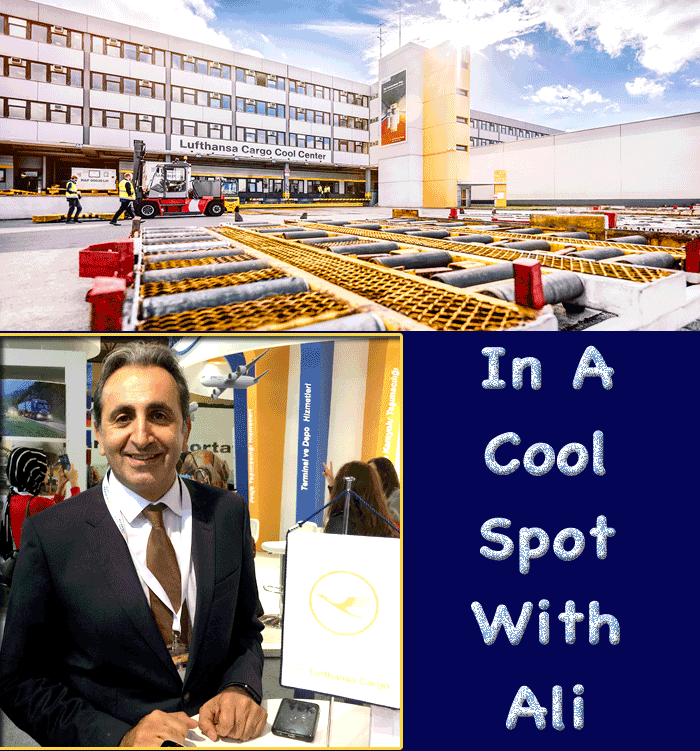 If you are looking for the action at Frankfurt Airport Cargo, a good place to start is the big Cool Center at Lufthansa Cargo. It has almost doubled in size during the last year, growing from 4,500 sq. m. to a mighty 8,000 sq. m.
In fact, Cool Center is Europe's largest fridge, claiming a capacity that is equal to the cooling space in more than 277,000 kitchen fridges. Coupled with the constant monitoring, that means no spoilage allowed!
Lufthansa has also added state-of-the-art, exclusive capabilities to the process of monitoring and tracking perishables and other temperature sensitive shipments that are expanding to its stations worldwide.
There are legions of people that make the Lufthansa Cool Center at Frankfurt Airport.
We spoke to someone who has been too cool for school since he came on the scene a few years ago.
Ali Önalan carries the title of Process Manager, Lufthansa Cargo Cool Center Frankfurt.
We met Ali at Logitrans in Istanbul. He began his air cargo career at Lufthansa building pallets in 1990. He was upbeat and animated as he described the advanced and exclusive activity that has driven Cool Center as a fulcrum of cool chain shipping in the world today.


Foundations of Cool

"The thing about cool shipping," Ali says, "is avoiding mistakes.
"It is also about more transparency across the supply chain.
"We have built a system that constantly monitors temperatures for any deviation and a quick response ability for the bioscience and health industries—for example, guaranteeing the constant integrity of sensitive substances from airport to airport within set temperature ranges."


More Digitalization

"Our software program (Spot), exclusively ours, opens a window of information to both Lufthansa Cargo and our customers.
"It is a one step at a time process to remove all paperwork as we move at warp speed toward digitalization," Ali declares.
"But now everyone is connected," Ali Önalan smiled.
Geoffrey