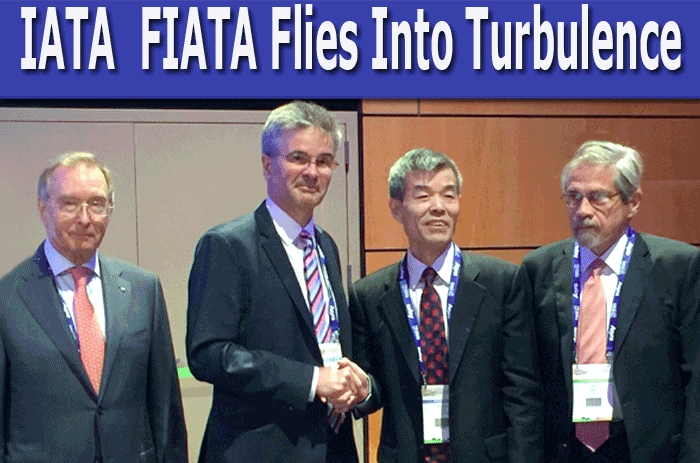 Signing the historic IATA FIATA accord at the FIATA World Congress in Dublin on October 7, 2016, from left to right—Jean-Claude Delen, FIATA; Aleks Popovich, IATA; Zhao Huxiang, FIATA and Rodolfo Sagel, FIATA.

The anticipated cooperative IATA/FIATA Air Cargo Program (IFACP) announced amidst hope and glamour at FIATA's World Congress in Dublin 2016 has apparently hit some turbulence in its takeoff pilot program in Canada.

What Happened?

Despite all hope and promise, the pilot program seems stuck in a holding pattern.
Sometimes the expected and unexpected thwart the best laid plans of mice and men.
In Canada, IATA and FIATA imagined that a small sample market made up of roughly 250 members of the Canadian International Freight Forwarders Association (CIFFA) would provide some traction to the new partnership, both by being large enough to provide a working template and also small enough to skip the downside push-pull associated with bigger markets elsewhere.
In mid-September the 100+ IATA Agents in Canada were notified in a joint letter from IATA and CIFFA of the implementation of the IFACP, and the requirement to sign the new IFACP Forwarders Agreement.
Well, guess what? The pilot implementation actually produced the kind of positive results hoped for, with 80+ forwarders signed up, and more importantly industry feedback! Both IATA and FIATA were impressed with the comments emanating from forwarders, constructive criticism so vital to ensuring the IFACP's design was ready for global roll out. Forwarders given the opportunity, let it be known that while they had great hope for the new paradigm, some tweaks were needed. Issues were highlighted of a technical nature and a forwarder's legal working group established to suggest amendments to the program's Forwarder Agreement and Handbook, all to better reflect the nature of today's carrier-forwarder relationship.

Ironing Out Issues

It is now in the hands of the program's governing board to iron these issues out, and next week the IATA FIATA Governance Board (IFGB) will meet in Dallas to consider the various revisions.
So stay tuned for upcoming issues, as FlyingTypers tracks whether IFGB has smoothed out the bumps in the runway, to allow the IFACP to take off.

Some Background

When the groundbreaking IFACP agreement was announced nearly two years ago, IATA FIATA said that the objective was "to review, refine, and re-engineer the airline forwarder relationship into one which would be managed jointly by airlines and forwarders.
"Major steps have been made and this collaboration has resulted in a joint IATA-FIATA Air Cargo Program, and significant strides in redefining airline and forwarder responsibilities," the happy couple proclaimed in 2016.

Can IATA FIATA Move The Marble?

During the last few months, issues emanating from the Canadian pilot have been reviewed, discussed and refined to a submission now on the agenda of the aforementioned IATA-FIATA Governance Board meetings in Dallas March 8, ahead of IATA's World Cargo Symposium, which debuts March 12.
As mentioned the IFACP objective is "to review, refine, and re-engineer the airline forwarder relationship." Neither the program's Agreement nor its Handbook are chiseled in stone; the IFGB has been delegated the authority and responsibility to amend these documents as required, so that they remain relevant to a very dynamic and evolving air cargo industry. Thus, there are positive expectations that under the umbrella of the IFBG, forwarders and airline delegates will demonstrate their commitment to the IFACP and its objectives, and bring a better future to the air cargo partnership, and a higher level of professionalism and service to the international traders served.
The Promise of Dublin

After all, the freight forwarder is the airline's natural and biggest single customer.
Time to break the mold, make some changes including positions, fulfill the promise of Dublin, and get to business we say.

IATA FIATA Accord At Start Up

"We are working with a common vision for industry collaboration and that is a break from the past," said Aleks Popovich, IATA's Senior VP Financial & Distribution Services, on October 7, 2016.
"This new agreement," said FIATA President Zhao Huxiang, "gives the air cargo industry the opportunity to continue to be progressive and successful."
Just like everything else, the launch of a landmark cooperation between IATA and FIATA has included no small measure of great expectations.

Delivered Keynote

When I spoke in Dublin in 2016 to accept my FIATA Fellowship, it was to a packed room of about 400 people. Sitting just below the stage were FIATA President Zhao Huxiang, FIATA's Jean-Claude Delen, who is credited as the architect of the IATA FIATA agreement, Glyn Hughes, IATA and some others including the aforementioned Aleks Popovich.
I had wondered then what a media guy could say to these people that might help the process along.
As it turned out, memories of delivering my newspapers around U.S. cargo areas in USA in the 1970s, first as The Cargo Paper and then starting in 1975 as Air Cargo News, formed the foundation for what I had to say.
I learned about air cargo by spending one week a month in New York, Philadelphia, Atlanta, Miami, Los Angeles, San Francisco, and Chicago between 1970 and 1995.
In addition to our mailing list, I would hand deliver our paper, college campus-style, to the airline and forwarder groups.

Help From Rodney Dangerfield

So as keynote at an historic accord, I thought I would channel the great comedian Rodney Dangerfield, who had a comedy gag line after every incident in his routine when he said:
"I tell you, I get no respect."
I learned immediately from my first-hand experience in and out of a thousand brokers and forwarder offices all over the U.S. every month for 25 years that forwarders, unlike their more glamorous airline brothers, get no respect.
So I went with that theme to set my remarks in motion.
You can read the speech below.
The hope is that IATA and FIATA will get beyond the talking stage and with mutual respect for each other and the good of air cargo, forge real change.
All of us need some good news out of Dallas this coming week.
Geoffrey