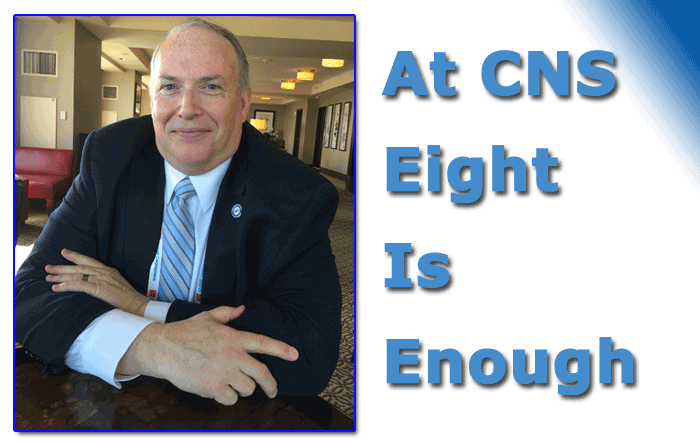 While IATA World Cargo Symposium continues in high gear in Dallas this week, many "Eyes of Texas" are already turning to the next big cargo event in the Americas. The CNS Partnership Conference is set for Palm Springs, California, at La Quinta Resort & Club, May 6-8.
Newly named CNS President Mike White sees opportunity and challenges ahead as he continues to direct his first big industry gathering into motion.

Eight Is Enough

Mike, who has served in various capacities at CNS, smiles when he says:
"I've had eight bosses in ten years." He refers to the extraordinary turnover of top executives that have served the organization during the past decade.
"My effort to stabilize the presidency is born in our scheme of direct reporting to the CNS Board, located next to our offices in Miami.

ACAS Looms Large

"Air Cargo Advanced Screening (ACAS), which requires data be submitted to U.S. Customs Border Protection (CBP) before cargo is loaded at a foreign airport, will be in effect and enforced within the next few months.
"CNS, CBP, and TSA are holding industry meetings to inform stakeholders of the change," Mike White said.

New Look CNS

In addition to adding speakers for the 2018 Partnership Conference from such diverse sources as American Trucking Association (ATA), Mike White says flatly:
"CNS will no longer hold sessions in a big hall with twenty people on a stage and fifty people in the audience.
"We are keenly aware that stakeholders want to mix and meet with colleagues and spend quality time with business partners and potentials during CNS Partnership.
"So for Palm Springs in May, after our opening sessions, the public meeting agenda will move into a part of the Exhibition Hall, inviting a natural proximity to both for all conferees so they can access whatever holds their interest throughout our three-day event."
More Contact: www.cnsc.net
Geoffrey