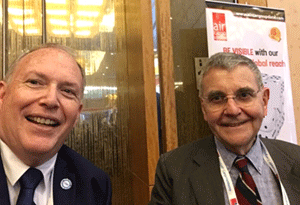 Most people who pay attention to these things recall that Tony Calabrese headed up Cargo Network Services (CNS) in the U.S. for a quarter century, serving as President for so long that often dear Tony is thought to have been first top officer of that organization.
Well, guess what?
First Board Member of CNS was Brian Barrow.
So what ever happened to Brian Barrow?
That's a good story and maybe we can tell it sometime, but for now here he is alongside current CNS President Mike White at WCS.
Turns out Brian these days is working from Geneva on that deal to bring IATA and FIATA together on their far-ranging, but yet to be delivered agreement to work closer together from here to eternity.
Can Brian in 2019 help bring air cargo together again, for the first time, like he did in 1979?
We sure hope so and besides, doesn't what goes around comes around, still apply?
Here is what Brian, as director of IATA Cargo Agency Program, said to us in 1991:
"As the years wore on and the industry moved out of the piston-engine era and into the jet era and then into the widebody era, the reasons for mutual fault-finding and sniping grew more complex even as the industry expanded, gained in sophistication and started to show real muscle. Still, while all this was building, there was indisputable consciousness on both sides that they were fated partners; they needed each other. If not exactly Damon and Pythias, their interests coincided—at least up to a point."
Here again is Brian, once upon a time, with some air cargo people who still shine in our memory and tug at our heart. Bob Crandall in the picture may not have been all that to air cargo, but he always stood up for CNS.
(L to R) first CNS President Jack Lindsay, second CNS President Anthony (Tony Calabrese), while original CNS Board Members Brian Barrow and Buz Whalen flank American Airlines CEO Robert Crandall.
Good luck Brian!