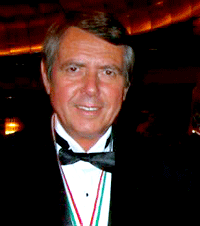 They are celebrating Karneval (Carnival) in Cologne, Germany this week, and during the festivities cargo is in the picture.
An indication of the importance of this Rhineland event each year is seen in a classic candid with Cologne native Jo Frigger, Chairman of EMO Trans, toasting the grand event.
We congratulate the Gala of the Cologne Karneval Association "Fidele Zunftbrueder" (freely translated- "Happy Guild Brothers") that marks its 100th anniversary in 2019.
The 2019 black tie event (many folks were in various costumes) took place at the Hotel Maritim in Cologne on February 23.
Here in America, Fat Tuesday is tomorrow, but Mardis Gras is well underway right now, in fact, full bore in New Orleans and elsewhere, as you read this.
All of this leads up to Ash Wednesday and the beginning of Lent.
For us, we cherish the thought of celebrating family & friends as another winter melts into spring, and life begins again.
Won't be too long until the scene shifts to Bavaria for the Spargel season.
Meantime, please pass the Crawfish Étouffée!