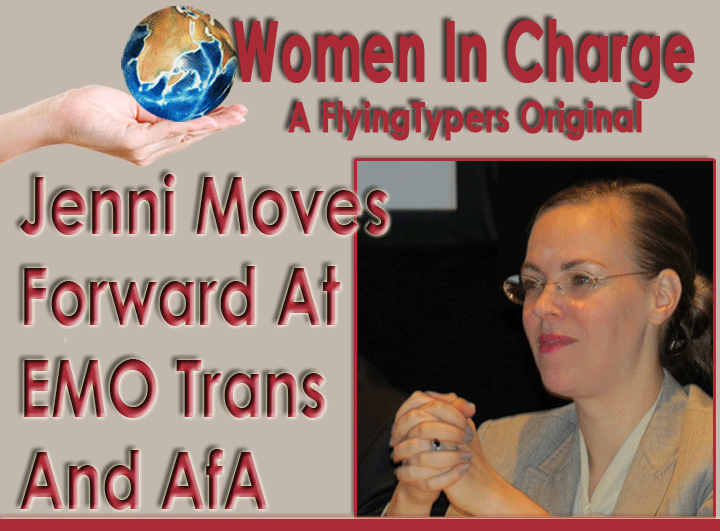 As the U.S. celebrates Women's History Month in March and the world celebrates International Women's Day March 8, Jennifer Frigger Latham, Vice President, Sales & Marketing at EMO Trans based in Long Island, New York is amongst the outstanding emerging women in global transportation.
Jenni, as she is known to friends & family and just about everyone else, just had returned from the important Airforwarders Association (AfA) AirCargo Conference in Las Vegas where she moved up her workload and duties for that 250-member organization accepting the post as AfA Vice President.
Jenni noted that the 2019 AfA event set record attendance, as the global transportation industry's preoccupation with uncertainty in markets comes into sharper focus.
"The hope is for greater political and economic stability, but increasingly the actions at AfA gatherings, whether in Washington or at our outreach events, (one scheduled in LAX later this month and one at JFK later this year), and of course our annual AirCargo event, empower our membership and everyone in the industry to better understand and to deal with the entire menu of transportation challenges.


EMO Hits The Road In 2019

"At EMO Trans, in addition to our AfA commitment that continues all year round, we are sending a team to the Cargo Network Services (CNS) Conference in Miami in May.
EMO Trans will also participate in Transport Logistic in Munich in June – where the sheer square footage and range of industry players is amazing.
"As we had at the last Transport Logistic event, we will have a booth and bring in an international group including our procurement teams.
"The economics of these events may be costly, but there is great value in sitting down with vendors and exchanging ideas among our industry partners. This is especially true because logistics touches every facet of the supply chain, and we are uniquely positioned to feel the ripples of challenges in the global economy. Finding solutions allows us to better serve our customers.


The Year That Was

"As EMO Trans wraps up our global results for 2018, we see that it's been another great year of solid growth for the entire organization.
"This result enables us to continue to make careful, wise investments in expansion and to gauge what the market and our customers need.


Recipe For Global Success

Established in 1965 in Stuttgart, Germany, EMO Trans has been on a path of continued expansion and success for over 50 years.
Currently with 87 offices in 19 countries and 250+ network locations in 120 countries, EMO fields a solid and flexible infrastructure tasked to deliver exceptional logistics services to customers large and small.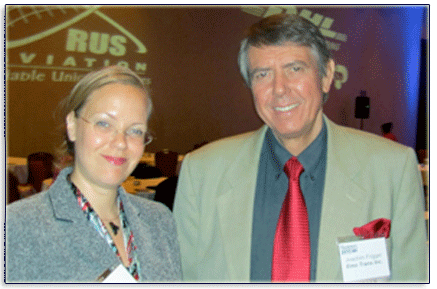 Privately Held

"We are a multi-national privately owned company, Joachim Frigger, EMO Chairman and guiding spirit (pictured here with Jenni) declares.
"We are deeply invested in understanding and internalizing the needs and goals of our customers.
"Our goal is to forge partnerships, ensuring that we are able to facilitate the most efficient, effective supply chain solutions possible," Mr. Frigger said.


Balancing Act

Jenni navigates life and business successfully, with two children and husband Paul, who is also part of the EMO Trans family.
Jenni was involved in the freight forwarding business from an early age, when she accompanied her father to the office during summer vacation.
She also worked in Germany in freight forwarding and has been in the business for over 20 years, during which time she completed her studies at the New School in New York with an M.A. degree.
Prior to her present position, Jenni worked in Freeport, JFK, and San Francisco, and was Branch Manager of EMO in Philadelphia. At that time she also served on the board of directors of the traffic and transportation club in Philadelphia.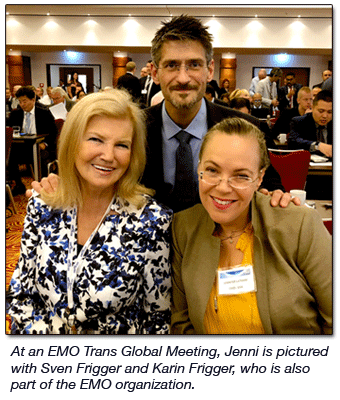 Manage & Deliver Data

At EMO, investment in IT has been a major drive.
Jenni says, "We always have to be aware of the changing environment in our industry, be proactive and pragmatic in our response to those changes.
"Innovation continues to be the lifeblood of strong economies, and while trends in the structures of supply chains are always evolving, social and cultural shifts are also impacting the expectations of those establishing supply chains.
"EMO Trans feels that investing in robust ways to manage and deliver data and visibility, will not only place our offering at the forefront of transportation, but also will be a driver as we develop new technologies to enhance the human experience, by meeting and exceeding our customers' goals and expectations.


On The Road Face To Face

"Going face to face is at the core of our mission to fulfill customer needs.
"In the interest of this strategy, we always have a number of visits by individuals planned globally, as well as group meetings in the U.S. and overseas.
"EMO team members at many levels routinely take the time to visit partners and customers to gain new business and solidify existing relationships.
"We hope that while away from their families, they enjoy the thrill of seeing new places and realize that we appreciate the sacrifice."


New Horizons

"We recently conducted a board meeting in Florida.
"Not only did we decide on new expansion, but also on our continuing path of succession planning.
My brother, Sven Frigger, has been promoted to Vice President – Compliance.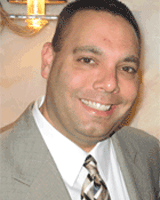 "Sven and his team have made a big impact on our compliance and ethics procedures.
"Sven will continue to be instrumental in keeping the business ethics and regulations, as well as the culture of EMO Trans on the forefront of our organization and will expand his responsibilities to our global network.
"Tom Bayes (left) has been promoted to Vice President – Business Development Asia.
"With his long time commitment and hard work living in, and then frequently traveling to Asia, he has created close ties to the partners and employees who make our Asia operations successful.
"Tom continues to foster collaborations that will bring us and our Asia operations into the future!
"I am excited about the work we will do together, in fact Sven, Tom and I will travel as a team to the Far East in April," Jenni says.
Geoffrey