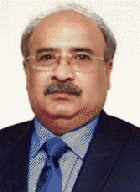 As the COVID-19 Pandemic continues to take hold in India, the major cause of worry that air freight forwarders have been facing—in the 21-day lockdown that India is going through—are the conflicting directives from authorities and regulators.
One challenge is payment of handling charges through IATA's Cargo Account Settlement System (CASS) to international carriers bringing or taking goods from India.
Sunil Arora, President of the Air Cargo Agents Association of India (ACAAI), speaking to FlyingTypers pointed out that more than 500 IATA-authorized forwarders would not be able to pay the cargo handling charges to the carriers if they were not given an extension.

India In CASS Pandemic Throwdown

The payments were due on April 1, and IATA has only given an extension of nine days until April 9. The extension time of nine days, said Arora, was not enough with the lockdown.
He said that the forwarders were not in a position to pay up the airlines according to the CASS calendar.

Need More Time

"We will start making the payment as per each due fortnight after 21 days, once the lockdown is withdrawn," he said.
According to ACAAI, around USD$2billion is sent through CASS every year.

Almost No One Paying

Almost all export/import units, along with export promotion zones have not been functioning.
To add to the forwarders' woes, clients have delayed payments.
So Arora has sent a letter to IATA India asking for more time.
"We request you to immediately advise IATA CASS to give 21 days' additional grace period from the due date of all the fortnightly CASS payments from March 16, for all ACAAI members, until the Covid-19 crisis is brought under control," the letter to IATA states.

Enlightened No Fault-Default Needed

Forwarders receive an 'irregularity notice' if they do not pay in within the allotted time.
And if a forwarder receives three 'irregularity notices', he is declared a defaulter with CASS and international carriers often refuse to work with the forwarder again.
Speaking to FT, Arora said that he was not looking for a waiver.
He emphasized that he was only seeking an "extension of the date, considering that our members are facing difficulty in getting payments from clients."
In fact, ACAAI has taken the case to the Prime Minister's Office hoping that the intervention from the top would help IATA make up its mind and give an extension.

IATA Stands Its Ground

For its part, IATA has said that banks were not part of the lockdown and since the payments had to be done electronically, the date would not be changed from April 9. IATA pointed out that it would do "what we can to avoid agents being penalized for failure to comply with the reporting and remittance obligations under their Cargo Agency Agreement in view of the force majeure situation in the country and around the world."

Congestion & Social Distancing

As if that were not enough, the country's air cargo stakeholders have demanded 100 percent waiver of all demurrage charges at all airports.
With the lockdown in progress and acute shortage of labor, cargo, both import and export, is stuck inside the terminals.
Almost all airports have reported congestion in the terminals with the Mumbai terminal suffering the most.
Air cargo stakeholders point to the Ministry of Civil Aviation order of April 1, 2020, that allowed a waiver of 50 percent of demurrage charges levied by airports until April 15.
However, the order had conditions, confusing forwarders and other stakeholders.
Tirthankar Ghosh