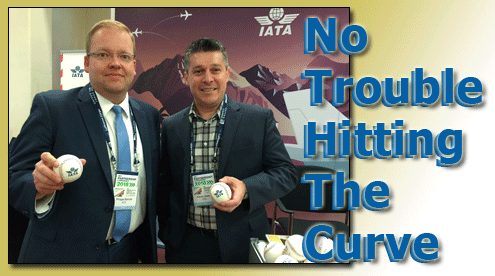 IATA was handing out baseballs at CNS Partnership last week with William (Will) Jimenez (right) and Philippe Siponen (left) on the mound pitching for better understanding of the agency's aggressive program to build world trade.
"Our powerful TACT Net Rates distribution system connects airlines and freight forwarders, privately and securely anywhere in the world, said Philippe.
"Airlines can now automate the creation and distribution of their rates, while forwarders are able to access all airlines' rates in one system.
"The benefits," Philippe continued, "of our standard data format and easy system integration to both airlines and forwarders, include accelerating the distribution of rates to market."
"It's all about improving efficiency, whilst cutting costs.
"Equally important this application reduces processing errors and rate disputes."
Will added, "We are also selling trade lane expertise so for example someone thinking of adding a new service can make a knowledgeable and informed decision.
"IATA is the leading business intelligence system for air cargo.
"Our data is transactional and updated all the time.
"We can tailor the information output to any market or geographic region.
Philippe and Will said, write or call them (41 227702062, 305-779-9852) assuring " a free no obligation demonstration," and not a curve ball in sight.
SiponenP@iata.org, jimenezw@iata.org, netrates@iata.org.