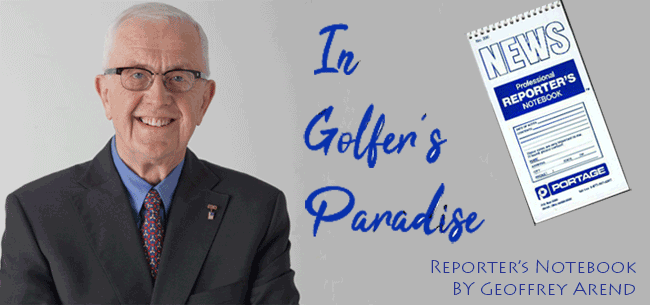 Here at CNS, we are surrounded with memories inside a golfer's paradise.
Even the hotel buildings called "villas" are named after golfers.
Lobbies in the villas and the walls inside hallways and rooms are lined with pictures of golfers.
So the Jack Nicklaus or Gary Player villa is also a trip through memory lane for any golfer or fan of old pictures.
There don't seem to be many snapshots of women golfers or a villa named after a woman, but that's another story.
There is an Ivanka Trump ballroom.
Also a dinner salad is named for Ivanka, that was actually pretty good.
At work night and day, writing and conducting interviews, just let the golfer or shall we say, duffer's heritage mostly ride, as I don't play golf much anymore.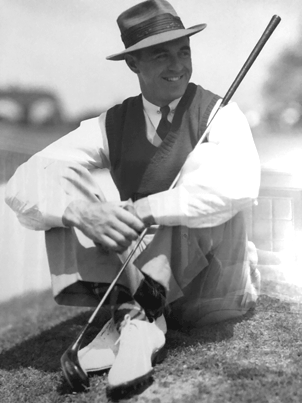 Walked into our villa early this morning, looked up and suddenly realized the guy in the pictures all over our villa is Slammin' Sammy Snead.
When I was a kid, Sam Snead was the golfer my Dad talked about all the time.
Snead and Ben Hogan.
I recall watching Sam play. He always wore a snazzy hat, used to tee up the golf ball and with a swing from another universe, launch a missile down the fairway on an arc that looked for all the world as if the ball was destined to land on the Moon or Mars.
I have not been speaking to my Dad as much as I would like to, since he went away.
As we all know, everything passes and time is relentless, but this week am talking and thinking about a rich and colorful past in golf with my father and grandfather in Toledo, Ohio.
Spent a lot of time at Sylvania Country Club playing golf with Dad and Gramp.
Later living and attending high school in New York, I was captain of the Newtown High School golf team.
I Iiked that gig because the school allowed an afternoon off to play competitive golf against other high schools and also earned us a couple of free Titleist golf balls (that I could never afford to buy at age 13) for every match.
After Gramp and Dad took off for the 19th hole, my interest in golf waned a bit over the years.
But today I went down to the lobby and asked everybody in sight, including the desk people if they knew, who Sam Snead was before he was a hotel villa here.
Everybody, always willing to be super nice and helpful here, smiled and shook their heads or offered us directions to our villa.
No one knew much else about this great champion who, for more than four decades, was truly one of the greatest players of all time.
But I know about Sam Snead because my father told me.
So for at least, a couple of days I have the added pleasure after meeting the fine people at CNS Partnership 2019, to spend a bit of quiet time for quite some lovely recollections and conversations during our CNS Florida stay
Geoffrey