Escape From Shelter In Place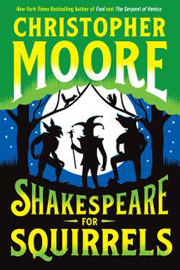 In a new book just out this week "Shakespeare For Squirrels" meets Dashiell Hammett in a fun and entertaining murder mystery from New York Times bestselling author Christopher Moore.
The book is an uproarious, hardboiled take on the Bard's most performed play, A Midsummer Night's Dream, featuring Pocket, the hero of Fool and The Serpent of Venice, along with his sidekick, Drool, and pet monkey, Jeff.
With too many suspects and too little time, Pocket must work his own kind of magic to find the truth, save his neck, and ensure that all ends well.
A tale of love, magic, madness, and murder, Shakespeare for Squirrels is a Midsummer Night's noir—a wicked and brilliantly funny good time conjured by the singular imagination of Christopher Moore.
Published by Harper Collins. For more click here.