This past Tuesday showed us just how important the elevated interest is in air cargo.
Over 1,600 people from around the world went online to hear from IATA on a webinar entitled, "Transport of cargo on aircraft configured for the carriage of passengers." That session, highlighted, prior to being held, here in FlyingTypers, delivered high attendance that among other things showed how much interest there is in the effort to use passenger aircraft for all cargo operations.
The number of carriers now using their passenger fleet for filling the lost passenger cargo belly space is growing daily and demand has been very high.

Need To Know

The webinar demonstrated the need for knowledge that IATA's own experts have been working on for the last few weeks. Members of IATA's security, ground operations, aircraft engineering, dangerous goods expert and cargo sections were all onboard the live call and provided the details that many carriers needed for guidance and to ensure security and safety were also being met.

Feed The Need

IATA provided a measure of just how drastic the cargo capacity loss of passenger belly space is and estimated that in the second quarter of 2020 that there will be an 82% belly space capacity loss.
This loss makes up approximately 65% of the overall global impact.
Flight cancellations through June 2020 will be a dramatic 4.5 million flights.

Safety First Credo

Safety was a component that still is the most critical area that continues to require a lot of attention.
Reviews of the recurrent training have been given some extensions, but emphasis was put on the need to follow standard operating procedures and incident reporting.
These types of abnormal operations also call for a real robust need to look at risk and implementation.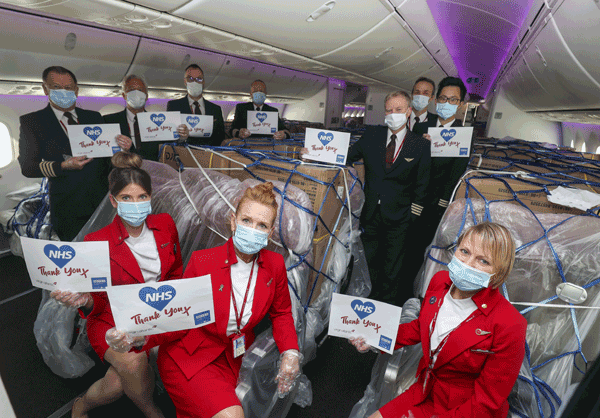 CIC Describes The Action

IATA went into the different ways to move cargo in the passenger cabin (CIC).
There was in-depth look at how to properly load cargo in the overhead bins, in the passenger seats and now the move by some carriers to remove the passenger seats and bulk load cargo secured to the floor.
The importance of regulators and manufacturers to ensure proper loading were explained.
IATA and other partners have been working with the FAA for these types of options.
It is expected that carriers regulated by FAA could soon remove seats from the cabin and begin loading cargo on the floor.
It was shown that just putting cargo in the cabin isn't as easy as some might think. The webinar went into further details on all the regulatory hurdles that a carrier must go through from government agencies including customs, dangerous goods handling as well as the civil aviation authorities.

Webinar Audience Involvement Solid

The overall event was in the details, but the audience attendance stayed strong throughout the webinar.
There were some interactive polls during the event that showed that there is huge amount of interest from those that registered for the event.
One of these polls showed that over 40% of the global audience were putting cargo in the seats today.
It looks like CIC will be in our future for some time to come as more planes are coming online almost daily.
It is evident there are a lot of bright people that have been working on the need for capacity and let's hope it helps not only the supply chain moving but also generates revenue for the airlines when they need it most.
Geoffrey