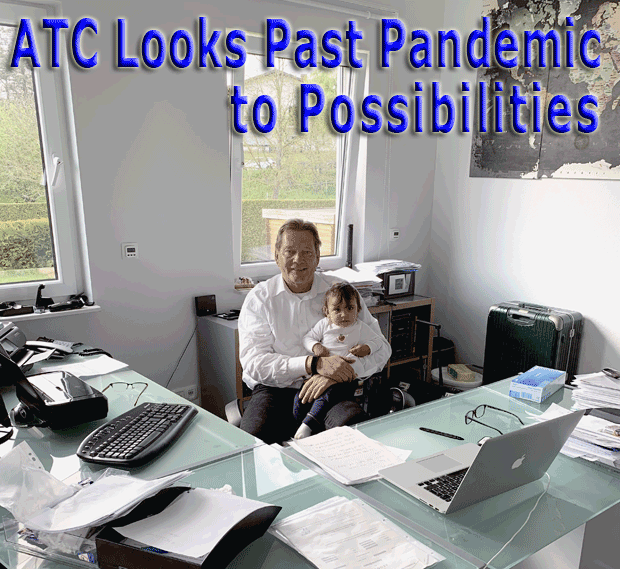 Ingo Zimmer pictured with his home office secretary Michelle.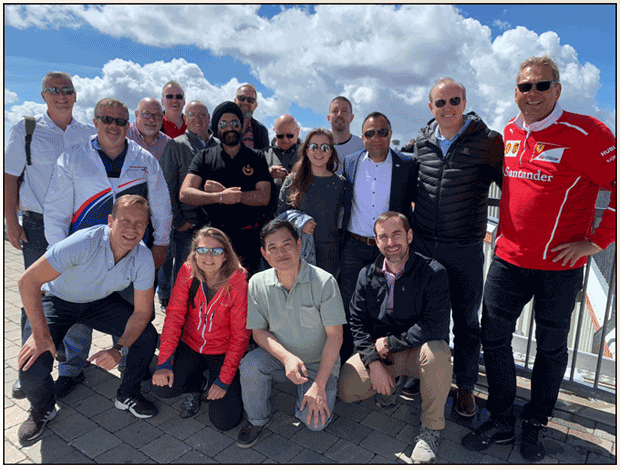 The worldwide ATC Team is pictured at a spirit building outing last summmer at the Zugspitze, the tallest mountain peak in Germany.
---
"The COVID-19 Pandemic has challenged us at this point on a sustained level as no time in history, but in our line of work we have remained flexible and kept our team on point to be both inventive and to be in close touch with our airline partners.
"The best surprise is no surprise so our top priority is transparency every step of the way before, during and after the lockdown.
"I am very impressed with the flexibility of our team to work remotely and also the support of our service partners in seeking alternative methods to keep the supply chains open.
"Now as we move forward we redouble our effort to be there for our partners every step of the way."
ATC Aviation President Ingo Zimmer could barely have imagined (as could any of us) the uproar to business and our very lives during this global pandemic of 2020.

Seen Clearly Now

But for his part, Ingo offers a perspective:
"We recall very well the Iceland volcanic eruption a decade ago in 2010 and the heavy impact it had on air traffic in Europe.
"Business has in the past also been impacted by fluctuating currencies and trade wars, plus political unrest in various parts of the world, most often thankfully not all going on at the same time," Ingo smiled.
"But COVID-19 has made us realize that while the action plan ATC has in place works, the challenge has necessarily brought out in all of us the heart and soul desire to be in this business."

ATC Redrawn Global Map of GSSAs

In just a few short years, ATC Aviation has raised the stakes and redrawn the world map of airline GSSAs.
That is no overstatement.
Today ATC has become a global player through internal growth and some key acquisitions in North and South America, Europe, and elsewhere.
But unlike others, ATC is not just about getting bigger.
Ingo puts it this way:
"We are about expanding opportunities via our growing family."
That "family" is an extraordinary collection of seasoned veterans and younger entry-level people that have been brought together by Ingo to create a new kind of 21st century air cargo company.
With a worldwide portfolio of more than 70 airlines in 27 countries, ATC is filled with energetic, spirited people out to do the job while radiating a can-do attitude.
The customer is king or queen at ATC, where nothing's impossible.
The thing you notice right away when spending time at ATC is the way each generation is in fact mentoring the other with their own strengths to create a level of service in the air cargo business that exists almost nowhere else.
"What that means to us is that ATC or 'Always Take Care' is much more than a mantra or a wish.
"To our team, being the best ATC is always job one all the time," Ingo Zimmer smiles.
"But right now, when it seems everyone's future is on the line every day, we are about much more than just everybody working together for our customers' overall good.
"We are advancing the form of air cargo expectations and service by people who put the customer first and always accept responsibility far beyond what is considered the norm."

Total Service Before, During & After Pandemic

"ATC means total service responsibility where we eat, sleep, and keep heads and hearts on each shipment, every day.
"The results have been dramatic.
"Although we suffered the yields challenge that swept across the landscape, at ATC we managed to inch ahead in 2019 during a time when others were pointed in the other direction.
"Now in 2020, with all the current challenges, we are committed to continue being the best GSSA," Ingo assures.

The New Deals

Just prior to the shut-down, ATC Aviation Services was appointed as cargo GSSA for Air Astana for all of Europe.
ATC for Air Astana in Europe operates from Paris, London, Frankfurt, and Amsterdam with four new offices offering coverage for Austria, Spain, and Switzerland as well.
Astana, the national carrier of Kazakhstan is headquartered in Almaty and offers both routes within Kazakhstan and international destinations in Europe and Asia with 34 aircraft.
"We continue to deepen our service offering as well.
"As example despite everything else going on, ATC now has a footprint in Hungary, Poland, Slovenia, and the Czech Republic with our own offices."

Hot Pepper ATC In Touch 24/7

"But right now, due to the missing capacities on passenger flights, we are working cargo-only flights, and also charter movements to meet demand.
"In addition to all kinds of cargo we are of course moving relief shipments of PPE, medical equipment, gloves, masks and the like.
"Our staff up and down is the most professional group in the world.
"ATC is an all-pro line up of ex-airline/forwarder cargo people and logisticians, plus a spirited, engaged, young and mentored staff with a single mission to be in contact and available 24/7. At ATC we are taking nothing for granted during the pandemic," Ingo declared.

2019—Customers and staff at the annual ATC Oktoberfest, and as Ingo says:
"Right now, when it seems everyone's future is on the line every day, we are about much more than just everybody working together for our customers' overall good.
"We are advancing the form of air cargo expectations and service by people who put the customer first and always accept responsibility far beyond what is considered the norm."
---
Getting Back to Business

"We can't wait for the start up again in 2020, to go back to growing the business of our airline partners.
"Sichuan Airlines—which we added lasted last year with twice-weekly Thursday and Sunday service between Brussels and Xian, China, has grown to six to eight flights weekly," Ingo said.
"Sichuan Airlines, based in Chengdu, the capital of southwest China's Sichuan Province, has an extensive trucking network that covers many major cities in China," Ingo added.
"Aircraft is an A330 Freighter and all of us at ATC are excited for the opportunity as 2020 unfolds, to be part of building this exciting new route," Ingo declared.

Long Promise Road

"During my 30 plus year career, I have personally been involved with many start-ups.
"Each one is exciting and really the beginning of a grand new adventure.
"To me, working with the young and dynamic people in air cargo today, plus being part of the launch of something new with an airline never loses its glamour and appeal," Ingo said.
"Where others may be a bit under the weather about the way 2020 has unfolded, and with all respect and care for people who have suffered, I see great opportunity for our industry.
"Undoubtedly, the manner in which we do things and some of the rules and procedures will change.
"Air Cargo, needs as an industry to not only play the hand it has been dealt in 2020, but also to look at what we have learned during the lockdown, and then move ahead and bring our business back," Ingo Zimmer said.
"It's really a challenging and motivating time," Ingo said.

On Leadership

"You have to set the example in all facets of the endeavor . . . for your staff.
"You must have a clear vision, goals and expectations.
"Sometimes you must make decisions that might not be understood, so it's crucial for a leader to communicate, to convey reason and transparency, trusting in his team.
"Most importantly, a leader must always show that he or she is a team player as well.
"A quick look at history depicts that very often, right or wrong, it is better to take a decision than do nothing at all.
"So the willingness to be sure you're right and then go ahead is also a key trait of effective leadership," Ingo Zimmer said.

Four Pillars A Better Idea

An outline for unearthing new talent to fill the ranks of his growing company is revealed as Ingo pulls out his PDA and reads an outline of a program he is actioning at ATC.
"I have this idea of how to move forward building ATC by simply reviewing my own career.
"I began as the cargo manager for Germany and rose to COO Germany/Austria, then became CEO of the entire company.
"It includes, of course, a total talent search, but first we look right in our own backyard for talent already within our company.
"ATC has developed into a global company with offices everywhere, with many people of separate and distinct cultures speaking different languages, and everyone has special talents and capabilities.
"'Cargo Au Pair' in my thinking will become a means to move people from various ATC locations within our system to other offices on a three-month mobility program of discovery.
"This movement of select staff, for example of ATC people from Germany working in America or from USA to, say, France, or any number of combinations of different markets, opens the door to better local knowledge in a market, revealing what it takes to be more effective in moving cargo between countries worldwide.
"I have also proposed that our global managers search throughout their staff as part of an initiative we call Talent Scouts.
"Talent Scouts will encourage certain staff to take on other job assignments to determine which job within ATC best suits their particular talent.
"Talent Scouts will serve within ATC as a means to both strengthen understanding but also to build better logisticians through cross training.
"The other aspect of our strengthening our ranks we call Global Talent Agency (GTF)," Ingo said.
"GTF would search the entire industry to find the best talented individuals who would either be a part of or want to join any number of specialized work-related career opportunities our growing company offers."
The fourth pillar in Ingo's "Better Idea" plan is Training.
Here Ingo Zimmer is encouraging mentoring between the senior and junior factions of the ATC family. His most respected group of professional talent that has come to GSSA from various other assignments and careers will "lean into" helping the next generation within ATC as they move up the leadership chain of the company.

Across The Bubbly Waves

Ingo Zimmer said, if not for air cargo, he would have loved to serve as a sea captain.
He professes a love for Cuba where he met his wife Yeliley.
The couple continue to celebrate the birth of their fourth child, a daughter born in January 2019, that they named Michelle.
He professes a love for fast cars but also finds time away from work at the family retreat in Andalusia "where I must force myself to turn off my cell phone at least for an occasional swim and quality family time."

Nice Guys Finish First

"ATC is my life and passion, alongside my wonderful family that exists for me at home, and at our offices inside Cargo City Sud at Frankfurt International Airport," Ingo Zimmer said.
He is a big guy, maybe six-foot-seven, with a quick smile and a way that makes life easy for all around, whether during a negotiation or out on a fun daytrip that finishes with beer and pretzels on top of a mountain in Bavaria.
Ingo is easygoing, so he views the world with no small amount of satisfaction.
Right now, from any measurement or height, Ingo Zimmer is sitting on top of the world.
Ingo Zimmer is respected in part because despite his standing and power in the business, he retains a quick sense of humanity and humor.
In every situation he comes across in the best way: human and caring.
It's nice to think about perhaps a meeting or a party as 2020 gets deeper where we may appear in masks as we go about elbow greeting instead of shaking hands.
Good to talk to Ingo and think, as he moves from success to success, that sometimes nice guys finish first.
Geoffrey