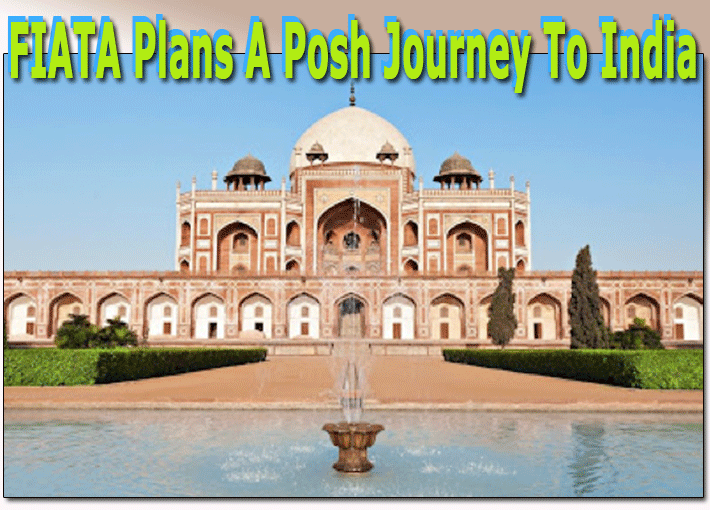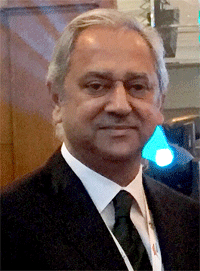 In March, FlyingTypers highlighted Babar Badat's agenda upon taking the helm of FIATA. He said that FIATA "has a growing role to play in the fast changing international transport environment.
"In recent years, FIATA has championed the need for better global connectivity.
"I intend to continue this momentum," President Babar Badat said in his exclusive interview for FlyingTypers.
Babar is a fine gentleman from Pakistan. His ancestral ties with India go back to pre-partition, when his family had businesses there as well.
Having taken his multifarious skills to lead a world class logistics enterprise today, it is only appropriate that he is the leader who will now take FIATA members to India, where they are promised to get a glimpse of what the future of logistics might look like.

Tech Savvy Entrepreneur

As an experienced entrepreneur, Babar Badat was ready to recognize the importance of investments in technology and infrastructure even before taking the helm of FIATA when he launched the "Connectivity Campaign" as the Chairman of FIATA's Advisory Body International Affairs.

Why Posh?

One of the accredited etymologies of the word posh, which today means elegant and rich, puts us back on P&O's ships sailing to India from the UK.
In the early part of last century, the "Port Out Starboard Home" (POSH) tickets allowed for a return journey sheltered from the scorching sunrays on the ocean, a luxury that those who could afford them preferred.
Even the other etymology, which gives the word posh Romani origin, takes us back to the Indian subcontinent, where journeys of the Romani people started centuries ago.

Out From India

India breathes the air of eternity. It is the country that produced some of the greatest love stories of all ages and one of its most significant monuments, the Taj Mahal, is the living signature of one such story. It's a story of magnificence, where love and passion can create a truly irresistible recipe for today's visitors, the FIATA members, and their families.
The Indian subcontinent is a land with the power to evoke color, mystery, sensuality, and strong feelings just by thinking of it.
The jungle, the cobras, the tigers, the elephants—who could resist these dreams and fantasies when we were children?

Delhi Dreams & The Future

That is just what is going to happen. Babar is taking his FIATA members to Delhi to live these dreams, bringing them to touch the reality of future logistics while it is in the making.
Believe me, watch the presentations and the movies that are available on FIATA's as well as the Congress' websites and let your mind spin with sheer power and electricity.
You will want to buy your ticket right away!
It will be POSH, but surprisingly not so expensive . . .

Planned Ahead

FIATA decided to set its own sails towards India some three years ago—when the FIATA guiding star was clearly pointing to Asia—by electing its first Chinese President, Zhao Huxiang in Taipei, and Babar Badat was getting ready to succeed him in Kuala Lumpur.
When all is abuzz like it will be in the days of the Congress in Delhi, you will surely be on the fast lane, but when the lights go down toward dusk, there will also be a certain longing toward more tranquil and serene atmospheres. This is precisely what the other side of India will bring: a more meditative and harmonious series of cultural events that will flow like the waters eternally streaming down from the Himalayas, giving the peoples of India life and solace before vanishing into the ocean.
Plenty of business then, but not only that. Culture will also show the many facets of the Indian tradition and lifestyle.

Take A Deep Breath

Having seen this already on my own, my advice is to give yourself the benefit of a few days before or after the Congress, so that you can let yourself sink into the exquisite pleasures of serendipity.

Growing The Business

Babar Badat's Pakistan as well as India have been growing at tremendous speed in the last few years.
India is rapidly taking a new role in the world in proportion to its population. "Make in India" has been as meaningful a watchword as the one-time "made in Japan" one used to be, for those of us who witnessed its explosive expansion some fifty or more years ago.
Earlier in the year, Badat took the FIATA Presidency members in Lahore for their Presidency meeting; now he's taking the FIATA members to Delhi for the Congress, a befitting opportunity for some, as historically Delhi and Lahore are sister cities and give a glimpse of the larger subcontinent.
All these ideas suggest that Babar Badat will open an impressive congress in Delhi, together with his Indian friends of the Organising Committee, led by Debashis Dutta and FFFAI, Ashish Pednekar's organisation, which successfully competed to bring this premier international event to the country.

Founding Father

Mr. Badat is the Founding Chairman of Pakistan International Freight Forwarders Association (PIFFA), which is one of the main contributors to forming FIATA's individual members' vast constituency. PIFFA promotes the freight/logistics service industry as a whole and has also been instrumental in establishing and continuously updating the industry's S.T.C (Standard Trading Conditions).
Although Babar Badat has a principal role in FIATA, this is far from being his only task. He is also very active in other areas of trade for his country and the trading community at large.
Babar has significantly contributed to launching the TIR convention in Pakistan and is the Founding Chair of the TIR Commission there. He sits on various Boards and is an important adviser to his government in areas pertaining to logistics, transportation, and trade and has lent his skills to enhance the role of his country in the region as well as in Geneva, where he regularly attends meetings of the United Nations and other multilateral organisations.

Perspective & Humor

In March, Babar declared: "You must always maintain your sense of purpose and mission to build on the great potential of our industry. On the way, it does not hurt to maintain your sense of humor."
This is precisely how President Badat managed to take the helm of a complex global organization such as FIATA and bring it to new heights while maintaining his own business firm on the saddle.
While he is riding into the future of logistics in India, he keeps his feet planted on the ground in Pakistan, so that everyone on both sides of the sacred rivers of this magnificent subcontinent can look at the future with a smile on their face.
Marco Sorgetti

For more on FIATA World Congress, click here