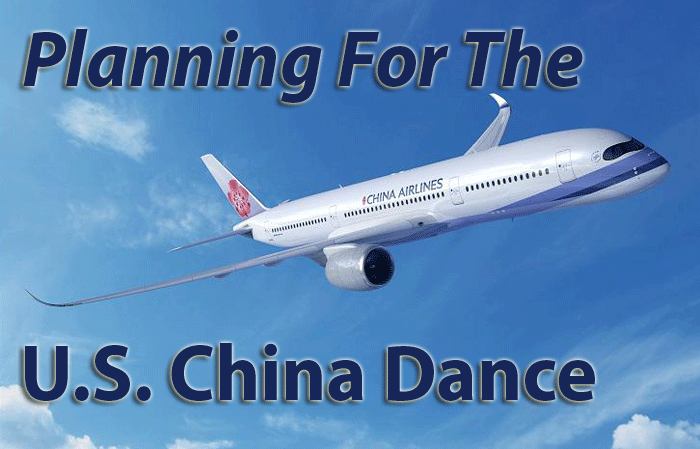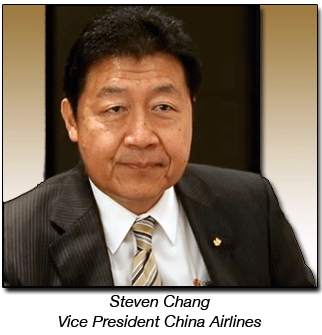 Uncertainty over the scale and timing of the threatened U.S. and China trade war
is making the forward planning of Tranpacific freight operations increasingly complex, according to one leading carrier.
The almost day-to-day changes in policy pronouncements from both camps have caused chaos for those strategizing supply chains. And for airlines it has been little easier than for shippers or 3PLs or caught in the cross-fire.

Taiwan On

China Airlines told FlyingTypers that all the sabre-rattling - alongside contrary suggestions that negotiations to extinguish the putative Trade War might instead yield positive results – is making it difficult to forward plan the allocation of capacity efficiently.
"If additional tariffs are indeed imposed this will probably impact the amount of eastwards freight being exported from China," he explained.
"There have been no significant fluctuations in demand for air freight across regional markets due to the trade war as yet. "China Airlines will therefore continue to monitor closely changes in market supply and demand in the US, China and Southeast Asia.


Shifting Production

"Our regional and Transpacific capacity will be adjusted as necessary to maintain the profitability of the overall network."
"However," he predicted that "should U.S. tariffs on Chinese exports be imposed as threatened, then a lot of the goods hit hardest – and the categories of cargo targeted by the U.S. are in the higher value range more likely to be flown – then demand might instead shift to alternative production centers as Chinese manufacturers simply transfer their operations. "This could see demand from Vietnam, for example, further spike.
"The demand for hold space for Chinese exports to the U.S. may shift to other Asian countries due to a transfer of production lines as well," he said.

Strait To The Heart

China Airlines currently operates 14 cross-strait freight services each week to China and is key player on the Transpacific where 6% more freight was uplifted from the U.S. to Asia in the first quarter than in Q1 in 2017.

Slowly Coming Back

"For freight from Asia to the U.S., vendor freight volumes recovered more slowly after the Lunar New Year period in Greater China this year so overall volume saw little or no growth," he added.

Asia Still Number One
Based on IATA's 5-year forecast for global freight growth which maintains that over 2018 - 2022 Asia-North America and Asia-Europe lanes will generate the most freight volume expansion, he said China Airlines was continuing to cultivate the U.S. market and expand its North America network.

New Destinations
"A TPE-ONT passenger service was launched on March 25 this year with seven flights a week flown by B777," he added.
"A charter freighter also flew for the first time to Rickenbacker Airport (LCK) in Columbus in February this year."
On the Asia-Europe lane, volume growth has also been positive this year. "China Airlines' European lanes currently operate six freighter services a week and we are actively studying the feasibility of adding additional services," he said.
"Now that the Airbus A350-900 is in use to provide direct flights on our European passenger routes, we will continue to develop e-commerce express shipping, postal shipping, fresh produce and cold-chain cargo as well as to strengthen our cooperation with partner airlines.
"By making full use of the A350's belly cargo we can expand our revenues."
While Asia to North America and Europe would be the main drivers of growth, he also said the economic outlook for Asia was favorable.
He said, this year China Airlines plans to operate 52 freight services on regional routes in Asia as the continued economic growth of South East Asian countries was generating rising volumes in the consumer electronics, textiles and cross-border e-commerce segments.
"China Airlines has already increased service frequency on the TPE-SIN-PEN-TPE route twice in 2017 and intra-regional cargo demand in Asia grew by 7.4% in 2017 compared to the previous year," he added.
"China Airlines will continue to cultivate the Japan, Singapore, Malaysia, Indonesia, Vietnam, Philippines and Thailand markets to secure north-south cargo sources within Asia.
"We will also optimize our SE Asia cargo service destination combinations and actively study the addition of more capacity based on demand.
"We will do all we can to support the development of SE Asia to boost our overall business performance."

Sea Air Equation
"China Airlines also remains committed to using sea-air logistics solutions where these make sense for customers which," the spokesman said, "typically occurred on lanes where there was a shortage of free hold spaces or during peak seasons.
"Cross-strait flying rights impose restrictions on destinations and number of services as well," he explained.
"For this reason, the growth of e-commerce cargo in recent years means there are now cargo agents that regularly organize their own sea-air links. Goods are transported by sea from China to Taipei then transferred to our flights for export of e-commerce and postal parcel sources."
SkyKing