One of the major pluses of travelling to an event like CNS Partnership is the chance to return to the dear hearts that we have known, and of course to meet some new ones.
We recall a couple of years ago when we met with Lufthansa's Head of Area Management The Americas Achim Martinka, as he readied for his departure back to Europe after a six-year run.
As we sat and talked and bid each other a fond farewell, he shared something close to his heart.
"Unfortunately," Achim said, "I will have to leave the Americas with a few great projects underway, but not finished yet.
"For example, we are really moving the marble for our planned cooperation with United Airlines Cargo.
"The team spirit we have already developed in the preparation phase is unmatched and the joint offer we will have for our customers will be outstanding.
"The good thing is that my successor Bernhard Kindelbacher is the guy who has developed the United/Lufthansa Cargo partnership from a headquarters perspective," declared Achim, who today serves as Head of the 'One Cargo' project for Lufthansa Cargo and Swiss WorldCargo.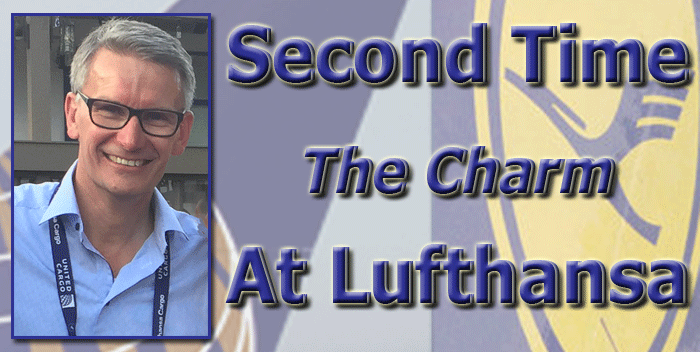 A Deep Bench

Last month at CNS Partnership in Palm Springs, California, Bernhard was front and center with United Cargo's Jim Bellinder, celebrating the first shipments of the Lufthansa/United Joint Venture.
Bernhard, a charming scholarly type who at times appears to be thinking big thoughts, has often been pictured in the news during years past from Lufthansa Cargo headquarters.
Mr. Kindelbacher worked at several posts in Frankfurt, including as Senior Vice President Strategy, Subsidiaries & Business Development, where he was a central player every time some big news was announced.
We were thinking about Lufthansa Cargo and their "deep bench" (a sports term signifying team players that have the talent to play many positions). The German culture has brought so many top industry executives to the fore.

For example, for the Americas, Lufthansa Cargo has fielded some truly excellent people, including the aforementioned Martinka and Klaus Holler, and earlier Joachim Haas.
We also remember Michael Vorwerk, who served as the Americas' Atlanta-based cargo chief and then moved over to become President of CNS, serving from 2009 until 2012 before returning to Germany.
Today, Michael is Representative Director Japan, Head of Sales and Handling Eastern & Central Japan at Lufthansa Cargo.

Second Time Around

For Mr. Kindelbacher, in addition to his JV savvy, this turn in the Americas as top cargo executive (which feels like "OK you put this partnership together with United, now go make it work") is actually his second time around.
Bernhard served in the same post in the Americas from 2000 until 2004.

New Challenges

At CNS Bernhard, who looked about the same as we had remembered and professed that he never watches television, was particularly upbeat.
"It's good to be back here after spending ten years in headquarters," Bernhard said.
"The industry has advanced. I see more professionalism and energy both here at CNS and also from other carriers.
"Today our business is developing in several sectors.
"It is an exciting time," Bernhard Kindelbacher assures.
"The positive results from 2017 have carried forward and there is excitement and momentum in the air.
"I think continued positive results will help everyone with further modernization.
"We have announced two new freighters joining the fleet.
"There are improvements underway at Frankfurt, Munich, and also Chicago, where we are moving once more to our own handling.
"Central to all of this," Mr. Kindelbacher insists, "is our people."
"In addition to enhanced hardware and software, having the right mix of our own people up and down the line will have immediate impact, for example in Chicago.
"We are a strong organization that cares about people and customer solutions and we play close attention and take total responsibility for service delivery every step of the way," Bernhard Kindelbacher said, as word came of the 21 shipments moved the first day of the new JV.
"Imagine the value and speed we can realize moving cargo non-stop via UA from, for example, the U.S. to destinations in Europe," Bernhard smiled.
"It's an exciting time for air cargo," he said.
Geoffrey