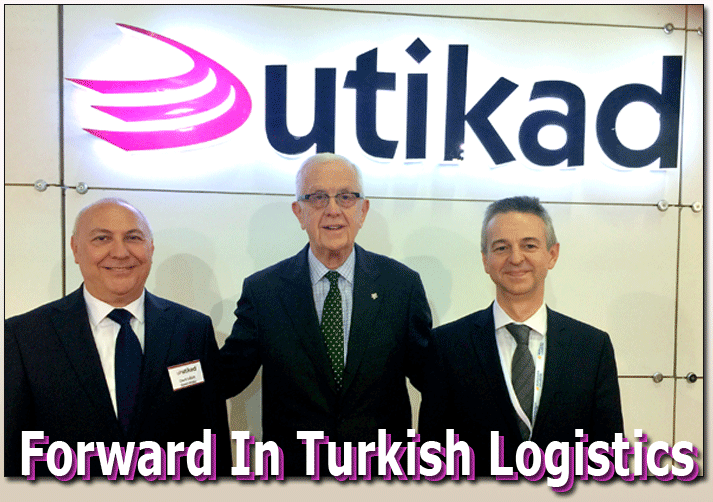 Left to right—Cavit Ugur, Geoffrey Arend and Emre Eldener.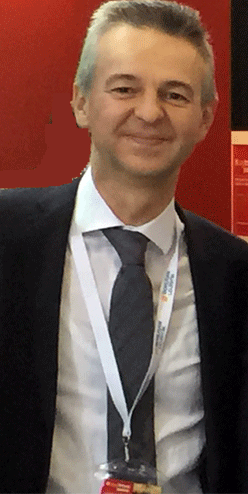 Since late last year there has been a new logo and president at The International Association of Transport and Logistic Service Providers (UTIKAD), the largest non-governmental organization in the Turkish transportation and logistics sector.
UTIKAD as an organization is a bright star on the Turkish logistics landscape, representing a robust and growing membership on many platforms both at home and abroad.
UTIKAD is a driving force for good, contributing critical information to its members that assures Turkish adherence to international standards in the industry.
UTIKAD also spends time and resources addressing sustainable development whilst conducting critical training activities aimed toward further development and refinement of the logistics culture in Turkey.
Bright, effusive, and seemingly never out of ideas to drive the next big thing, Emre Eldener is current President of UTIKAD.
"Our new branding that debuted last year is meant to project the dynamism that the UTIKAD partnership brings to the table in every facet of the logistics business," Emre exclaimed.
"Today, as the industry in Turkey and beyond transitions to even greater heights, developing cost sustainability, education, and innovation not to mention improving speed in service delivery are prioritized.
"For example, right now we are working to gain better position in world logistics by supporting efforts in Turkey to accelerate improvement of infrastructure, including development of seamless rail connections between Asia and Turkey.
"The project to build a tunnel under the Bosporus has created a new paradigm in rail and over-the-road connectivity to these growing world markets.
"Today UTIKAD is 450-members strong.
'We are a non-governmental organization.
"Our membership is both large and active.
"Transportation professionals know that UTIKAD is good for business," Mr. Eldener assures.

Built A Great Company

Emre Eldener is CEO of Kita, a company he has led for the past twenty-one years.
The word Kita in Turkish means continent, was founded in Izmir, and operates in six countries with 300 employees.
In other words, Kita is a dynamic leader of freight forwarding in Turkey and beyond that operates its own warehouses and trucking fleet.

Words To Live By

Emre studied mechanical engineering in college.
Asked what has been his takeaway from his schooling and professional life both in business and also leading the biggest cross-section of transportation professionals in Turkey, Emre answers directly and without hesitation.
"October 20, 1927, Mustafa Kemal Atatürk, founder of the Republic of Turkey, serving as its first President from 1923 until his death in 1938, delivered a speech to Turkish youth that has had a profound impact on my life:
"'O Turkish child of future generations.'
"'As you see, even under these circumstances and conditions, it is your duty to save the Turkish Independence and the Republic!'
"'The strength that you will need is present in the noble blood which flows in your veins!'
"This is just an excerpt from his words, but I have never forgotten them," Emre Eldener said.

Great Expectations

"My immediate predecessor, Turgut Erkeskin, did a great job advancing UTIKAD.
"I spend two days a week continuing to build and develop the organization.
"We have set up working groups to address issues and conduct regular decision making board meetings as well.
"Everybody has to deal with a myriad of agencies as transportation here continues record growth.
"So keeping things simple for our membership is well served with regular and far ranging meetings and encounters every month," Emre said.

Environmental Initiatives

On April 26, UTIKAD General Manager Mr. Cavit Ugur accepted the Sustainable Logistics Certificate prepared by the independent certification and audit agency Bureau Veritas Business Association in Turkey.
The recognition was given on behalf of UTIKAD's groundbreaking efforts to foster even more "Low Carbon Heroes" throughout Turkey.
"The environmental effects of the transportation and logistics sector must be addressed continually from now on," Mr. Ugur declared.
"We know that sustainable development can be possible with low greenhouse gas emissions and low carbon policies.
"With this awareness and consciousness we are trying to contribute to the world, to our country, to the sector, and to our members.
"The Sustainable Logistics Certificate, which is the first and the only in the world, is also the best example of international best practice," Emre Eldener said.
Geoffrey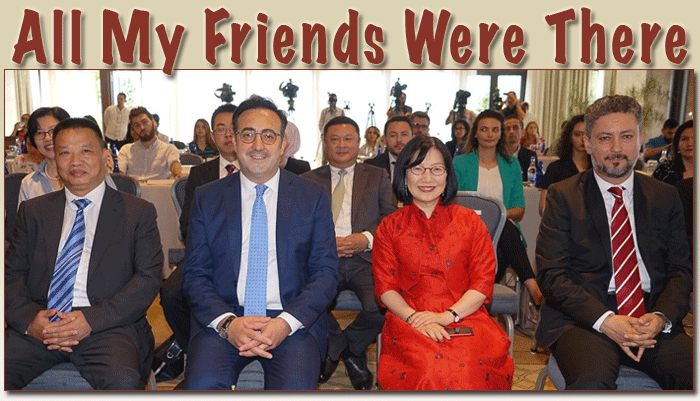 In The Picture (from left)—ZTO Express Chairman Mr. Mei Song LAI, Turkish Airlines Chairman of the Board and the Executive Committee Mr. M. Ilker Ayc¦, Pal Air Ltd. Vice-Chairman Ms. Vivian Lau, and Turkish Cargo Chief Cargo Officer Say¦n Turhan Özen.
Turkish Airlines Cargo, ZTO Express China, and PAL Air Ltd. (Hong Kong) signed an MoU for a JV to build a global express/courier company mainly focusing on the global e-commerce market, offering, among other things, full door-to-door services.
"We are delighted to make this strategic move into Global Express business together with the strong partnership of ZTO and our long term cross border forwarding partner, PAL Air Ltd. from Hong Kong," declared M. Ilker Ayc¦, Chairman of the Board and the Executive Committee, Turkish Airlines.
"In 5 years' time we expect our JV to generate over 2 billion USD of revenue," Mr. Ayc¦ said.
"New Istanbul New Airport will be opened by 29th of October this year and it will function as Turkish Airlines' main operating hub.
"Eventually providing Turkish Cargo up to 4 million tons of cargo handling capacity, e-commerce products marketed globally via this Joint Venture via the Istanbul Mega Cargo Hub will provide maximum value to our customers worldwide," Mr. Ayc¦ concluded.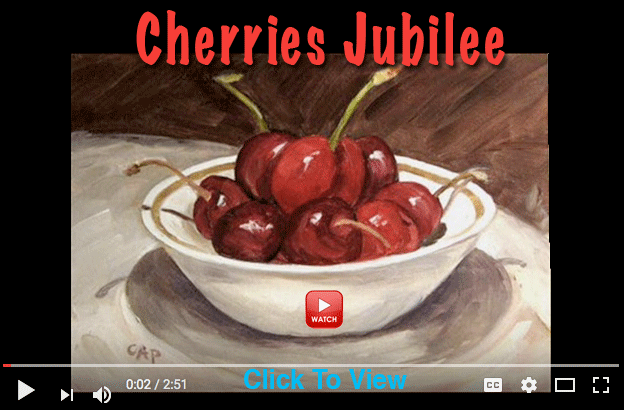 Turkish Cargo moved Turkish-grown Bing Cherries this week from Istanbul to Norway via its A330 freighters.
As the supermarkets of Norway receive the luscious Turkish delight, we celebrate the season in song (from our "Bing" Crosby, The Mills Brothers, and The Boswell Sisters) with "Life Is Just A Bowl of Cherries" from 1931.