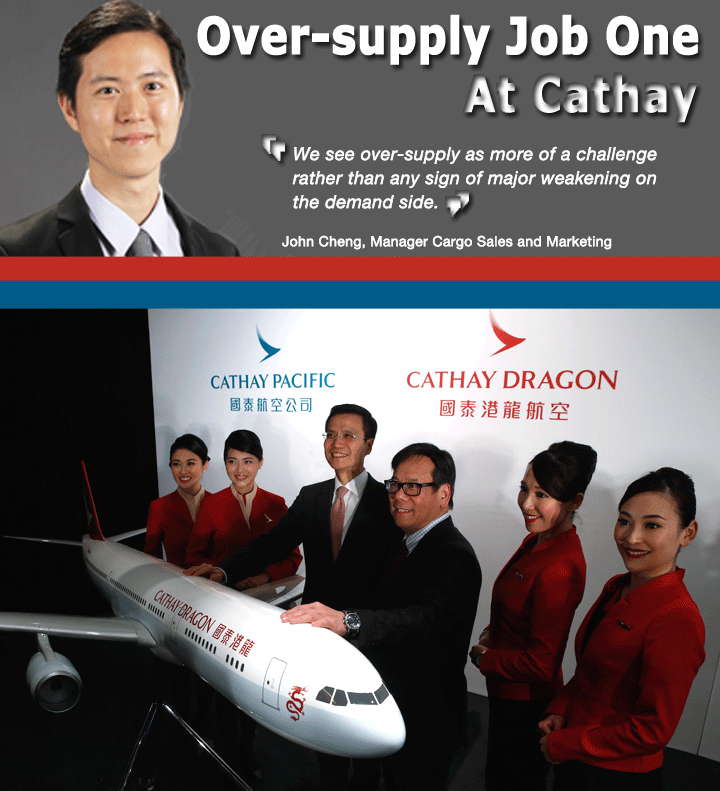 Last January, Chief Executive of Cathay Pacific Ivan Chu (third left) and Chief Executive Officer of Dragonair Algernon Yau (third right) rebranded Dragonair as Cathay Dragon. Mr. Chu said that this was not a merger, as "Cathay Dragon remains a separate airline."
Cathay Dragon's livery features existing elements of both carriers, but most noticeable is the adoption of the Cathay Pacific brushwing logo.
On July 11 Mr. Yau went on indefinite leave "for personal reasons" and Cathay's Director of Corporate Affairs James Tong now serves as acting chief executive of Cathay Dragon.
In the 12 months leading up through April 2016, Cathay Pacific and sister carrier Dragonair saw both volumes and revenue in tons per kilometer drop compared to the previous year, by some 1.8 percent and 3.4 percent respectively. This came despite a 2.1 percent year-on-year tonnage uptick in April that the carrier said was a "better than expected" performance underpinned by the capture of shipments out of China and India.
But despite the slowing of the Chinese economy and disappointing demand from key European and U.S. markets, John Cheng, Manager Cargo Sales and Marketing, told FlyingTypers his main concern was the excess of capacity in global freight markets.
"We see over-supply as more of a challenge rather than any sign of major weakening on the demand side," he explained. "As we entered into 2016, we were faced with an increasingly competitive market environment, with overcapacity continuing to put pressure on cargo yield. We will continue to review our freighter capacity to make it commensurate with demand."
And that freighter capacity is substantial—Cathay has some 24 freighters in operation at present and one more 747-8F is due for delivery later this year.
Cheng said Cathay was the leading air cargo carrier in Asia last year, having carried a total of 1.8 million tons of cargo and mail. "This was against a capacity increase of 5.4 percent and a 5.4 percent rise in revenue-tons-kilometers," he said. "The company currently operates freighter services to 46 destinations and also carries freight in the bellies of its 140-plus passenger aircraft, which serve a growing global network.
"The company is going through a brand refresh with new livery to symbolize continuous efforts to deliver excellent service to our customers. The new livery will be progressively introduced onto all the aircraft in both its passenger and freighter fleets."
As we went to press . . . Cathay Cargo adds B747-8 twice weekly freighter service into Portland International Airport (PDX), launching on November 3, 2016. It will operate on a Hong Kong–Anchorage–Los Angeles–Portland–Anchorage–Hong Kong route every Thursday and Saturday.
Cathay and Dragonair said they carried 151.130 tons of cargo and mail in June for an uptick of 7.1 percent over June 2015.
CX said, "cargo tonnage has stabilized but yields continue to suffer."
However, although Cathay has ramped up its marketing efforts, recent reports suggest the company is making major cutbacks to contain costs, with Chief Executive Officer Kwok Leung (Ivan) Chu admitting that business challenges had become more acute in recent weeks, with continued pressure on its cargo business being compounded by "a weakening trend in the passenger business."
Cheng said that Cathay was responding to the challenges facing its cargo business by further developing its range of service options for customers, including exploring how to improve existing specialist products such as Wine LIFT, Pharma LIFT, Priority LIFT, DG LIFT, Fresh LIFT, Live Animal LIFT, Secure LIFT, Courier LIFT, and Expert LIFT.
In May the company also announced plans to create a freight network with Lufthansa Cargo starting next year. Initially this will focus on Hong Kong to Europe services before expanding to eastbound services as 2017 progresses. Customers will be able to access the combined networks of the two carriers via either airline's booking system, while joint handling at HKIA and Frankfurt will mean shippers have a single point for export drops and import deliveries.
"We continue to invest in our products and services to provide superior service to our customers," said Cheng. "An example is our Pharma LIFT product, which provides excellent cold chain logistics for high value, temperature sensitive service for the life sciences market."
The carrier also has a sizeable presence in South East Asia and India, markets it has previously referred to as "lower yielding."
Cheng said key products from SE Asia and India were perishables, garments, and IT products. "Overcapacity in these markets has led to comparatively lower cargo yield," he admitted. "Our focus is on pharmaceutical traffic, which sustains higher yields for service quality."
SkyKing