"Our move will touch Mumbai, the economic heart of India, said a smiling Marcel de Nooijer, EVP Air France KLM Martinair Cargo.

Big Comeback To Mumbai
The youthful executive is referring to the resumption of KLM flights after "almost two decades." Services recommence between Mumbai and Schiphol-Amsterdam starting on October 29, 2017.
"By introducing Mumbai, the economic heart of India, to our schedule from Schiphol we are able to further increase our already existing network presence in India.
"Together with our flights operated from Paris Charles de Gaulle, we will offer the market a total of 28 services during the 2017-2018 winter season.
"KLM will operate three weekly flights to Mumbai operating a Boeing 787-9 Dreamliner, offering a belly cargo capacity between 15-20 tons."

Adding Lift Where It Counts
The Mumbai flight will boost Air France KLM in India and challenge Lufthansa, which may no longer rule the roost as the largest European carrier.

Powerful Partner
The big news is that AF-KL has a solid partner in Jet Airways.
Together the carrier will offer 61 flights to Amsterdam and Paris during the winter season, which will help boost its presence in the Indian market.

Better Connections India To Europe
Apparently, the strategy is to connect the networks and bring in passengers and cargo from Tier-II cities in India to Tier II towns in the U.S. via Amsterdam.
In fact, AF-KLM is looking at areas of co-operation with Jet Airways and that will include cargo.
After Brexit, the carrier is keen to increase trade between India and Europe. In a conversation with a business daily, President and CEO Pieter Elbers, who was recently in Mumbai, said "A Boeing 777 aircraft has 15-17 tons of cargo capacity and we are exploring opportunities involving cross selling, sharing of aircraft belly space, and cargo handling with Jet."

Dreamliners & Visions of Belly Lift
The introduction of the Dreamliner is in line with the carrier's thrust to boost belly capacity and reduce the number of freighters by strengthening partnerships with other airlines.
Marcel is optimistic about the Indian market.
For AF-KLM, e-retail and pharmaceuticals from India have seen substantial growth. "India," Marcel assures, "will play a key role in air cargo.
"The positive drivers are pharmaceuticals, given the time-sensitive nature," he said. "AFKLM has made investments in pharma infrastructure and the CEIV pharma certification."

Other Carriers Move Into India
Other than AF-KLM, European carriers have been eyeing the Indian market.
Low-cost long haul carrier Norwegian recently reported that "as an ambitious airline with a huge aircraft order, Norwegian are always looking at potential new routes and while there are no immediate plans to serve India at this stage, it remains a market we are interested in, in the future."
And while Norwegian's plans are still in the making, Lufthansa was committed to boosting its presence in India.

Lufthansa Grows Market Presence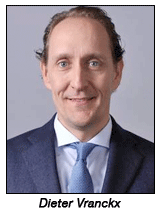 Dieter Vranckx, Lufthansa Vice-President, Asia Pacific, said that the carrier wanted to continue investing in India.
"We've opened new routes, like the Mumbai-Brussels route; we've increased frequencies—the Pune to Frankfurt service has increased from four to six times a week. Another element in how we invest in India is to bring all our flagships to the market.
"Our Airbus A380 connects Frankfurt and Delhi and our aircraft with the newest technology—the Airbus A350—is flying now to Delhi and Mumbai from Munich.
"This is important to mention because when you introduce a new fleet of aircraft, everybody wants to get the new aircraft to its market.
"Most of the time you look at strategic markets and a balance between the U.S., China, and India and see how everything fits together.
"Out of the first three Airbus A350s that came in, two of them now fly to India.
"This is how we are growing in the market," he said.

EU Notes Growth
During her recent visit to India Federica Mogherini, High Representative-Foreign Affairs and Security Policy/Vice-President, European Commission (HRVP), pointed out that "with work ongoing to conclude a comprehensive and ambitious free trade agreement, the EU accounts for 13.5 percent of India's overall trade, which makes the EU India's largest trading partner."
"European carriers have been offering high uplift capacity for priority cargo movement between India and European nations," she said.
According to estimates, the volume of Indian exports to European countries total around 30,000 tons per month with Delhi accounting for around 6,500 tons of that total.
Tirthankar Ghosh