Here, we meet some women who power air cargo at the biggest airline in the world.
Keeping thousands of shipments of animals, perishables, medical supplies, and just regular brown packages on time, on track, and intact to their final destination is no walk in the park.
At first blush, you imagine systems, airplanes, and computers, and without a doubt AA Cargo is all of that.
With a tip of the hat to their male counterparts, women at AA Cargo perform extraordinary feats every day to maintain American's spot as one of the top cargo carriers in the world.
We interviewed four team members to gather insight into their colorful careers.
After a few conversations, thoughts drifted to the great dance team of Fred Astaire and Ginger Rogers, who made several memorable movies during the 1930s. Our conversation with these dynamic women reminds us of the Frank & Ernest cartoon with the caption:
Making Way Cargo… in Chicago
In his 1914 poem titled Chicago, Carl Sandburg wrote:
"Hog Butcher for the World,
Tool Maker, Stacker of Wheat,
Player with Railroads and the Nation's Freight Handler;
Stormy, husky, brawling,
City of the Big Shouders."
Undoubtedly, were the poem written today, the frequent mentions of cargo would refer back to the world's airlines rather than railroads.
Wendy Henry, manager on duty, Cargo Operation – Chicago O'Hare (ORD) notes that she "works with a lot of intriguing shipments—monkeys, race cars, machinery, and dangerous goods, to name a few.
"Yet when a fluffy bundle of puppies comes through, time seems to stand still,"Wendy says.
"The puppies bring a smile to everyone's face, from cargo all the way to the fleet service clerks loading them on the flight.
"Everyone here ensures that every puppy that passes through our vibrant busy station gets the royal treatment," she assures.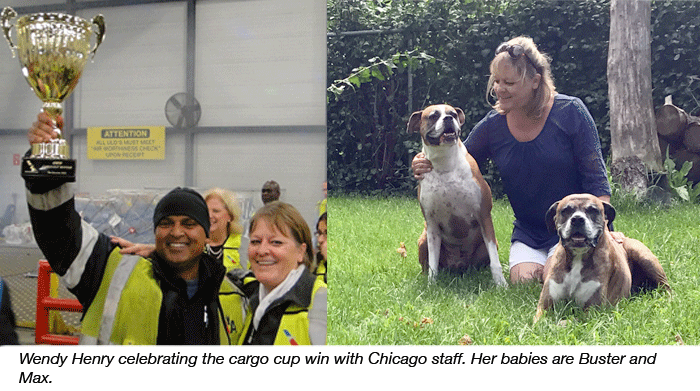 Wendy has spent five years on station in her current role, this out of what she calls an amazing 29 years. She started her career as an American Eagle agent.
Wendy has moved easily and upward through several other departments throughout the company. Wendy oversees the cargo and mail operations at ORD, meaning she is responsible for about 326 daily flights that carry cargo and PPS.
She insists: "Once you work for an airline, I don't believe that you could work a normal 9-to-5 job.
"You never know what type of day you may have or what products may be coming through the door, but that is what makes it exciting.
"The cargo business is also like a family.
"It's about more than just the employees that you work with in your city, but all cities.
"Everyone is there to help one another out to ensure we get the customer's product to where it needs to be on time."
ORD On Ice
ORD has a freezer, cooler, and dedicated ExpediteTC space (temperature-controlled for pharmaceuticals). Wendy's priorities in 2017 are to make sure that the state-of-the-art TC cooler has plenty of opportunities to do what it does best, and be the number one cargo carrier at ORD.
At home, Wendy enjoys spending time with her family and two dogs, along with bowling, biking, hiking, or just being outdoors.
Caribbean Dream Your Seein'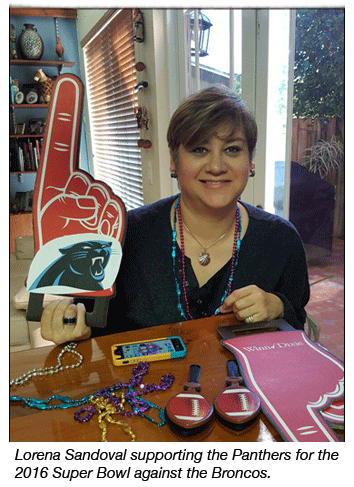 Say hello to Lorena Sandoval, managing director, Cargo Sales – Florida, the Caribbean and Latin America.
Raised in Quito, Ecuador, Lorena Sandoval probably never imagined that one day she would be responsible for transporting billions of soybean seeds between Argentina and the U.S., but she admits she likes to keep things interesting.
Hello, Cargo
It turns out Lorena began in cargo at Miami International (MIA) earlier this year, "moving on up" after a stellar 26 years on the passenger side with American Airlines.
Lorena was a reservation ticket agent, sales manager and country director in Panama, and regional sales manager for Mexico, Central America, and Venezuela.
With that healthy CV, she decided that there were new worlds to conquer.
Love At First Flight
"I was granted an appointment to visit the cargo facility in Miami. I was interested in air cargo, but wondered what working in the division included.
"After an hour there, I fell in love with the business.
"Now, every day, I see how we can use our cargo services and expertise to help expand global trading opportunities."
The Miami gateway is origination or transit or destination for a varied mix of cargo traffic.
"Here you will find a top export hub for high tech commodities including computers, telecommunication equipment, and machinery.
"Miami also is a giant fresh cut flowers supplier to the rest of the world; they arrive daily into the U.S. from Columbia and Ecuador.
"Additionally, MIA is a major pharma hub.
"Our Miami station features up to 25 pharma dock doors for both acceptance and pick up," Lorena beamed.
Today this vibrant lady carries major responsibility for sales in Florida, the Caribbean, and Latin America.
Coming Up Roses
As 2017 rolls along, Lorena sees AA Cargo business continuing its upward growth in pharma exports.
"Our effort is to stay close to our customers while emphasizing the brilliance of American Airlines worldwide network.
"It's all about partnership and putting the customer first in every area of our operation."
The Art of Lorena
Even though her job requires extensive traveling, Lorena still enjoys sharing her love of the airline experience with her family.
Time off can often mean a visit to some faraway place yet to be discovered.
She is also passionate about collecting art and antiques and finds time to immerse herself in local cultures.
"I like to keep things fresh and interesting," Lorena Sandoval smiles.
Time Flies in Cargo
Linda Dreffein answered a blind ad in a newspaper after she graduated from college and today she is AA Cargo managing director, Cargo Sales – eastern division USA. She is happy she answered that blind ad.
"I'm not sure where the time went, but I will celebrate my 30th anniversary with American later this year, and I'm still as excited about my career today as I was when I was just starting out," Linda says. Based in Chicago, her responsibilities for the eastern division include a broad territory that covers cargo shipments for the Northeast, Midwest, southeastern U.S., and Canada.
The challenging and constantly changing shipment types include pharmaceuticals, diagnostic agents, medical equipment, machine parts, computer hardware, printed matter, ecommerce, photographic equipment, and more.
Strong Market Continues In 2017
Linda sees a strong market for cargo throughout the rest of 2017, backed by customer comments and plans.
In addition to building customer relationships and selling services, her goal is to support her team's daily efforts.
Linda provides the tools and training that give her team the opportunity to make decisions that benefit customers and keep American Airlines Cargo competitive.
She brings a long history of perspective to her team:
"Working in the air cargo industry, I've come to see that this business is so much more than moving cargo from one point to another.
"Everything from the products we move to the safety and security regulations enacted to improve the transportation process has become more complex.
"Most days, though, shipments move as planned.
"Our customers, the handling agents and truckers, along with the airline, handle everything smoothly.
"The general public isn't aware of the people dedicated to this effort.
"Logistics and transportation are an integral part of our world economy."
Linda In The Swim
Away from air cargo for some moments, Linda likes to swim and read.
This fine lady says that she and her husband are "working through the process of learning to be 'empty nesters.'"
Another aspect of discovery in a life well lived, we suspect.
A Vision of Cargo, La Carga, La Cargaison Kago
The message is never lost in translation because Junie Paul, AA Cargo's general manager, Cargo Operations – Philadelphia (PHL) is passionate about the cargo business and fluent in English, Spanish, French, and Creole. Junie grew up the youngest of six children in Haiti. Her parents, both having chosen a career in education as school principals, raised young Junie with a worldview of integrity in life that shapes who she is and continues to lead her on a successful career path.
Anyone who has met Junie knows that she's a people person.
Her ability with language and passion for helping others adds up to an unbeatable skill set that delivers the right logistics for shipping pharmaceuticals, perishables, and regular freight at about 245 cargo shipments a day as traffic continues to increase in Philadelphia (PHL).
What Makes Junie Run?
Junie has been on the scene in PHL for about three years.
She enjoys the challenge of "constantly working to make American the preferred choice for cargo shipments."
"At PHL, I divide my time between two facilities—one for regular freight and one dedicated to pharmaceuticals."
"Believe me, we take nothing for granted as AA Cargo makes every effort to maintain a seamless experience for our customers," she said.
An Airline Life
Junie began in cargo as a customer service manager at JFK after a 29-year career in the airline industry that started in passenger services at American Airlines.
Prior to PHL, she worked out of San Francisco (SFO), Yakuiba, Boliva (BYC), and Miami (MIA) in roles such as agent, director for flight service, flight service manager, Cargo CSM, security environmental officer, and manager on duty.
Class Act In Any Language
"Cargo is an integral part of the world chain," Junie says.
"We are all connected and share the benefits, since it allows commerce, medicine, and all other type of goods and services to be available to all."
Even More
Junie sees her 2017 priorities as customer service and safety/security as a consistent, ongoing focus.
After work, Junie loves to spend time with her family and travel the world, including an annual family vacation to Turks and Caicos.
She counts Dubai as "the most interesting and beautiful place she has ever visited.
Geoffrey/Flossie

Stay tuned for part two of the Women at American Airlines Cargo.