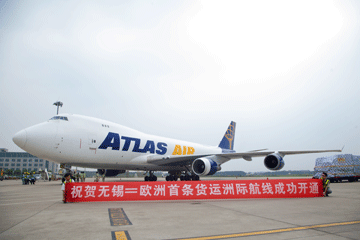 Chinese ground crew members welcome an Atlas Air Boeing 747-400F in service for DHL Global Forwarding at the Sunan Shuofang International Airport in Wuxi City, East China's Jiangsu Province, on May 18, 2018. Afterwards, it headed to Frankfurt-Hahn Airport. DHL is offering twice weekly services.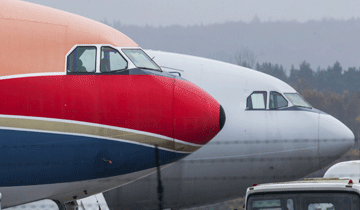 Keeping Track . . . Commercial aircraft of Chinese airlines stand on the runway of the airport in Parchim, Germany.
The Chinese logistics company LinkGlobal has operated the former Russian military airport since 2007.
The oft-promised expansion of 'Parchim International Airport' into a cargo flight center hub for air traffic between China, Europe, and Africa—as well as the opening of what promoters have dubbed "Europe's Greatest Duty-Free-Center"—has yet to occur.