Players Change For India Cargo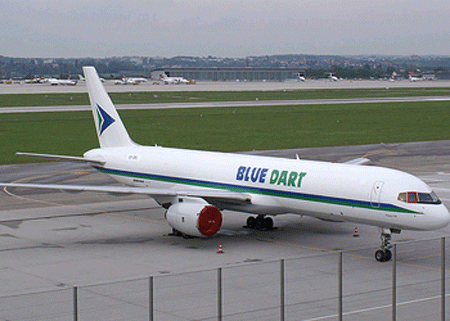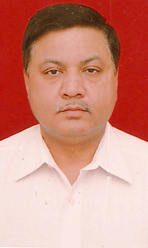 When it comes to all-cargo, India for a long time has been the preserve of a few big companies such as Indian and Blue Dart.
But there has always been a market for belly cargo, which has been addressed by the legacy and low-cost carriers.
However, the status quo is soon going to change.
Waiting in the wings are a few homegrown carriers that have at last found their wings, thanks largely to what Capt. Mukut Pathak, (left) Director of Aryan Cargo Express (ACE), described as the "strong growth of the Indian economy".
Growth in the express market in the country, for example, has risen to soaring heights.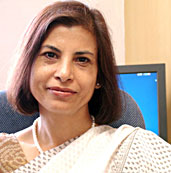 At a recent conference, Blue Dart Managing Director Tulsi N. Mirchandaney (right) speaking about the air cargo growth story showed how the express market had grown. Internationally, the express sector had 3.5 percent market share of international air cargo in 1991.
In 2005, that jumped up to 11 percent. Internal estimates by Blue Dart have thrown up some interesting figures.
The size of the express industry in the country is Rs 4175 cr and the average annual growth is estimated to be 17.2 percent.
Bangalore-based start-up air cargo player Quikjet is one of the recent entrants in the aircargo sector.

The carrier's CEO Natesan Ramesh, (;eft) speaking to Air Cargo News FlyingTypers, said:
"From a low base of a few hundred million rupees, the current express market is estimated at around Rs 27 billion (about USD$650 million) and growing at a blistering 25-30 percent per annum.
"The past four year period," he pointed out, "has witnessed a spectacular rise in the express business due to high flow of Foreign Direct Investment and MNCs migrating businesses or setting up business in the country."
Even with India's open skies policy as far as cargo is concerned, there are opportunities that still remain untapped.
Ramesh was forthright when he said:
"We believe that the market is sufficiently underserved.
"Naturally, whether it is express or plain air cargo, all newcomers hope to take a major bite of the pie."
Promoted by AFL Private Limited, a leading logistics company and a pioneer in the express courier sector and Singapore's Cardinal Aviation,
Quikjet would like to be known as a merchant air cargo carrier that is keen to open up capacity to all players in the market.
Ramesh believes that Quikjet will achieve what the low-cost carriers have done in the Indian market.
"Like the low-cost carriers, we are trying to open the cargo space," he said.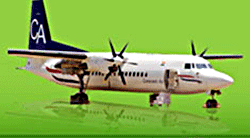 There is Crescent Air Cargo, which after many fits and starts, has started operating daily Fokker flights linking Coimbatore, southern India's major industrial hub to Chennai and Mumbai.
Crescent has had a checkered career. Based in Chennai, the airline was established in June 2000 by airline pilots. They could not operate it and the company was taken over by Santosh Lad, an industrialist with interests in mining, software, real estate development, the entertainment industry and now air cargo.
The carrier resumed operations from the middle of 2007.
Lad, the Chairman and Managing Director of Crescent Air, was upbeat.
Pointing out the linking of Coimbatore with Mumbai, he said:
"As we pioneer new routes that expand our global reach and add convenience to industrialists, the Chennai-Coimbatore-Mumbai daily service will offer many important options for business and cargo agencies."
According to Cresent's CEO, Capt. Murali Ram, Crescent will shortly be starting its freighter operations on the Visakhapatnam-Chennai-Kolkata sector.
"Our services would be immensely beneficial for the growing markets of shrimp, tuna exports, garment industry and other perishable goods," he said.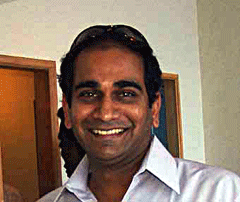 Talking to Air Cargo News FlyingTypers, Ram said: "Crescent is operating with one Fokker F-50 with about 4 to 5 flights in a week lifting about 40 tons of cargo a week.
"We are mainly flying between Chennai-Visakhapatnam-Kolkata and doing some local charters as well including Medivak operations.
"Our expansion program is in place and we have finances for our next acquisition of aircraft.
"We have identified two aircraft with large cargo doors, which should be in operation by end of this year."
Part of the expansion program deals with flights abroad.
Ram continues:
"We are in discussion with consolidators to fly between Colombo-Male-Chennai and Delhi-Kolkata-Dhaka.
"Once we get our clearances, our next two aircraft will be operating these routes."
If Crescent has plans to tap the niche market, Capt Mukut Pathak with his yet-to-take-off Delhi-based Aryan Cargo Express (ACE), the first flight would be sometime between mid-August and mid-September this year, is optimistic about the growth in the sector.
Talking to ACNFT, Capt. Pathak said:
"Today India has about 400 million people in the middle income group.
This figure is likely to touch 550 million by 2015 as a result of India turning into a major manufacturing base."
The retail boom in the country, said Capt. Pathak, is yet to arrive and when that does, it will spurt the demand for movement of cargo by air.
"The air cargo growth in India has accelerated in the last four years, primarily due to the strong growth in the economy," the Captain emphasised.
"ACE is entering a segment of air cargo industry that does have any India-based operator.
"We are more international oriented than domestic," he said.
In an afterthought, he commented:
"We will be competing with the real big boys of this game like FEDEX, DHL and UPS."
More interested in connecting India to foreign nations, Capt. Pathak added:
"We are looking at the SAARC (South Asian Association for Regional Cooperation) nations—India, Pakistan, Bangladesh, Sri Lanka, Nepal, Maldives, Bhutan and Afghanistan—to be our main market and plan to provide connectivity within SAARC and markets such as China, Far East, SE Asia, ME, CIS and Europe.
"We will have a domestic network, but that will be only be to feed our international network."
For such vast operations, Pathak's ACE has worked out a plan to fly with a combination of A310/300-600Fs and MD11Fs.
He along with his partner promoter Rishiraj Singh Dungarpur has signed the lease for two MD11s from Skyholding. "We plan to launch with three leased aircraft and grow to 12 aircraft within 14 months to acquire a network stability and realize the full potential of our network.
"We do not forsee much of a problem at airports because we will operate at night within the Indian airspace and during the day, we will vacate this airspace for international flights."
The competition has not deterred Capt. Pathak and his ACE.
He was quite candid when he said: "There is enough sky under the sun for everyone.
"The air cargo boom in India is still a couple of years away.
"While he does see that for the next 10 years the growth of cargo will ensure success for all the players "unless the industry is hit by some rogue players who may create problems as it happened in the Low Cost Carrier segment in India".
As for Crescent's Ram, the competition, he said, is not all that much.
"Competition in the small sector aircraft will not be much since I see most of them are looking big.
"We want to establish ourselves as a feeder cargo airline and benefit from operating turbo prop aircraft.
"Once our demand grows we will consider big jets."
Tirthankar Ghosh