The man who thought up the idea and then guided leisure Cargo, based in Dusseldorf, Germany onto the air cargo map of the world, with a unique "total management system" for 14 tourist-based airlines, has come back from retirement to once again take the reins of the company he invented.
Ralf Rainer Auslaender, looking fit and beaming with confidence, returned in early August as Managing Director of leisure Cargo. He resumed a post he held at the company from start-up in January 2000, until 'retiring' in 2015, to live in languid Portugal.

Bringing Up Baby

When Ralf dreamed up the idea, taking over the cargo space for several tourist-based airlines in Europe was among the most completely new and original ideas and LTU took off with it.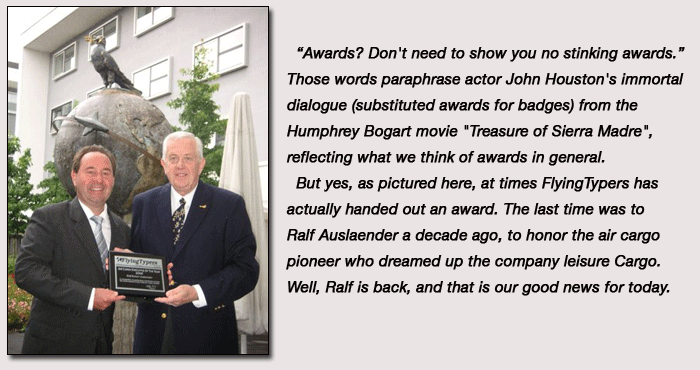 The Offer You Can't Refuse

Although Ralf was happily retired and enjoying life outside of air cargo, there is something about air cargo (you know, what I mean) that has drawn him back to the industry.
We recall that under the careful guidance of founder Ralf, leisure "the virtual cargo airline" always delivered a solid return and was a bright spot, even during the darkest days of Air Berlin (which ended up acquiring leisure Cargo).
But during the AB downfall, the company was swept along in the debacle, not unlike an innocent bystander.


The Zeitfracht Family

Zeitfracht Group, a Berlin headquartered, third-generation, owner-managed family business with about 1,000 employees and an annual turnover of more than 200 million Euros, purchased leisure Cargo out of the AB Bankruptcy.
Zeitfracht Group is active in real estate, logistics & aviation.
leisure in 2018 is a network of 14 airlines, with 200 interline partners, serving more than 300 destinations.
Welcome back, Ralf!
Geoffrey