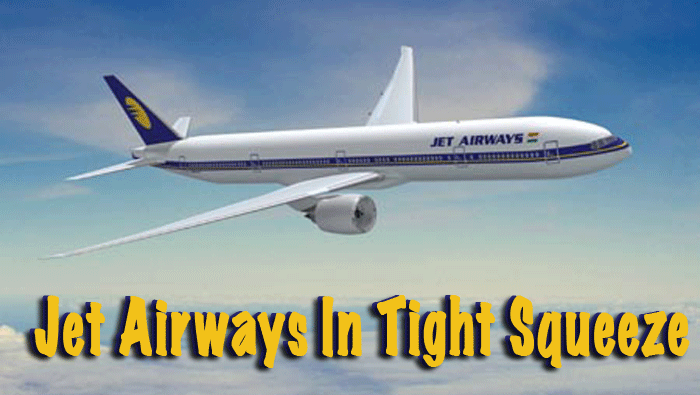 The good news is that the Naresh Goyal-led Jet Airways is the only carrier from India that figures among the top 50 world ranking cargo carriers in 2017.
Jet holds 43rd place in international cargo with 885 (FTK million), 23rd place in domestic cargo with 161(FTK million) and 42nd place overall with 1046 (FTK million).

Now The Bad News . . .

FlyingTypers has learned that something might change at Jet in 2018, its 25th year of existence.

According to several media reports the carrier is facing severe headwinds and, according to some reports, could not operate beyond 60 more days.
Jet Airway's CEO Vinay Dube takes an opposite view, stating in a recent press release:
"Jet Airways (India) Limited would like to clarify that recent media reports about the sustainability of the airline are not only factually incorrect, but also malicious.
"The airline also denies any conjecture of a stake sale."
The statement also mentioned that "Indian aviation is experiencing strong growth and Jet Airways is well placed to be a part of this growth story."
In line with the company's stated focus of creating a healthier and more resilient business, it has been implementing several measures to reduce costs as well as realize higher revenues, for desired business efficiencies.

Dube Dube Do

Dube also said that despite the high growth environment, "the aviation industry is currently passing through a tough phase given a depreciating rupee and the mismatch between high fuel prices and low fares.
"Jet Airways has been in existence for over 25 years and through the years has been successful in combating such business volatility."


Jet Airways posted a quarterly loss today, its second consecutive negative financial report.
The airline said that it is adding money (no amount revealed) and cutting costs aimed at delivering 20 billion rupees as it seeks to turnaround its business.
Partly (24%) owned by Etihad Airways, Jet operates in the world's fastest-growing aviation market, but lost 13.23 billion Indian rupees ($188.76 million) in Q2, the three months ended June 30.
Speaking of Etihad, the wonder is how does that airline's investment model survive after losses it encountered with now defunct Air Berlin, earlier Alitalia, and now Jet Airways?
Jet blamed the depreciating rupee and an about 36 percent rise in global oil prices for the red ink.
"The two significant proposals . . . infusion of capital and the monetization of the airline's stake in its Loyalty program bode well for the long term financial health and sustainability of the airline," assures Jet Airways Chairman Naresh Goyal.

Behind The Story

While all Indian carriers are going through tough times, sources say Jet has been pushed into a corner.
The airline had to defer its first-quarter financial results during its Extraordinary General Meeting (EGM) held recently in Mumbai to today, August 27.
The results were pushed back "pending closure of certain matters."
In fact, sources say Jet's financial crisis led to the management deciding on pay cuts of up to 25 percent.

Start & Stop

However the paycut was rolled back almost as soon as it was announced, with Goyal saying in a tearful televised address that he could not sleep thinking about the proposed salary cuts and hence would cancel such plans.

Severe Cost Cutting

Nevertheless, Jet Airways has begun a cost-cutting process by offering pink slips to more than a dozen-odd technical support staff in Mumbai and Delhi.
The airline has gone on record to say that it has been evaluating various funding options to meet liquidity requirements on priority.


Cash Squeeze

But Jet Airways' lenders are reluctant to extend additional loans to the cash-strapped airline ahead of a key report by the company's financial auditor.
It is not that Jet is not trying to get back into the game.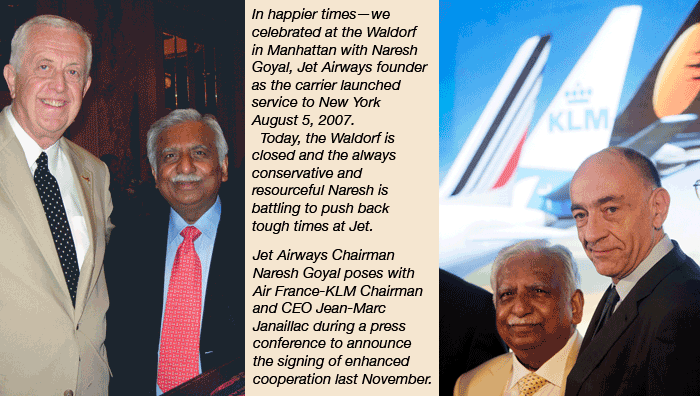 Historic AF/KL Cooperation

At the end of November 2017, for example, Jet signed a landmark 'Enhanced Cooperation Agreement' with Air France-KLM for the development of their operations between Europe and India. A first in the history of Indian aviation, the agreement strengthens the partnership built between the three airlines since 2014 and spanned across code-share agreements as well as cargo between Europe and North America and Jet Airways' hubs at Mumbai and Delhi in India via Air France-KLM' hubs at Paris-Charles de Gaulle and Amsterdam-Schiphol.
In addition to the airlines' enhanced cooperation agreement, Air France KLM Cargo and Jet Airways Cargo also signed a Memorandum of Understanding (MoU) that is aimed to strengthen their cooperation in the cargo sector.

Cargo Rising

However, if Goyal is forced to cut corners it will be a pity. In London in November 2017, when the carrier launched its third daily Boeing 777-300ER flight from Mumbai to Heathrow, Vinay Dube pointed out how cargo was important for the airline.
He said: "I see air cargo as an integral part of the business.
"We have got an air cargo market, which is growing between India and the UK and have a base of cargo domestically that is growing in India and to the Far East, Middle East – whereever you look at it. 2017 has been a good year for cargo and we have seen good growth in many sectors.
"Whenever we think of flying anywhere, cargo is an important component in the planning process, and what aircraft you deploy is extremely important as well."
Dube went on to elaborate that his cargo team had told him that perishables, pharmaceuticals, manufacturing, readymade garments, leather products via Paris, London and Amsterdam were going on to the U.S., Latin America, Benelux, Germany and France.
"Cargo is doing well for us," he emphasized and mentioned that the carrier did not have any plans for freighters because "we are fine with our bellies."
Tirthankar Ghosh