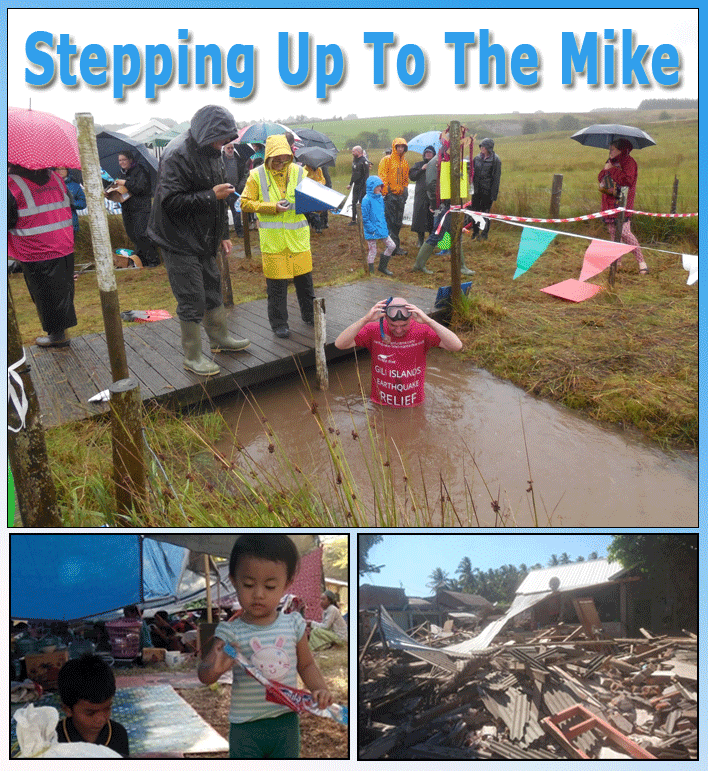 Indonesia, which straddles the highly volatile Pacific 'Ring of Fire' where many of the world's volcanic eruptions and earthquakes occur, has been rocked by a string of deadly earthquakes.
On August 5th a devastating earthquake registering 6.9 on the Richter scale hit the Gili islands and Lombok, followed by countless aftershocks.
Antony Clubley, who is helping raise funds to help the local people of Manta Dive, said, "Our hearts hurt to share the numerous damages caused by this natural disaster, which left a lot of our Manta Dive families without homes and in need of food and basic supplies.
"Now, it is time for us to kindly ask you for help to recover the Manta Dive story by donating funds to support our team's families.
"We seek money immediately via Go Fund Me to provide food, water, and shelter."
Having lived in Indonesia, our intrepid reporter Mike 'Sky' King decided to answer the call.

Raising Money To Help

"Having lived in Indonesia for many years, it was terribly sad to see the devastating string of earthquakes that have killed so many and left thousands homeless, said SkyKing.
"I competed in the World Bog Snorkeling Championship in Wales (top photo) last weekend to help raise money and awareness for the victims; it seemed fitting as the Gili Islands is a world class destination for snorkeling!"
"Antony Clubley is on the ground in the Gili Islands now and told SkyKing this late last week: 'We are now looking at how to get families back into their villages and help them rebuild their homes. Most of their villages are almost entirely flattened.'"


You Got To Have Heart

"I only came 49th," added SkyKing.
"I'm calling it a top 50 finish and my technique was less than perfect, but please don't let that put you off making a contribution to a very good cause.
"The charity," Mike King assures, "is administered by people at Manta Dive in Gili that I know very well.
"They are already doing everything in their power to help as many people as possible but desperately need more funds.
"Anything FlyingTypers readers can spare would be very much appreciated and will be distributed directly to those who will benefit most."
Give here:
https://www.gofundme.com/earthquake-relief-manta-dive-staff .