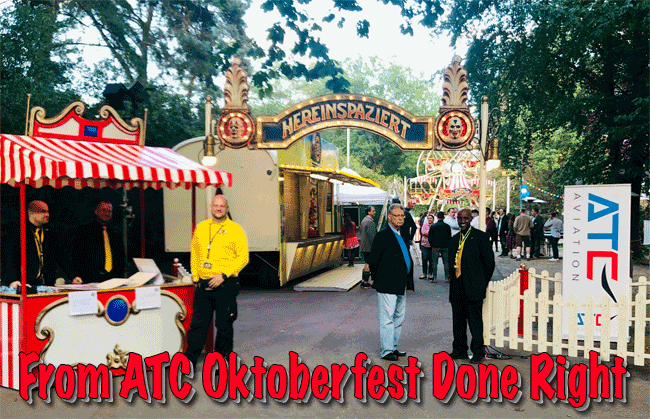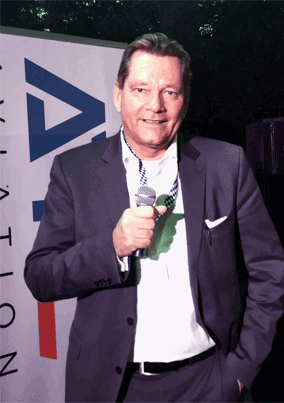 "Looking at the 2019 business climate currently in place, ATC sees that in some countries we are slightly ahead and elsewhere a bit lower than we would like.
"Tonnage average overall is somewhat the same as last year but yields are lower.
"Without a doubt the challenge is a tough business year so we remain on our toes and close to our customers.
"The best surprise in this climate is no surprise.
"We have exciting plans and business contracts underway toward final agreement, as we continue our expansion in the months ahead," said Ingo Zimmer, CEO of top GSSA ATC.
"We are pleased to say that Air Astana has joined to ATC family and are here tonight."
Air Astana is the flag carrier of the Republic of Kazakhstan, based in Almaty where it operates scheduled, domestic and international services on 64 routes from its main hub.
"Everywhere in the world we serve, ATC is made up of not only experienced airline people, but many of our executives, myself included, started in the freight forwarding industry," Ingo Zimmer told FlyingTypers.
"We work strenuously to train our reservation and customer service staff to recognize the value and importance of the freight forwarder.
"The result is, ATC is especially sensitive to the demands and expectations of fluctuating markets and their effect on shippers and forwarders—down on the ground, shipment for shipment.
"We know what the forwarders' expectations are, as we speak the language of the forwarder, the airline's biggest customer," Ingo said.

Oktoberfest Spectacular

They say that cream rises to the top and that expression was evident all round as a soft, end of summer evening Oktoberfest in Frankfurt brought the most important transportation partners together last week on Wednesday, September 18, at "Anglerheim Moerfelden" located in a bosky dell quite close to Frankfurt Airport.
Ingo Zimmer and Dagmar Hanau, Group Marketing Manager hosted their annual "ATC Oktoberfest" greeting more than 400 guests from all over Europe and some from destinations far and wide to attend this annual rite of passage celebratory event.
Ingo's greeting to the gathering was short and sweet as he proclaimed:
"This is our 30th anniversary. ATC has grown since then and today represents 75 airline customers in 22 countries. Here in Germany, one of the biggest markets for ATC Aviation with 70 million kilos annually gives us reason to celebrate with you, our customers and colleagues. We thank you for your cooperation and continued support."
Gathered together for fun and frolic in traditional dress and under a gaily-lit ferris wheel that spun people aloft in the night, once again a grand tradition, the ATC Oktoberfest was the place to be in Frankfurt air cargo society last week for an unforgettable evening.
There was great food, beer, music, ladies in dirndls and men in lederhosen, as everyone took a step back to celebrate the air cargo harvest of 2019 with pied piper Ingo Zimmer, and Grand Marshal and hostess extraordinaire Frau Hanau.
Dagmar and her team of beautiful of young ladies, it should be noted, thought of everything.
As a cool breeze settled upon the dell venue, heating lamps were ignited and soft blankets were in evidence everywhere for further comfort and relaxation of the diners.
ATC is a family fraternity, no doubt, and everyone in their embrace is treated with care and attention.
In the quiet, forested setting, ATC arranged dress up portrait booths, a coffee cart, and a shooting gallery. There was even a contest that offered relief from every day tension by pounding a nail into a log, with a shot of Jägermeister as reward.
Everything was just right for the group that gathered around the beautiful small lakeside for the evening frolic while music filled the air.
Inside the comfortable Mörfelden Lodge a place where the fisherman gather, is a table with a small sign that pays homage to its inhabitants with the lyrical dedication, "table for fishermen, hunters & liars."
From a series of gaily decorated tents that encircled a traditional German Beer Garden set up with colorful tables accented with bright tables clothes, small vases of flowers and baskets of pretzels, came heaping plates of local delights including traditional Bavarian fare of roasted chicken and Weisswurst to Leberkäse with potato salad and other delicacies.
All the food was delicious and sumptuously prepared, but special attention must be paid to the heavenly mushrooms that filled plates this special evening.
Grown on the hills around Frankfurt and harvested at this time, alongside the various sweet and dry white grapes that make the Riesling wines, the steaming hot cooked mushrooms served rich and bubbly simply can't be beat.
Presented in a cream sauce that to our taste is simply out of this world, the mushrooms achieve star quality and were outstanding on the plate as a meal all by themselves.
And, of course, wherever you turned there was great German beer and local wines, plentifully perfect, and always within arm's reach.
But don't just take our word for it. Here on this page we invite you, dear reader, to join some of the ATC Oktoberfest celebrants we spoke to as we share the feeling of this very special gathering with you as well.
"The end of summer is a good time to take stock of things as winter approaches and to say a simple thank you in a relaxed and supple atmosphere, to the people who support our efforts and mean so much to us," Ingo Zimmer declared.
"This Oktoberfest gathering for all of us at ATC is a celebration of the people in the community that we work with and admire daily," said Dagmar Hanau, ATC Group Marketing Manager.
There was a good feeling here, a buzz of excitement in the air as the evening filled with friends, good food, and music for a party. Although scheduled to end at midnight, like a moveable feast, the fest just kept on giving, lasting well into the wee, small hours of the morning.
Gemütlichkeit!
Geoffrey