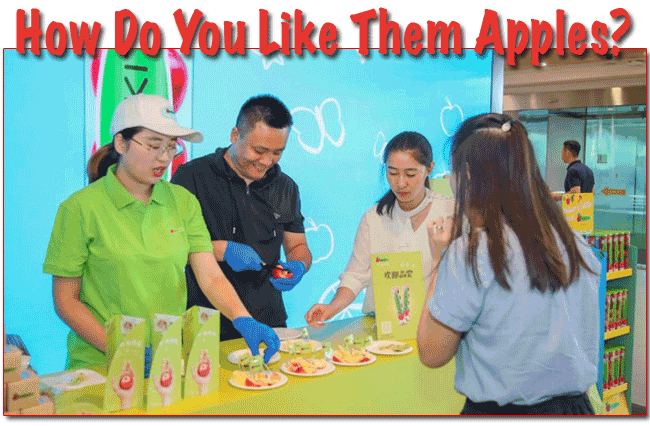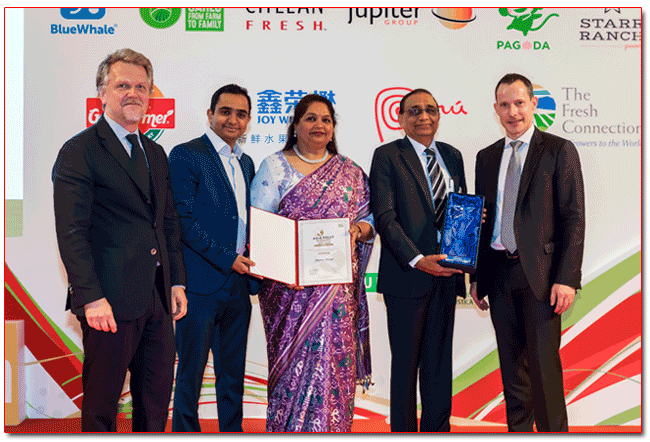 Asia Fruit Logistica (AFL) commercial director Wilfried Wollbold (far right) presents Impact Award to representatives of Yupaa Group. Hong Kong unrest caused dip in 2019 AFL attendance.
Asia Fruit Logistica (AFL) 2019 was held in Hong Kong September 4-6 amidst the protests and unrest which have characterized life in the former Crown Colony, that still continue.
The event, an offshoot of Fruit Logistica held in Berlin every year has consistently grown in Asia during the past several meetings.
Although show attendance dropped 10% at the venue Asia World-Expo Hong Kong, AFL's commercial director Wilfried Wollbold was upbeat:
"We are sincerely grateful to all our exhibitors and trade visitors for joining this year's edition under difficult circumstances. "We feel fortunate to be part of such a great and resilient industry."

Where Are The Fruits?

Delegates to AFL received the first copies of a statistical guide to Asia's fresh fruit and vegetable business covering 12 different markets, including Vietnam for the first time this year, as well as a global fruit map displaying the main trade lanes for fresh fruit imports to Asia.

How Do You Like Them Apples?

Of course there were awards. Rockit Global won the 'Marketing Campaign of the Year' for its innovative miniature apples campaign in China.
Indonesian importer Laris Manis Utama won the 'Importer of the Year', while Chinese food retailer Yonghui Superstores grew into 'Produce Retailer of the Year' and "Shazam!", the AFL 'Impact Award' went to Indian importer-grower-distributor Yupaa Group.
With China, Asia's fast-growing fresh produce market is expected to account for over 50 percent of global consumer spending on fresh fruit and vegetables by 2030. AFL vows to return to the same venue in Hong Kong next year.
AFL 2020 takes place at Asia World Expo Hong Kong September 23-25, 2020.