Proflora 2019 is being held this week as the self proclaimed "best flower show" opens in Bogotá, Colombia on October 2 and runs through October 6.
With 500 exhibitors expected at this year's event (held every two years), you'll get no argument from us.
A genuine buyers and sellers buyers show, ProFlora makes no bones about it with an October 2 set up for visits to any number of the many flower farms in and around Bogotá reserved for "international" buyers only.
Of course there are exhibits and speeches at the downtown Corferias Convention Center and an upscale closing dinner at 8:30 pm on Friday October 4.
But in a cool and somewhat unique move, ProFlora opens its doors to the public on Saturday from 10:30 until 17:00 hours.
No strangers to flowers, Air France KLM Martinair Cargo said it is attending the event.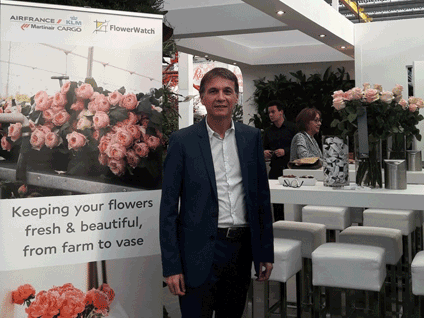 Watch On
The Flowers

"This week's event is the largest international trade fair for cut flowers in the Americas," Eric Mauroux, AF/KL/MP Global Head of Perishables Logistics said.
"The big good news we want to share is that our flower flow out of Colombia is now FlowerWatch approved," Eric proclaimed. www.flowerwatch.com
We are the first airline to receive this certification launched last year in Nairobi.
"Our unique degree-hour controlled shipping method has been specially designed to handle delicate flowers.
FlowerWatch quality insurance system in the main flower markets not only improves the quality and vase life of fresh-cut flowers but also drives vertical collaboration amongst all stake holders in the supply chain," Eric Mauroux said.
Geoffrey