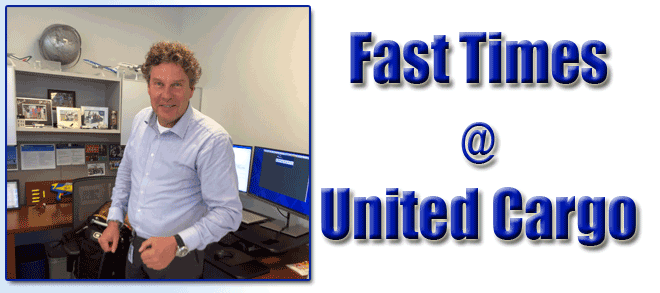 The Loop, Chicago, USA—Looking at the global air cargo market and reaction to business in the here and now from the inside amongst the people at United Cargo in 2019 plays in mind a bit like the famous opening paragraph of Charles Dickens' novel, A Tale of Two Cities.
"It was the best of times, it was the worst of times, it was the age of wisdom, it was the age of foolishness, it was the epoch of belief, it was the epoch of incredulity …".
We are on the 15th floor of The Willis Tower in Chicago and it is all fast times at United Cargo headquarters.
Elsewhere there is a big meeting going on with headquarters people and others from around the world discussing what's up and what lies ahead for United's Cargo business.
Standing by for that meeting to conclude, we are sitting comfortably at a coffee table as the heart of a mega-giant air cargo enterprise beats all around us.
During those moments we are aware that the future of United Cargo is here today on the half shell for all to see in the faces and voices and vibes of this place. United Cargo today feels like a body electric on a great adventure reorganizing, enhancing and accelerating thinking.
Instead of holding its corporate head in pain as a tough business year has continued, United made moves that it hopes will guarantee continuance of its position as the undisputed number one U.S. combination air cargo carrier.
Turns out that recent reorganization also included a ground-up HQ staff move from another floor inside Willis. The shift from the familiar to the new undoubtedly has had the net effect of ramping up team spirit as everyone here, in some form or another, shares a group experience as they continue their work in what amounts to an air cargo sanctuary inside one of the tallest buildings in the world.
We talked to several key players at United Cargo (who will be featured here later) to share some thoughts as the final months of 2019 get underway.

Jan Krems Sexy Cargo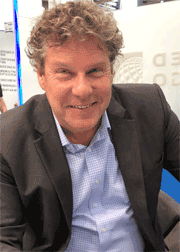 First up is United Cargo President Jan Krems, who has energized this organization by example since he landed the top spot in Chicago in summer 2014.
Sure, 2019 has been a tough year. But tell Jan something he doesn't already know.
"It's a downturn, not a recession," Jan states.
"We just had a worldwide meeting to discuss the recent 'rational restructuring' of our cargo organization. The new alignment brings all the stakeholders needed to evaluate and deliver on new customer opportunities in each region together, making us much quicker-to-market.
"People are empowered at United Cargo as never before – not only to get closer to our customers but also to be much more entrepreneurial."
We wonder if, five years on, Jan still thinks cargo is sexy and his reply is immediate.
"With every beat of my heart," Jan smiles.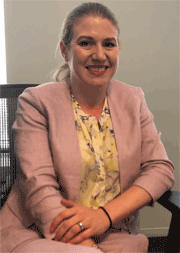 Cold Chain Diplomacy

Just down the hall as a gentle rain begins to fall outside, inside, the bright smile of Kate Harbin lights up the room.
Kate carries an impressive resume, including work for the U.S. State Department in Hong Kong before joining United Cargo just over a year ago.
But her focus and sense of purpose as Product Development Manager for United's TempControl service is most impressive.
"Cell and gene therapies have changed everything – including our approach to the pharma and health care market for us here at United," Kate said.
"Every shipment using a smart technology-equipped Savsu unit, or another of the high-performance systems we carry, has a personal story connected to it: from life-saving personalized medicines to organs for immediate transplant.
"These innovative units and United's vast network combine to bring life-saving therapies to airport and cities beyond major markets worldwide," Kate Harbin assures.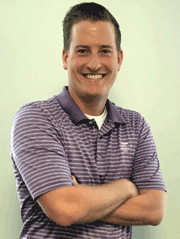 Looking for a Better Way

Meanwhile Adam Cooper, Senior Manager of United Cargo Sales Strategy, states that his current role, where he is tasked, among many other things, to do predictive analysis, "Allows me to not just influence but actively impact the product we deliver to our customers."
"Working in the freight warehouse, Operations Planning at headquarters, then leading a Sales Team and now in Sales Strategy during my 12 years at UA has taught me to appreciate the unique contributions of each group, and also to value each teammates' perspective."
So what drives the indefatigable Mr. Cooper?
"I appreciate disruptors because they challenge established thinking and methods. There's usually a better way out there, and we're searching for it together."

Making Tech Transparent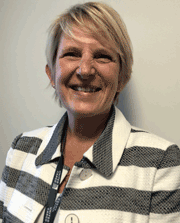 We first met Lori Lively when she was teamed up Claudia Steinke from Lufthansa. The two air cargo "sisters" were responsible for leaning in together to guarantee that the much-vaunted cargo alliance between the two super carriers actually worked.
They were a dedicated, powerful force for good, a power that propelled the cargo joint venture, which is now thriving.
Now Lori is in a new role as United's Senior Manager, Cargo Technology Products, and that translates into even broader responsibility to ensure that every part of the operation has the resources it needs to operate at peak efficiency.
"It's all about speeding up the process of enhancing and improving our technology, while providing absolute transparency to teammates," Lori said.
"An example of what we can accomplish is the joint venture technology platform we developed with Lufthansa Cargo that allows our customers to book and track their JV shipments on both partner carriers systemwide."

What Really Matters

Laura Petrusich has also recently taken on a new role after 31 years with United, 28 of these in Cargo. Laura is now Senior Manager responsible for Cargo Revenue Management throughout the entire APAC Region.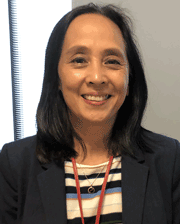 Laura's success and reputation is based on a strong work ethic combined with unvarying integrity and honesty, but face to face she says simply:
"It's all about building relationships.
"As the #1 U.S. carrier to China, United has felt the impact of trade wars and tariffs, and we needed to make adjustments as some manufacturing shifted to other countries in Asia," Laura said.
"So we immediately went to work expanding our routings with interline partners.
"The business is constantly changing and competition is always fierce, and my long experience has taught me never to forget how important our partners are.
"The most powerful thing you can do, with partners, customers or co-workers, is to connect with them face-to-face and assure them that you understand their challenges.
"No matter how much technology advances, or whether the market is booming or struggling, the cargo business is still all about people," Laura insists.

Satisfaction: The Last Laugh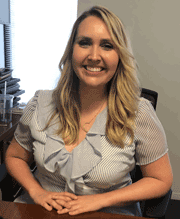 Courtney Buckwalter, United's Manager of Cargo Claims, can tell you that she has never encountered a customer demand she has immediately dismissed.
She can also, during a conversation, break into an easy laugh, eyes sparkling, as Courtney considers what part of the dialogue in her daily life might fit into her other passion as a stand-up comedienne.
She admits the job demands keeping her eyes on the prize, while walking a kind of tightrope dealing with people looking for a refund, but sometimes much more than that: validation, a willing listener and satisfaction.
"You cannot be emotional and take the job home.
"It's a delicate dance, you have to be super creative.
"The idea is not to burn bridges, and to find a solution both parties can agree on," Courtney said.
Off hours Courtney is a featured player in an all-female stand-up comedy group that appears regularly in various night spots throughout Chicagoland.
"After some days around here, comedy is the best therapy," Courtney laughed.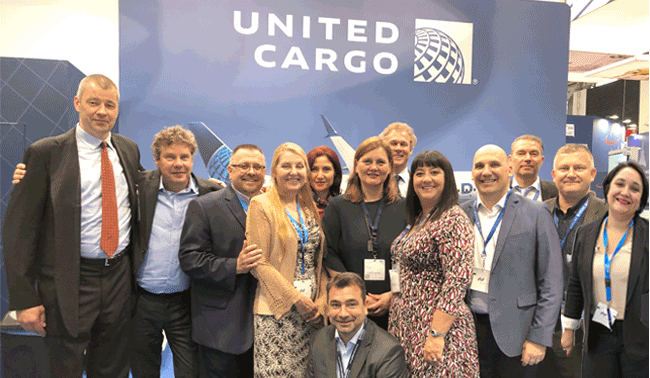 The United Cargo team at the June 2019 Air Cargo Europe in Munich.

The Last Waltz

"We are all part of something special," Adam Cooper said.
"Jan Krems' personality and positivity has created a halo effect that allows everyone at United Cargo to speak their minds and make the decisions they believe will best serve the team and the business."
Geoffrey/Sabiha