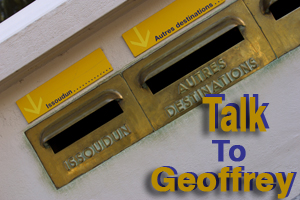 RE: Ancher Handicaps Cargo Futures
Hi Geoffrey,

I trust you are keeping well, anyway I see that FlyingTypers is coming out on schedule week after week.
Congratulations!
The comments by Jacques Ancher in the recent issue rang a bell for me, as if there is one area which has stood absolutely still for 40+ years it's been the manner in which the transfer of custody of ULD is handled, despite the contribution that ULD make to Air Cargo Handling the processes by which the transfer from one party to the next in the supply chain remains firmly in the paper-and-pencil era, absolutely ridiculous.
"More than 40 years of trying and yet there is still the backlog in automation.
"The shifts in global production with 3D printers, the Italian accessories, etc.
"Our clients and competition have left us and travelled out of sight. Apple, Amazon, AliExpress.
"For the next ten years, I believe, the strategy is operating jointly as one entity: passenger and cargo working together in concert to optimize revenue and costs.
Jacques Ancher
ULD CARE is not sitting still in this regard, and we are just a couple of weeks away from the switch on of our Proof of Concept Blockchain based Interline ULD User Group ( IULDUG) System which enables airlines to keep track of the ULD assets when they transfer between airlines in the process of interlining. About 12 months ago we entered into an agreement with SITA to migrate this quite elderly system to a blockchain platform and it's very very exciting to know that very shortly the POC will be running.
Once the technical aspects have been proven we will then be able to explore the opportunities to create a global platform for tracking and monitoring all ULD transfers of custody regardless of the different parties, which will be a gigantic leap forward.
We will be in touch.

Bob
Bob Rogers
Vice President & Treasurer
ULDCARE