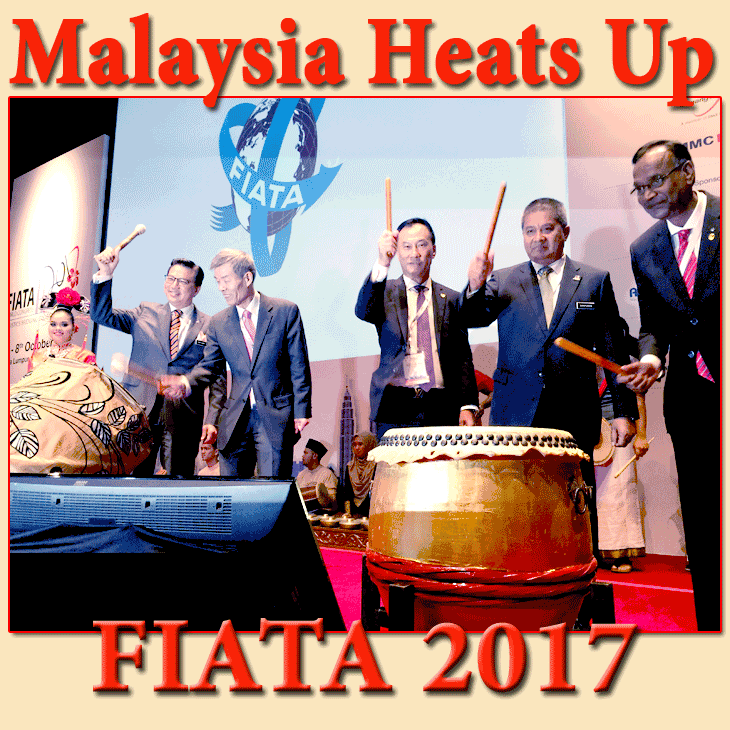 Another opening, another show. . . The beat goes on in an emotional and uplifting drumming into action, the big event in downtown Kuala Lumpur, as FIATA World Congress officially opened for business October 5, with all the principal speakers taking part. Also in the picture is Krishnan Chelliah, far right. Many people labored to make FIATA 2017 a success, but no one more than Krishnan, who shepherded the big show from concept to reality during the past year. Krishnan also serves as a FIATA Board Member.

Yang Berhormat Dato' Sri Liow Tiong Lai, Minister of Transport, Malaysia was there.
So was Mr. Zhao Huxiang, President, FIATA, (International Federation of Freight Forwarders Associations ) and Alvin Chua, President, Federation of Malaysian Freight Forwarders (FMFF), as the biggest, most important gathering of freight forwarders began on Thursday, October 5, in Kuala Lumpur, Malaysia, at the 56th Annual FIATA World Congress 2017.
The event continues through this weekend, ending Sunday.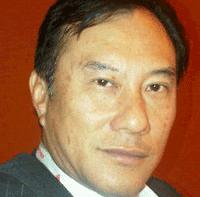 Alvin Chua Lays It On The Line

"The International Transport Forum expects trade to represent 50 percent of global GDP, increasing to 350 percent by 2050," declared Mr. Chua.
Mr. Chua, in addition to serving as President, Federation of Malaysian Freight Forwarders (FMFF), is also positioned as President of Selangor Freight Forwarders and Logistics Association.
"Growing share of trade will take place between emerging economies, compared with only 15 percent today," Mr. Chua declared. "By 2020, it is projected that freight forwarding will be 20 percent e-commerce driven.
"So 'Logistics Driving Global Trade' is apropos of our gathering the largest group of freight forwarders to meet anywhere in 2017, this week in Kuala Lumpur."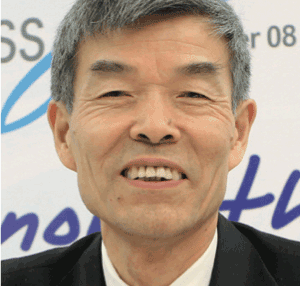 Time Will Not Wait

"The oft-heard phrase 'Time waits For No Man' has never been more true than it is today in this room," said Mr. Zhao, President of FIATA.
The energetic and persuasive CEO of Beijing-based Sinotrans, in one of his last official duties as FIATA President, went on to say:
"Once again in October, we get together for this grand event of the international freight forwarding and logistics industry, the FIATA World Congress.
"This year, we welcome more than 800 participants from over 70 countries and regions in the world gathered here in Malaysia.
"Let me firstly thank our local host, Federation of Malaysian Freight Forwarders, for inviting us here to the beautiful city of Kuala Lumpur.
"Thank you!"

Speaking of Objectives

"For the past two years, one of FIATA's main objectives has been to advocate trade and transport facilitation, to create a better business environment for the international freight forwarders despite strong anti-globalization tendencies.
"I am glad that FIATA's public presence has grown even stronger within the two years.
"Whenever there are significant changes in the socio-economic landscape for the freight forwarding and logistics industry, FIATA's voice can always be heard.

IATA/FIATA Partnership

A new IATA-FIATA Governance Board (IFGB) has been created as part of the groundbreaking landmark IATA-FIATA Air Cargo Program to provide a framework of industry standards that are in line with best practices and safety regulations.
"On August 15, Canada became the first country to pilot the IFACP, the IATA-FIATA Air Cargo Program.
"Various meetings on sea, rail, road, and regional issues are held by FIATA with other partner associations," Mr. Zhao said.

Game Changers

"For the future of our industry," Mr. Zhao continued, "my expectation is quite optimistic as firstly, signals of solid economic recovery have arisen in many countries and regions, especially in some major economies.
"Secondly, the WTO Trade Facilitation Agreement came into effect and we hope it will become a key driving force in trade facilitation.
"Many countries and regions are also seeking development opportunities through regional economic cooperation models.
"Of course, our business will continue to face changes, which mean both opportunities and challenges.
"The ever-growing e-commerce is undoubtedly a game changer, the whole supply chain and the authorities are working to find the right way to accommodate and regulate it," Mr. Zhao concluded.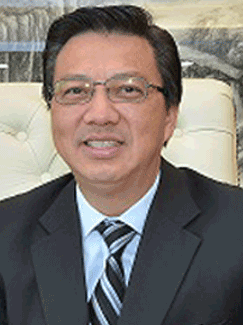 Minister Sees Sunshine For Malaysia

"We are proud to welcome delegates to the 56th FIATA World Congress co-hosted in Malaysia this year by the Ministry of Transport and the Federation of Malaysian Freight Forwarders (FMFF)—the national association which represents the logistics industry in our great country," YB Dato' Sri Liow Tiong Lai, Malaysia's Minister of Transport, told a packed meeting hall inside the Kuala Lumpur Convention Center.
As he declared the FIATA World Congress 2017 open for business, the Minister delivered a wide-ranging keynote address.
"As trade becomes increasingly borderless, trade facilitation regulations and processes too need to change.
"The value of world exports of commercial services, valued at U.S. 4.77 trillion in 2016, recorded Asia as the strongest performer, outpacing other regions on the import side with a growth rate of 2.6 percent. This again reflects the continued strong performance of trade in the region."

Think Halal

Dato' Sri Liow also called upon FIATA members to tap on the potential of the halal market, and on e-commerce, where Malaysia has invested in multiple projects to facilitate the fulfillment of logistics in this growth area.
He also declared that the government's pro-active stance in taking steps to improve the country's logistics sector performance is testament to the commitment of ensuring sustainable growth of the industry.

Malaysia On The Move

"With the establishment of the National Logistics Task Force and the implementation of the Logistics & Trade Facilitation Master Plan in 2015, we aim to be the logistics hub for ASEAN and the Preferred Gateway to Asia," he said.
"Our current investment in logistics infrastructure amounts to nearly RM15 billion in four sub-sectors—rail, road, maritime, and aviation."

Future Abuilding

"Malaysia is currently embarking on future massive infrastructure projects to improve our logistics capabilities estimated to be worth more than RM100 billion," the Minister said.
Geoffrey/Sabiha