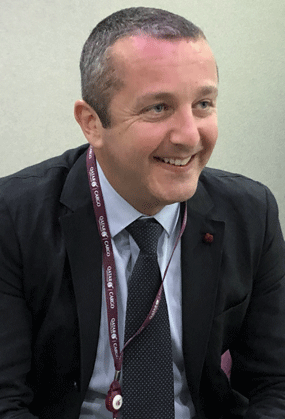 Guillaume Halleux
Chief Officer Cargo
Qatar Airways

Qatar Airways Cargo is among the fastest growing air cargo companies in the world and is getting closer to becoming the larget carrier in the world.
Guillaume talks about what it takes in 2019:

1. What are the most important attributes of a leader?
You lead when you put the interest, the benefits and the support of your team before yours. Leaders work on others, for others to over achieve. I often tell my teams that I don't price shipments, I don't take bookings, I don't handle cargo or palletize it myself. My job is to create the conditions and the environment so that all these duties are conducted the best way possible. Therefore my role is to guide, explain, engage, reward and sometimes also to discipline.

2. Why is mentorship important?
It is a crucial part of managing talents. At the end of the day we all work together, we actually live together in the same company or office for at least 1/3 of our time every day. It is all about human interactions and mentorship is one way to cement our social environment. In large organizations like QR Cargo we have staff from over 70+ nationalities and an equal number of cultures. We have young talents as well as senior and seasoned experts. It would be silly not to try and mix all those attributes to add value to each individual, and to the company, which eventually leads to additional value to our customers.
We have launched a mentoring program, trained a significant number of mentors and mentees in Doha. The initiative will progressively be extended to our outstation staff. What is key here is the right match of personalities and the guarantee of confidentiality. By securing both, I am confident our program will result in stronger people development.
As part of that initiative, I am, myself, the mentor of a young Cranfield University graduate in our head office. We meet every month, have very open discussions and identify areas where the mentee wants to improve and focus on. I personally get a lot of satisfaction from the program as well. This is not a one-way street for sure!

3. How do you handle customer experience?
We strive for a personalized experience at every moment. This is the DNA of Qatar Airways from day one. Do we always succeed? No . . .
We do have our issues but the ambition is to be able to interact at every level in a customized way. We see our customers as people, not just a company name. So along that view, we invest in our people (training) and in systems to use the most relevant historical data for each customer interaction. A lot of work in the pipeline . . .

4. How do you extend influence to touchpoints that you do not even have responsibility for?
There are two dimensions to your questions. We are one of many players in the lifecycle of a shipment (truckers, customs, airports, GHAs, forwarders etc.). But cargo is also one of many elements in the life cycle of a passenger flight (maintenance, load masters, flight control, ramp operators, luggage, regulators, etc.).
The first element you need to do to influence the other parties is education. I spend a significant part of my time educating and raising awareness with other stake holders. Then you obviously need to demonstrate what is in there for them. Lastly, and probably the most important you need to give back. This takes a lot of time but in the long run, if the benefit is mutual, we manage to get things done.

5. How do you promote great collaborations?
One word: Passion. Because it is contagious.