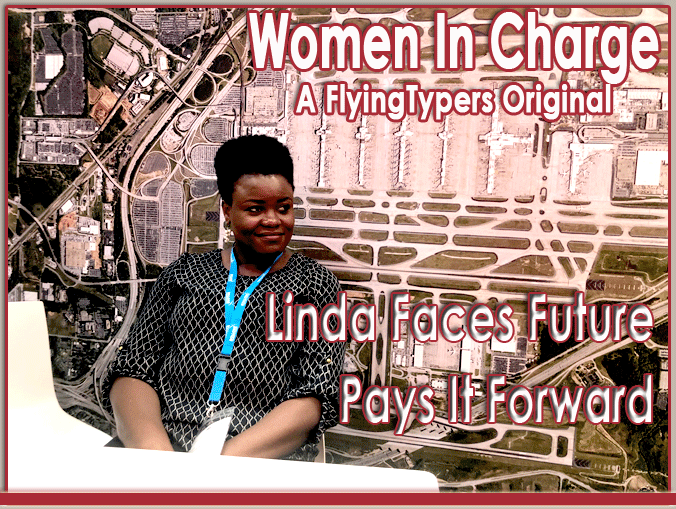 Linda Eshiwani-Nate, Business Development Manager at Atlanta Hartsfield Jackson International Airport (HJIA) put it on the line:
"I am really excited. For quite a while, U.S. airports have remained far behind their European and Asian counterparts, especially as it relates to the overall airport experience and Cargo handling and operations, as such, I am excited that we (ATL) have arrived here today.
"This momentum we are experiencing today, is a direct response to an overall demand for change and improvement, expressed by our cargo stakeholders.
"It goes without saying, air cargo demands speed and efficiency, in order to realize its true value, therefore, as an airport, it is our responsibility to facilitate the changes in processes and procedures that will ensure that our stakeholders can realize the same in order to be profitable."
At the last Air Cargo Europe Conference and Exhibition, held in Munich, Germany, in May, the buzz was about the landmark announcement of a unique and wide-ranging air cargo cooperation between Hartsfield-Jackson Atlanta International Airport (ATL) and Amsterdam Schiphol International Airport (AMS).
Sure, the drivers include the fact that Delta and AF/KLM/MP and SkyTeam can rightfully benefit from any effort on the ground.
But what shines here is that these two world gateways are in a moment of truth, a reality check of time and place and building future goals together.
Now as true partners, ATL and AMS are in close partnership with each other and their carriers, with a hands-on effort to find solutions to solve and achieve their air cargo issues and goals.
Some of the projects coming online as a result of this partnership include a data and trade corridor, a cargo community system, as well as the creation of an organization that will work to advance the agenda, reach and influence of the local logistics and supply chain community.

Take Me to The Cargo Community System Pilot

"The ATL CCS, has thus far been viewed favorably, as many realize its immediate effect in achieving much needed transparency throughout the supply chain, and its impact on achieving efficiency because it allows stakeholders to improve their resource planning and cargo processing capabilities," says Linda.
"The implementation exercise which began at the beginning of this year, with a well-attended initial meeting, will culminate in the launch of the pilot program, in November of this year. As we lead up to that target date, happy to be able to report that interest in Atlanta is at a very high pitch.

The ATL Proposition

"We have a great offering at ATL and with a strategic partner like Schiphol we can envision building a global network of interconnected airports that not only streamline the process but by cooperating we can jointly install alike technologies and common practices to accelerate growth and handling.
"Our other big news is our most recent partnership with Worldwide Flight Services Inc. (WFS), to operate the newest cargo facility at HJIA that should be fitted out and up and running in the coming months," Linda said.
Located in the airport's south cargo area, the newly-constructed facility includes a 120,000-square-foot warehouse and 20,000 square feet of office space.
"Our goal is to offer the highest quality of handling services to attract high-value cargo onboard the more than 900,000 flight operations from Atlanta annually," Linda declared.
"We want to grow our air cargo business, so partnering up with WFS to operate our newest facility as a modern cargo terminal, will support the airport's cargo growth," Linda said.

About Linda

Linda Eshiwani-Nate was born in Nairobi, Kenya. "I was a curious, high energy and extremely restless child, and everyone would say that because it was impossible for me to sit still, I would never be able to work a regular 9-5 desk job. Hearing this practically every day of my life and a string of other events are what led me to the aviation industry. One key event that sticks with me to this day, happened when I was about 5 years old.
"I remember my dad was travelling, and back in the day, when the rules were not what they are today, we would escort him all the way to the gate. I was standing with my family at the gate and as usual, I was wandering away from the group, when I saw them. I'm not sure what drew me to them, but I was mesmerized. There were two gentlemen dressed in uniform approaching the same gate. Their persona was so distinguished and their walk was so majestic and the smiles on their faces reflected the fact that they knew this. I was so enthralled, they might as well have been Superman and Batman approaching the gate. They were gone in a split second, and long after they boarded the plane, first naturaIly, I was still staring. Later I would find out that they were pilots, and would be flying my dad.
"That seemingly small moment was the birth of my obsession with aviation. At that age, I decided that I would be a pilot, and fashioned the rest of my childhood on that. Everything I did from that point on, was directed towards becoming a pilot, I never even considered a plan B.
"Right after completing my high school education, I was set to leave for the U.S. to begin my flight training, when 9/11 happened. Naturally, my parents, especially my dad, panicked. All plans were halted. My family tried in vain to convince me to change my career goals, and 3 years later in 2004, after wearing them down, I finally left home on my own, joined Embry-Riddle Aeronautical University in Daytona Beach, Florida and began my work towards a Bachelor of Science degree in Aeronautical Science, with a concentration in Flight.
"But life has a funny way of changing our planned course. Here I was, working hard towards becoming a pilot, the next thing I knew, I was in love, getting married 2 years later and having my first baby by 2008.
"I always thought my first solo flight was by far the greatest moment of my life, but that was overshadowed by the day I became a mother. I never expected that someone I had just met, would have such a tremendous impact on the course of my life. Isabella (my daughter) changed everything.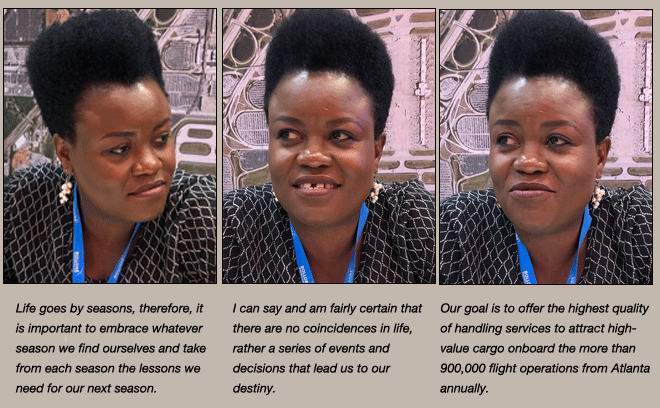 The Bigger Dream

"When I looked in her eyes, when I pondered on her helplessness and her future, I realized that I had a greater calling in my life, much bigger than myself. Motherhood became the catalyst that changed my course.

The Power of Relationships

"Fast forward to the end of my studies, I chose to use internships as a gauge for where I wanted to launch my career. "This how I ended up at the world's busiest and most efficient airport, ATL.
"I can say and am fairly certain that there are no coincidences in life, rather a series of events and decisions that lead us to our destiny.
"I say this because my timing in arriving in ATL, led me to meeting one of the most influential people in my life, Miguel Southwell, who eventually became my mentor. Mentorship taught me valuable lessons that would have taken years of learning, had I been on my own. Being mentored by the then general manager of the airport, and to-date a well loved and respected leader in the industry provided me with exposure and acceleration that I had never even imagined. I was thrust in projects that were way over my head, but which served to lead me to where I am today.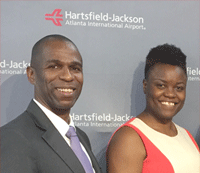 Elliott Paige, Director Air Service Development and Linda Eshiwani-Nate, Air Service Development Officer.
"One such opportunity led me to be noticed by my current manager, with whom I began to collaborate long before I made the switch and joined the team. Three years later, I couldn't be happier about my career, and our mandate, in growing passenger and cargo air service, as we realize the great impact of the work we do.
"Getting ahead is the result of hard work, timing and the right relationships. For me being able to continue my love for aviation did not manifest itself in the quest for position in the left seat on the bridge of an airliner, but sticking with my passion for aviation allowed me to flourish in the face of change.
"Today, I consider myself rich, because I get to do what I love, which allows me to provide for those that I love. My family, which now includes three high-energy and ambitious girls (including one who wants to be a pilot), provides me with all the confirmation that I wouldn't have it any other way."

Family First

We are wondering just what it is about Linda Eshiwani-Nate that makes our talk in this room in Munich so compelling.
First of all, to observe her beautiful face up close for some time and the light shining in her eyes is to realize almost at once that she certainly does not look like many or any other airport development officers in our experience.
But then after all this information she gets straight to the heart of her mind and soul.
"I was brought up in a progressive household with of five sisters.
"We were encouraged to be whatever we wanted to be as long we lived a life of purpose.

The Rules

"What I have learned in my personal professional life trajectory is that life happens. In between all the goal setting and reaching, is life. Marriage, divorce, children, illness, winning and failing, it happens to all of us. What truly matters at the end of the day, is our ability to adapt and keep moving. As long as we refuse to give-up, as long as we continue to believe in ourselves, as long as we keep hope alive, we will make it, no matter how long it takes, we will eventually achieve all that we were created to be," Linda Eshiwani-Nate said softly.

Nuggets of Wisdom

"Over the years, what I have witnessed from my parents, family, mentors and friends is, that people always matter. No matter what we plan to do or hope to achieve in life, we will always need people, therefore, how we treat people, especially the least amongst us, matters, it speaks to who we are at the core.
"To young people looking to begin their careers, the Bible says, "Do not despise the small beginnings." Life goes by seasons, therefore, it is important to embrace whatever season we find ourselves and take from each season the lessons we need for our next season.
"Finally, when the time comes," Linda said, "don't forget to pay it forward. To whom much is given, much is expected."
Geoffrey/Sabiha