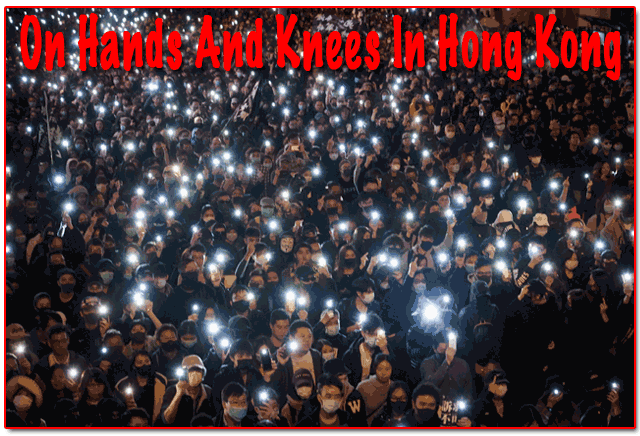 Smartphones light up the night protests in Hong Kong, December 8, 2019.

Just four months after Cathay Pacific's chief executive resigned, Hong Kong Airlines, the city's third largest carrier, is hanging onto its license by its finger nails due to a financial crisis, and is being allowed to survive now with government help.
We began covering the Hong Kong protests earlier this year thinking, how long would this most important city of banking and commerce, and of course air cargo be strapped by pro-democracy protesters?
The answer, as 2019 is ending, was loud and clear in the streets on Hong Kong, Sunday, December 8, 2019 as hundreds of thousands of freedom marchers came out to demonstrate.
The throng included one woman who crawled, literally on hands and knees on the rough road surface—an apt metaphor for the arduous path traveled by Hong Kong's protest movement in the past six months.
"Her performance," said one of her friends "is about the difficulty, or the repetitiveness, of demonstrations.
"This is really a long-term struggle," she said, and one that shows few, if any, signs of flagging.