Ian Morgan, Qatar Airways Vice President Cargo The Americas, makes no bones about it.
He got into air cargo by chance but during the ensuing years has never looked back.
He has also worked both sides of the fence, first in forwarding and now at the airlines.
"I started my career in 1979 at Gatwick Airport as a junior import accounts clerk at Pandair Freight.
"It was not an intentional decision, but purely by circumstance I found myself contemplating a job in an industry that I had really never heard of.
"To this day, it's the best decision I have ever made.

Purposeful Energy

"I strive to create an environment where the people that are part of the team want to come to work.
"We all have to work, but when you can create and maintain a culture that makes people want to come to work, that's where you make a difference.
"I am fortunate to be surrounded with the best people in the business and to be part of a team in The Americas that I believe is the best in the industry.
"I am thankful every day for that.

A Day In An Air Cargo Life

"No day is the same," Ian declared, "and that is very much part of the excitement that comes from working in the air cargo industry.
"One day I could be dealing with challenges such as the recent unrest in Ecuador, to establishing the infrastructure to support five new station startups occurring over the next three months.
"In most cases, it is communicating with staff, customers and partners to continue to make Qatar Airways Cargo the carrier that our customers 'want' to work with and not 'have to' work with.

Leadership Lifts Quality All Around

"When I look back on those who have inspired me, there is one common quality. They have all been willing to listen, even if you are not in agreement.
"They believe that everyone has value, and that all opinions are created equal.
"Being a great leader requires being a good coach, being able to empower, and not micro manage those who are very capable of doing the job.
"Great leaders make the working environment inclusive and facilitate career growth, and development.
"They communicate the vision, and ensure that everyone understands and knows that they are a vital part of the business.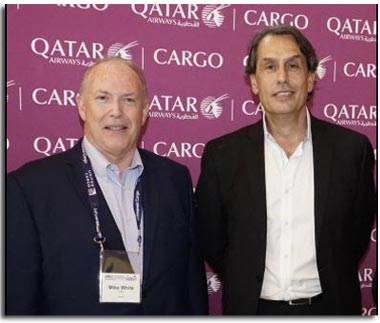 Mike White, President-Cargo Network Services (CNS), pictured here with Ian Morgan enthused, "Qatar has been a key sponsor of the CNS Partnership Conference. QR, with their growth in the U.S. has been supportive on the regulatory issues on customs and security.
"They also have been strong advocates in the paperless e-AWB initiative to and from the U.S.," Mike added.
True Partners

"We want our partners throughout the Americas and everywhere to understand that we are in a "partnership," and that if they fail, we fail.
"It is working with every component of our industry, to being at the levels our customers have come to expect.
"We have a responsibility as the world's leading cargo airline.
"Our team represents not just Qatar Airways, but also the industry as a whole, and that comes with serious commitments and responsibility.
"I believe our legacy will be determined by how we represent the industry as a whole, and the part we will play in improving safety, security, and the customer experience.

Customer Experience Is Paramount

"Customer experience is the most important aspect of any business.
"We have a dedicated team in place that is looking for ways to enhance and improve customer experience.
"Here is a clear customer experience vision that is 100% committed to delivering a positive experience at every touchpoint.
"Our teams make every effort to understand the customer and always act on their feedback.

Word Up Is Positive

"We have been receiving positive feedback from our customers which helps us understand that our efforts are bearing fruit," Ian smiles.
"Our position today is because of our customers who have never lost their trust in us.

Carrying The Message Up Front

"We, as employees of Qatar Airways Cargo, are the ones that create the impression.
"We are the ones that can negatively and positively influence the perception of the airline.
"At Qatar Airways Cargo, we always aim to create a positive perception globally.
"Customer centricity, as mentioned earlier, is at the heart of everything we do and this is reflected by each of our employees globally. "We care for our customers and remain humble.
"Everyone here understands that our continued success is due to the trust of our customers and business partners.
"We remain as humble and approachable to our clients as when we were ranked 14th in the world and even today, being one of the world's leading global air cargo carriers.
"I believe this is what sets us apart.

People Are Everything

"We also value people and recognize that we are only as good as the environment that we create for our staff to succeed.
"At every given point, we promote a positive work environment that allows our teams to excel, and be able to feel pride and value in their significant contribution to the airline's success.

People Just For Instance

"We believe in leading by example.
"You cannot be everywhere at once and, cannot speak to every customer, or even everyone in the cargo team, every day.
"What you can do is to create and nurture, facilitate, enhance, encourage, recognize, support and celebrate your team.
"This is reflected in every customer interaction that our global teams have with our customers and partners.
"Every time a customer entrusts us with their cargo, they understand how seriously we take that responsibility."

Great Collaborations Delivered

"As one of the leading global air cargo carriers, we believe in great collaborations, as they promote success.
"We encourage a culture of showing respect and value for the skills and contributions of our team members.
"We also believe that by having open and candid dialogues, and most of all by listening, and understanding alternative points of views, people feel valued and respected and that is what promotes collaboration," Ian Morgan said.
"Pre conceived ideas, dominance and dissonance can kill collaborations.
"We need to constantly evolve if we wish to hold the mantle of "Customer Preference." "The market is always changing and it's important to have an adaptive approach in every aspect of our business.
"If you were to see and live the creative development underway at Qatar Airways Cargo as I do, it only underscores that we take our part in the evolution and development of the air cargo industry very seriously."
Geoffrey