The year 2019 will be remembered at Turkish Cargo as a year-long transition whilst the brand continued to build through major investments and expansion of destinations, among other factors.
Turhan Ozen, Chief Cargo Officer explains.
"Turkish Cargo, provides air cargo services to more than 300 destinations in 126 countries in the world.
"After the relocation operation of Turkish Airlines, called the 'Great Move', which took place 6 months ago, Turkish Cargo's Dual Hub operations at Istanbul and Atatürk airports have been operating successfully.
"Turkish Cargo continues its dynamic growth in the air cargo sector with its successful operations in Istanbul, a single-center mega hub that reaches over 60 capitals within a 7-hour flight distance and is the closest to the world's logistics center of gravity.

All Operations SmartIST By 2021

"We plan to carry out all our operations at Istanbul Airport by 2021.
"We managed to continue our "Dual Hub" operations both at Atatürk and Istanbul airports with 24/7 full capacity and with the same quality and care.
"We also reached a good level of on time performance which represents the planned arrival/departure times.
"This dual operation will continue until one of Turkish Cargo's most valuable and important investments, SmartIST is completed.
"We aim to be one of the top five air cargo brands in the world with a total handling area of 185,000 m2 and an annual handling capacity of 4 million tons at Istanbul Airport.

Business Booming Up Nearly Nine Percent

"According to the data disclosed in September by WACD immediately after the partial move to Istanbul Airport," Turhan declared, "Turkish Cargo increased tonnage rate by 8.8 percent while the overall industry has shrunk by -5.4 percent.
"Further, Turkish Cargo holds 7th position in the global air cargo market.
"Turkish Cargo's tonnage market share amounted to 3.6 percent in 2018 and is expected to reach 4.0 percent in 2019 and 6.3 percent by 2023."

Handling Turkish Cargo

"The new cargo facility under construction, which is to be completed in two separate phases, will be equipped with IT developments and optimization, robotics automatic storage systems (ASRS-PCHS), as well as special cargo services PER - AVI and Express - E-commerce operational areas," Turhan said.

Tunnel To Tomorrow

"Thanks to the tunnels to be constructed, apron transportation will be provided quickly without interrupting the runways and taxiways.
"In this way, the transfer time of the pallets from the warehouse to the aircraft and from the aircraft to the warehouse will be reduced.
"Cargo aircraft parking positions close to our facility will provide faster cargo aircraft operation, and a separate distribution base to be installed close to passenger aircraft parking positions will enable more efficient management of short-linked (QRT-Quick Ramp Transfer) cargoes.

All The Bells & Whistles

"We'll keep performing our operations with the help of our technology-assisted services such as inter-communication of all systems and operation participants via Iot & Big Data," Turhan said.
"Enhancing operational efficiency will continue thanks to UGV & UAV, while realizing more area and minimization of human-oriented operations. Shifting to digital processes from paper-based processes will continue thanks to e-freight advances," Turhan promised.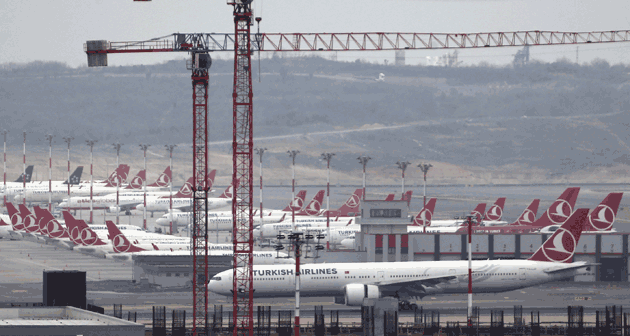 Global Market Overview

"The global air cargo industry," Turhan Ozen assures," keeps growing and evolving into new dimensions with the effect of the developing technology.
"According to IATA data, the industry, which shows a growth that can be considered regular in terms of tonnage between 2009 and 2018, is expected to take a substantial share in the global trade operations going forward.
"In line with the World Air Cargo Forecast, the global air cargo industry and the global cargo fleet are expected to grow by 4.2 percent and more than 75 percent on annual basis between 2018 and 2037.

Prediction of a Growing Market

"We see that substantial developments and a positive acceleration are occurring in Turkey in step with the global air cargo developments and trends.
"The data obtained by Eurocontrol shows that cargo, carried in Turkey between 2009 and 2018, has increased by 232 percent.

New Destinations Of Opportunities

"As mentioned at the top here, with operations to more than 300 destinations, 88 of which are direct cargo destinations, we continue to improve our flight network while maintaining growth momentum in 126 countries around the world.
"Looking ahead, Quito (Ecuador), Narita (Japan), Ouagadougou (B. Faso), Harare (Zimbabwe), Sharjah (UAE), Addis Ababa (Ethiopia), Maputo (Mozambique), Yangon (Myanmar), Dusseldorf (Germany) and Guadalajara (Mexico) will be added to the network and we aim to reach more than 120 direct cargo destinations by 2023.

Top Five Cargo By 2023

"Our fleet of 347 aircraft, including 24 freighters and the newly-acquired six Boeing 777 aircraft, each with a capacity of carrying 102 tons will be serving the 88 direct cargo destinations.
"In February and March 2020, Turkish Cargo will add on two more Boeing 777F cargo aircraft to the fleet.
"To achieve our goal of becoming one of the five largest air cargo brands in the world by 2023, Turkish Cargo's fleet, facility and network investments will continue.

An Undeniable Growth Pattern

"In 2017, we passed the 1 million-ton milestone," Turhan Ozen said.
"By 2018 that number increased to more than 1.4 million-tons.
"So far everything has gone well and we plan to handle 1.6 million tons of air cargo by the end of the 2019.
"Our goal is to be carrying at least 2 million tons of air cargo per year until 2023.
"Yes, it is a challenging time, but all of us at Turkish Cargo are excited and motivated about what we are building.
"Having located our hub at the center of gravity for logistics and being the cargo airline that flies to more countries than any other, we can outpace the competition and track long-term growth in a notoriously cyclical market by offering shippers competitive deals, routes and services.
"That is why we are constantly renewing our fleet, and added new freighters over the past two years.
"With these new 777F's and 330-200F's, we are increasing our cargo coverage, especially on long haul flights," Turhan Ozen concluded.
Geoffrey