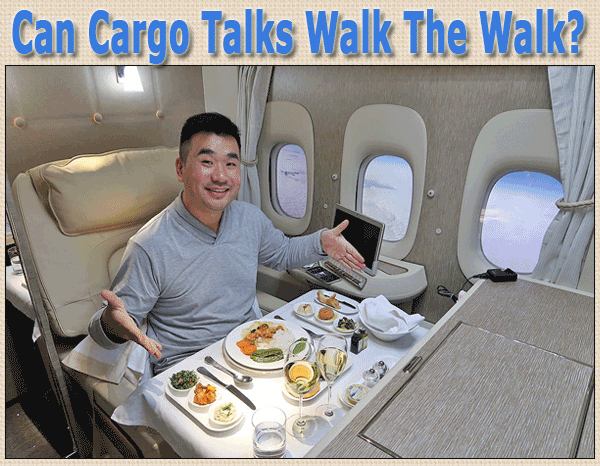 "Hey FlyingTypers thanks, a lot of people are talking about what you wrote about us."
We thought about those oft-repeated words of encouragement to us and launched FlyingTalkers, a weekly podcast every Monday for air cargo 18 months ago.
The podcast has made its mark and has driven us to cover all kinds of stories with people and companies around the world.
We are deeply thankful to our listeners for their kind support and invite readers of FlyingTypers to join in the fun each week.
I guess we could only expect that it would just be a matter of time until someone came along in the webinar/podcast form and branded something else in this spoken word category as talks or talking, or in case of today's subject Cargo Talks. For the record, in publications Cargo Talk of India has been around as a multi-modal sheet for more than a decade. Cargo Talk is also a column in a publication called Cargo Airports & Airlines Services.
Any way you look at it—there's a whole lot of talking going on right now at a time when air cargo is the big star in the world of transportation.
Turkish Airlines Cargo is putting up Cargo Talks, a first-time webinar that takes place beginning at 11:30 GMT Wednesday February 10.
Turkish has brought in a celebrity host named Sam Chui. Sam Chui is a likeable chap, who always seems to be smiling. He is best known amongst YouTube addicts that enjoy living vicariously as Smilin' Sam who flies first-class to far away places with strange sounding names, aboard every airline, waxing poetic of the details of his journey and loving it.
What Smilin' Sam, who lives in Dubai and Las Vegas, (glitz capitals) and is reportedly a millionaire, understands about air cargo is questionable.
But fair to say, Smilin' Sam knows a lot less about cargo than his knowledge of lie-flat seats.
But let's suspend disbelief, and hope Smilin' Sam doesn't get asked too many questions, and also that his sizeable audience comes along for a no-frills jumpseat ride into air cargo.

The Gang of 12

The format for this event is a three-and-a-half-hour panel show featuring 12 people, many of whom can be viewed speaking to and about similar subjects elsewhere.
So you might at least figure that they know what they are talking about.
"The Future of Air Cargo", "Digitalization of Air Cargo", and "Vaccine Transportation" are the talking points.
So will this semi-social business and advertorial effort by Turkish Cargo be a hit or a bust?
The jury is still out on that one. But kudos for trying, no matter what.
COVID-19 has brought about the era of Zoom, Facetime, WebEx, Skype, Adobe Connect, Google Hangout, Shindig, Amazon Chime, and others.
It's all new territory and about time industry leaders were more pro-active in this effort.

What We Have Herd

No matter what happens here next week, we all need to roll up our sleeves and accept that this is the only type of meeting that is on the menu until next year when the world will reach (we hope) some form of what is now called "herd immunity".
Strange that in 2021, we are in this world as part of a family on the street where we live, also in the community, the town, the city, the state, the country and now, the herd is also us.


Night & Day

There is some question of how a webinar broadcast works, when people have to be up at crazy hours all over the world to participate.
Maybe Turkish Cargo can edit the event down to highlights or even make it available as a talking book event on YouTube or on their website.
We wish them well.
There are some challenges.
Many people we talk to cannot remember the last time they listened through an entire webinar.
The truth is that some webinars are boring. The dead give-away that the webinar is a bust is when panelists in the event get up and take a break.
But webinars for air cargo and elsewhere are a new art. And as it is said you have to break an egg to make an omelet.
We recall when FlyingTypers went about creating the then unheard of YouTube videos twenty years ago and produced a hundred of them.
The first ones were 15 to 20 minutes long and full productions.
Today an air cargo video that really works is less than three minutes.
So maybe this webinar as we are told, a first put up by an airline for air cargo, will feature some new ideas.

Mini-Me

In addition to Smilin' Sam, it will be about three hours of looking at small pictures of people on a computer screen; like talking newspaper sized head shots of the speakers.

Changing Backgrounds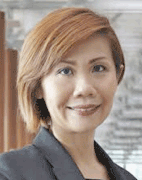 We get it about books and plants and certificates on the wall as backgrounds, but how about including some graphic art behind the speakers?
As example, for Jaisey Yip, General Manager Cargo & Logistics Development, Changi Airport (one of the panelists, pictured left), how about some views of that beautiful airport and maybe a picture of the Infinity pool atop the Marina Bay Sands Hotel, where the most recent World Cargo Symposium was held?
That view of the water until the edge, would liven up senses and strengthen the words being spoken as we hope and dream for another in-person air cargo event some time in the future that is not life-threatening.

Movies Are A Mother To Conversation

And maybe, since Turkish Airlines creates beautiful short films about the airline and various topics, why not make three more short films as set ups to form a parameter to drive the scheduled conversations?

Me & Jane on A Plane

So maybe the Cargo Talks gang of 12, spiced up with Kahoot games and the promise of some gifts for participants, including free-tickets with perhaps the possibility to fly around with Smilin' Sam will be a new departure for air cargo that will evolve and grow?
We hope so.
While we were writing about this event, we took a break to wash up, and had a long deep look in the mirror and thought about this upcoming webinar Wednesday.
Here is the takeaway:
If you can't do better, applaud!
More Info: www.cargotalksbyturkishcargo.com
Geoffrey
Everybody's Talkin' . . . a tune from his great album Aerial Pandemonium Ballet, that was immortalized in the film "Midnight Cowboy", here is the late, great Harry Nilsson in 1968, talking the talk.