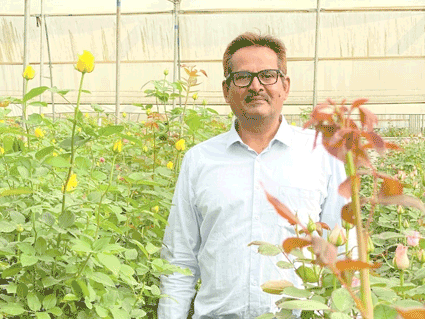 But not this year . . .
The flower farms at Bengaluru, Pune and a few other places are alive with color but this has not brought smiles to the growers and exporters.
Reason: Covid-19 and its aftermath.
Praveen Sharma, President, Indian Society of Floriculture Professionals (IFSP) was blunt when he told FlyingTypers:
"Let's separate the signal from the noise. 2020 was the toughest year in the recent past for Indian flower growers for two reasons: the Covid-19 lockdown and the Nisarg Cyclone.
"The two dealt blows that were both catastrophic and fatal for many flower growers," Sharma said.

Nothing From Nothing Means Nothing

"During the lockdown there was zero revenue, with the regular operational expenses," Praveen Sharma confided.
"And then came the Nisarg cyclone in western India adding to the agony of the flower growers.
"While on the one hand they were still trying to survive the COVID-19 effects, the cyclone did further damage to greenhouse structures leading some big players to close down their operations altogether," Mr. Sharma said.

No Rosey Futures

The COVID-19 knockout punch saw flower exports plummet 15 percent (April-October 2020) to 9,446 tons from 11,144 tons at the same time in 2019.
India's flower exports, in value terms, fell 11 percent to $41 million ($47 million in same period last year).
Right now India's major export shipments for Valentine's Day are destined for the UK, which has 35 percent of the Indian flower exports, followed by Japan 19 percent, Australia 18 percent, and the rest Malaysia, Singapore and Holland.

All Dressed Up With Nowhere To Go

"Valentine's which usually accounts for almost 20-30 percent of total annual revenue in exports," said Sharma, "continues to be negatively impacted this year due to various lockdowns going on currently in European countries," Sharma declared.

Demand Is Flat

Exporters in Bengaluru and Pune, we talked to in late January 2021 said there was hardly any demand.
What little there is has felt the downward pressure of sky-high freight rates and put out of mind any thoughts for much needed profits amongst Indian growers.
Christmas and New Year did not bring any hope and now with Valentine's Day and Easter around the corner, flower exporters believe that they will have to wait and hang on for dear life for maybe another cycle for the business to take off again.

Inifresh Farms Fares No Better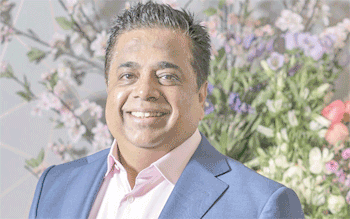 Hariharan Subramanian, founder and CEO, Indifresh and one of the top flower exporters with farms in Talegaon near Pune said: "Covid-19 has severely impacted the export of fresh cut flowers from India."
"India exports fresh cut roses to European markets especially UK and Netherlands. Other exports of fresh cut flowers are to Australia, New Zealand and the Far East. In the international market India exports compete with Kenya, Ethiopia and other East African countries.
"The exports to UK, and Europe are mainly targeted to multiple retailers," he said.
Subramanian was not alone.

Freight Rates Double Trouble

In Bengaluru, Venkatarao Kopuru, Director, Iris Biotech Pvt. Ltd - a grower of Roses, Carnations, Gerbera, Lilliums, Tube rose and Gladiola, and exporting to Malaysia, Australia, Middle East and Europe, said "COVID has impacted our business very badly. We had hardly any sales in the first 8 months of 2020.
"The times are very tough.
"We need to invest money to pay for farm wages, salaries, etc."
Even as growers/exporters tackle little or no demand, freight rates as outlined earlier have been up and down the line on an upward swing. In fact, freight rates for flowers have virtually doubled.
The shipping cost to Europe, which was only Rs 70-80 ($1-$1.10) per kg has gone up to Rs 200-225 ($2.74-$3.08) per kg.

Growing Concern Ahead

Never mind the challenge of weather and climate for a moment, the London-born, Mumbai-bred Subramanian, in fact, is deeply concerned as Valentine's Day and Easter 2021 approaches.
"Indifresh through the Pune-based Orion Flora has trained farmers to grow roses to the rigid UK specifications.
"We are very concerned about exports for Valentine's Day 2021, as we are no longer competitive with Kenya or Ethiopia due to our higher freight rates.
Rates from Kenya are at Rs 160 ($2.30) per kg and we are currently not competitive," he said.

No Subsidies From India

Subramanian also pointed out there was no support/subsidy from the Indian Government and with COVID-19 resulting in reduction of area under cultivation, it will be Valentine's at a 1.0 while everybody was hoping for at least a 2.
For Valentine's Day, for example, Subramanian's oufit sends out almost four to six million stems of roses.
"Space restrictions," he said, "due to COVID vaccines . . . gives us no way to reach market, so negative impact on exports will continue this year," he said.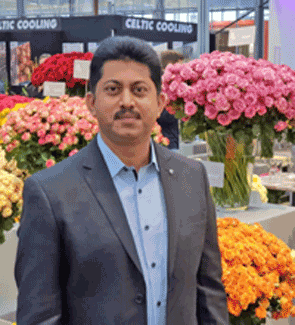 For A Saving Grace

Another Bengaluru exporter, Sridhar Chowdary M, Group CEO, Vinayaka Agritech & Suvarna Florex Ltd. could not agree more. Chowdary, a member of the Export Promotion Forum (EPF) of APEDA (Agricultural & Processed Food Products Export Development Authority) and the International Flower Auction Centre, Bengaluru, mentioned that in comparison to 2020, air freight rates are very high – in fact, double for some sectors and three times for Australia and New Zealand.
"Even if we do 80 percent of last year," he said, "it will be a good sign for the industry".
"The only saving grace, if one may term it that, was that "even the Chinese and African exporters also have to pay higher air freight rates as compared to last year."

Vaccine Now Flowers Later?

As for space constraints due to COVID vaccines, Chowdary, despite the losses, sees the need and understands why it must be people first, saying:
"Vaccination is very important for everyone's benefit.
"The vaccines really do not occupy more space", he insists.
"Also, we have already given space bookings for our Valentine shipments to the Far East, the Middle East countries and to Australia & New Zealand."

Good News/Bad News

He was quick to add, "The good news is that more flights are scheduled. Air India and Singapore Airlines are doing a great job especially for flower exports.
"But cancellation of flights to UK will negatively impact the floriculture exports. UK was one of the big markets for us for the New Year and Valentine's Day season," Praveen Sharma concluded.
"Looking at markets, we have been hit hardest," Subramanian said by the stoppage of all flights to and from the UK.
"Since COVID-19 and the restriction of international flights to and from India has reduced the number of flights to approximately 25 percent of the usual numbers.
"This has resulted in increase of freight rates by 300 percent for fresh cut flowers.
"The Mumbai-London pre-COVID freight rate was Rs 130 ($1.78) per kg for fresh cut flowers and now is approximately Rs 380 ($5.20) per kg."

Priced Out By Rates

"As a result, Indian flowers are priced out of the market and exports of cut flowers to Europe has completely stopped."
He said that small shipments had restarted to New Zealand and the Far East in the last month, "but the majority of the European exports will only begin, once rates come back to normal levels."

Looking For A Savior

While Sharma expects shipments to Malaysia, Singapore and Middle East could help the flower exporters, Kopuru of Iris Biotech hopes that the frequency of freighter flights will increase and so will passenger flights soon.
"Until that time we have to find various ways for survival," he said.

Battle For Survival

Subramanian's action plan for 2021 is to survive the pandemic, wait for the market to re-open as wholesale markets in Europe and UK are shut due to the pandemic.
"Hopefully freight rates will come down soon and we will revive our export business.
"The retailers have replaced supply chains and we can only hope that we will regain our lost business."
Even so, his Orion Flora is shipping to UK for Valentine's Day 2021 but volumes are at 50 percent of a normal year.

Flower People Grow With Adversity

Subramanian, along with the other grower/exporters was surprised at the resilience of the industry and the people growing flowers for exports.
"The 2020 cycle was without exception the most challenging year for the flower industry in India", said Subramanian, adding "but most growers that are still left in the business today are positive that conditions will improve and exports will resume.
"The challenge is to keep the business viable until then and keep cashflows going."
Tirthankar Ghosh, New Delhi