Right now all around the world a season of special celebrations begins.
Last week came Lunar New Year.
This week was Valentine's Day followed by President's Day.
Mardi Gras in New Orleans, a mere shadow of itself in COVID-19 2021, is celebrating Fat Tuesday today, noting the beginning of Lent on Wednesday and 40 days until Easter.
In Germany, specifically in Cologne this week where a glass of Kölsch and a pretzel are high art, is Kölner Karneval.
Yesterday was Rosenmontag (Rose Monday) the highlight of Karneval that takes place every year on Shrove Monday before Ash Wednesday and the beginning of Lent.
Now will come unlimited fields of tulips and other flowers of Spring 2021, as life pulls itself up by the bootstraps attempting to get back to normal, despite the pandemic and persistent lockdowns.
This is about Karneval in Cologne. And as they say, Kölle Alaaf!
Since right now all of us could use a good party, here is one virtually!
OK, maybe this week as Karneval continues, folks are not gathering as pictured here and in fact maybe are at home in front of the TV watching the action dressed up in a tux T shirt, but suspend disbelief and let's roll.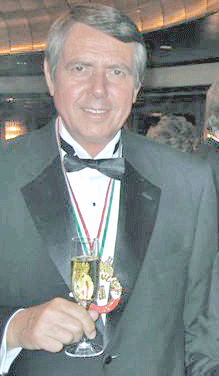 In the picture as Karneval was celebrated in 2007 is Jo Frigger, CEO of EMO Trans.
That year folks also raised a glass to the 50th anniversary of Köln/Bonn Airport that was returned to civilian use in 1957.
But this year as Köln/Bonn marks service for 64 years, we share what Jo Frigger, CEO of EMO Trans told us about the beginning of his air cargo career when he worked at Köln/Bonn for Haniel in 1958.
"Sixty plus years ago as Köln/Bonn opened for business we were like a family in air cargo.
"We called the airport a garden restaurant with a runway.
"The restaurant had the "Pilot's Corner," a cozy place in the bar, where we met quite regularly, had our Kölsch (the local beer), and discussed God, the world, and the airport."
"We were proud of our new airport and made sure, that cargo from borderline
areas where the freight could go to Düsseldorf or Frankfurt would wind up in
Cologne.
"Many of the guys from the Pilot's Corner wound up as successful forwarders
and with airlines around the world," Jo Frigger recalled.
The group became known as "The Cologne Mafia" a bunch of fellows, loosely connected who - competition or not – "stuck together and lent a hand when one was needed," Jo Frigger said.
"The guys from Düsseldorf, the archrival of Cologne, made a joke about the
name Wahn, the small town next to the airport.
"The word 'wahn' has a double meaning in German.
"The other meaning means delusion.
"So the boys in Düsseldorf coined the phrase "Doch es ist nur ein leerer Wahn"
—"But it is only an empty Wahn." (delusion)
"We did not care much for that.
"We ignored the barb and just kept going, and today the airport of Cologne has grown to be one of the major hubs for cargo in Western Europe," Jo concluded.
EMO Trans based in USA with offices and partners worldwide, is a top line logistics resource.
Geoffrey