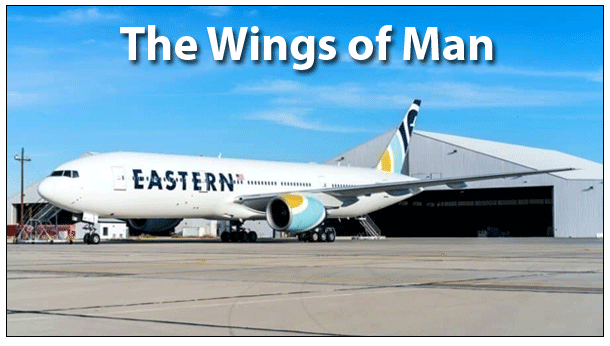 "The Wings of Man" as Eastern Airlines branded itself, took off thirty years ago this past January 17 and has not been heard of much since.
It was great while it lasted, from 1926 until 1991, some 60 plus years, but a series of management challenges and overwhelming labor problems spelled doom for the original company
When Eastern was "Captain Eddie's airline" operating under the guidance and control of Capt. Eddie Rickenbacker, the World War One fighter Ace, it grew by leaps and bounds to the top of the heap in U.S. domestic services.
Since the demise of the original EAL, Eastern in some form or another has fielded some attempts to get airborne again without much luck.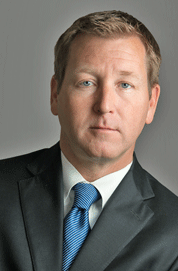 The most recent Eastern reincarnation to relaunch the carrier emerging from Chapter 11 Bankruptcy was undertaken by Steve Harfst (right) in 2019 as President and CEO of Eastern Airlines LLC.
In 2006 Harfst helped build Delhi-based startup IndiGo into India's largest and most successful airlines. Harfst has also served as COO of Allegiant Air.
The new Eastern has a snazzy paint job and branding and a flashy website that promises service start-ups all year long during 2021 to more than a dozen destinations.
In a world where timing is everything and COVID-19 has turned aviation upside down, the wonder is how could these folks behind this latest Eastern Airlines start-up attempt not feel snake bit.
In an interview last April in the University of Washington Foster School Blog, Harfst had this to say, "This is an extraordinary time for everyone. It certainly has turned our industry upside down. Nimble companies with solid balance sheets and good teams can react quickly in dynamic markets and take advantage of opportunities much more quickly than larger, more bureaucratic companies. I think we're going to do well coming out of this period because of our ability to move quickly and react and adapt."
On February 19 Eastern Airlines filed plans for the operation of freighter services using two leased-Boeing 777-200 freighter aircraft. Eastern Airlines plans to use the aircraft on Aircraft, Crew, Maintenance and Insurance (ACMI) charters.
Since the carrier is a U.S. DOD CRAF approved air carrier it can provide services to the U.S. Department of Defense, supplying its Civil Reserve Air Fleet division with international charter airlift services.
In the tradition of the original Eastern Airlines, Harfst has plans to "grow into a formidable airline. But you have to start somewhere."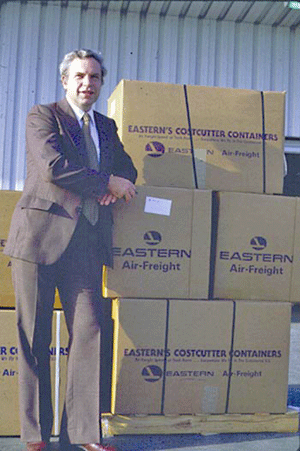 Inventive Air Cargo

Eastern Cargo during the early 1980s under the late Jerry Schorr, (right) a pipe smoking thinker about things, noted available space in the bellies of thousands of monthly narrow and widebodies.
So he came up wit a novel idea and developed a cardboard box container called "The Costcutter".
Costcutter was a great idea, a very affordable way to air freight anything.
Tariff was $25.00 bucks and you could fill up the box and ship anywhere space available in the EAL system.
Interestingly in its final days back in '91, Eastern Air Cargo was still humping and running consignments out of New York and elsewhere led by Marty Ladimer.
Marty headed up Eastern's cargo fortunes into quite a lively and money-making business until final shutdown of the rest of the carrier in 1991.
Here from his home in the southern climes Marty recalls:
"During my 30 years with Eastern Airlines I was based at New York's JFK International Airport.
"Those were exciting and fantastic times that cannot ever be diminished or forgotten.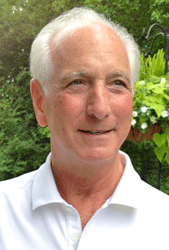 "I had started when Eastern and the industry looked at air cargo as an important part of their revenue that had not been developed.
"The years that followed were full of growth, advancement, travel, training, new projects, promotion, and great people.
"I went from school to the U.S. Army with a thirteen-month tour of duty in Korea.
"But less than one month after discharge, I was working at Eastern Airlines.
"For me it was unbelievable and I loved every minute, except for the last year, 1991, when we went out of business.
"After Eastern I found myself and many others from the airline industry out of work.
"Pan American closed its doors shortly after Eastern, making a job search in a major recession very difficult.
"Fortunately, as it goes in the air cargo family, over the years I established many contacts and was recommended to several other airlines and start-up airlines," Marty recalled.
Geoffrey