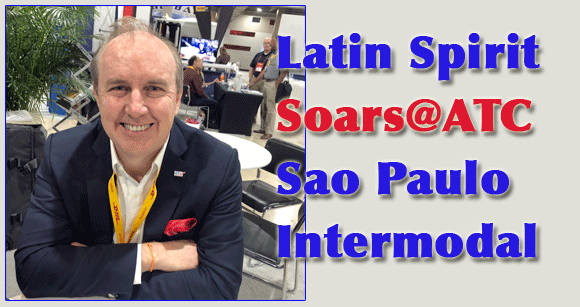 Second Week in March was Air Cargo Americas Show & Supply Chain Americas Conference Cargo Americas Miami . . . and then last week was INTERMODAL 2022 in Sao Paulo.
Were you sitting on a shelf wondering what was happening at both events?
Well, we offered some words from Miami, now here are some from Intermodal. The speaker is Mark Thiermann, Regional Director South America, ATC Aviation Services AG, who attended both.

FT: What stands out in Brazil?
MT: "Warmth of the face-to-face meetings, smiles (although masked) that show caring for each other; socializing (something so much missed in these 2 years); direct contact, brainstorming with airline clients and freight forwarders.

FT: How is Business?
MT: ATC is doing very well in South America. Most airlines have restarted their flights; plan to do so in the short term or have already increased their capacity. So the ATC Air Force team is gladly filling up the new additional capacity for Aeromexico, LAS Cargo and GOL Linhas Aéreas, plus additional off-line sale for Saudia Cargo and EL AL Israel Airlines.
May I say it feels just great to be back up where we all belong.
ATC continues to take advantage of our South America regional reach whilst expanding our cooperation with GOL Linhas Aereas.
Just signed a new GSSA contract with GOL for Argentina.
This will allow ATC Argentina to sell twice daily flights from AEP to GRU and GIG, connecting to the rest of GOL's network and worldwide interline destinations.
This operation will be increased during the year with flights from EZE, MDZ, COR and ROS, which will also go to Brazil and beyond.

FT: Do you see a mixed future for live and online meetings ?
MT: Online meetings will definitely continue.
That is an efficient way of business interaction. But after seeing the reaction from our clients, competition and friends at Air Cargo Americas MIA and now at Intermodal in SAO, we will definitely want to see more onsite face-to-face meetings and trade shows.
The stuff of life is face-to-face contact and Latin Spirit, and passion in Brazil is on fire in Sao Paulo.
Intermodal Sao Paulo has been very busy. Apart from the vaccine certificate revision at the entrance and (mandatory) face masks, it really looks like it's business as usual due to the large amount of people attending the show.
Great crowds, with thanks to the stream of wonderful partners and new friends we have been making all during the show at the ATC Stand.
---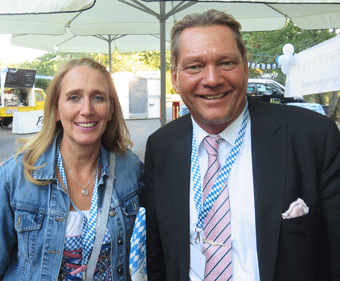 "I am very happy to see that some normalcy in business life is coming back," said ATC Aviation Services AG Chief Executive Officer Ingo Zimmer, pictured here with Group Markting Manager Dagmar Hanau.
"Our industry is very much a people's business and the networking and exchange of ideas is very important.
"Yes, the COVID crisis was a driver of digital communication, and no one wanted to miss the teams and Zoom calls that have proved to be very effective.
"Nevertheless during two weeks in March the air cargo industry resumed two big exhibitions.
"So far ATC is two for two having exhibited big time at both Air Cargo Americas and Intermodal South America just last week in Sao Paulo as described here.
"At ATC we are all for caution but we also value in person, knowing, to win it you must be in it.
"Honestly, while not holding our breath, what we expected from these first steps back to regular industry events was a very low level of attendance.
"The word up from our teams, including President and Managing Director USA Timothy Pfeil and Mark Thiermann, Regional Director for South America was very positive.
"The March ahead for ATC Aviation in Miami and Sao Paulo by any measure was a great success.
"Our sincere thanks to everyone who came by to say hello and shared time with us at these events.
"Happy to report that it seems everybody was just waiting for the chance to gather together again."
Back in Germany where the first flowers of Spring 2022 are appearing, ATC awaits pretty little May when the head office team and others from the best GSSA outfit in the world, including Mr. Zimmer and Dagmar Hanau will be off in force on the road to Air Cargo India May 31-June 2, 2022 in Mumbai.
"It is great to think that to a certain extent business is back to normal," Ingo Zimmer said.
GDA