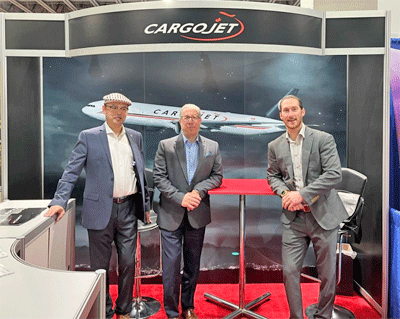 Welcoming All Comers . . .
Say hello in Miami this week to Jian Shen, Vito Cerone and Tyler Porteous.
Making new friends at Air Cargo Americas Show & Supply Chain Americas Conference, March 2022 is the first time the Cargojet team has landed at this conference.
"Day 1 was extremely beneficial with networking," said Vito Cerone Sr. VP. International.
Vito, a stalwart of Canadian air cargo spent 31 years at Air Canada and then moved to the key executive post at Cargojet last year where he discovered a grand new adventure with plenty of room to grow.
"Cargojet is the innovative and focused global freighter operator winning new shipping parters by delivering continuous customer satisfaction.
"It's all about on time reliability and great service," Vito assures.
Shippers get choice with Vito, who gets very high marks for leading an enterprise with both professionalism and personal touch.