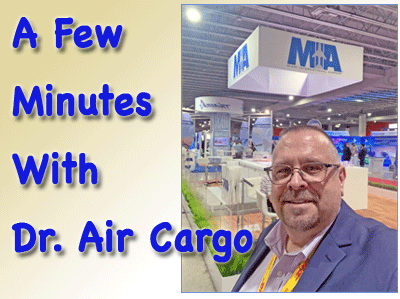 Some people just know how to land on their feet.
And that can be lucky for everybody!
As the accelerating downward pressure of COVID struck and airlines shed labor, some truly great air cargo people moved toward retirement. But what was really happening in many cases like with United Airlines Cargo's Mike Oslansky was more like a period of adjustment that has been followed during these times with a series of wins.
First came MAWB Services, LLC., that Mike set up in Chicago that quickly become a sought after industry pacesetter based on Mike's Doctorate in Air Cargo Sales, Operations, Marketing and Customer Service earned during his 33 plus years at UA.
Now comes something completely different.
"I'm representing a new Fintech company called Airblox, which launched today, here in Miami at Air Cargo Americas," Mike declared.
"AirBlox intends to digitize Block Space Agreements (eBSA) through a unique marketplace.
"Buyers (Forwarders) and Sellers (Airlines) of capacity can easily complete transactions with a click of the mouse.
"Buyers will also be able to bid or block capacity.
"AirBlox is not a booking platform. It's a trading marketplace for air capacity.
"I'm surprised at the turnout here in Miami..
"More than I expected and it is great!
"I overheard one of the organizers say there were over 2,000 registrants!
"Great seeing a lot of familiar faces. James Bellinder (Jim)! Tim Strauss! Michael Hatfield (Mike)! Eric Wilson! Jeffery Koehl (Jeff)!," declared Mike Oslansky.
Great also to see "Dr. Air Cargo" keeping on for many more seasons, whilst embracing edge air cargo technologies.