Five years ago on July 11, 2017, while still working as a reporter, thinker, dreamer and doer at age 105, Richard Malkin who founded the publication Cargo Airlift during the Berlin Airlift of 1948 filed his last story and took off forever.
Thinking that a new generation should know Dick Malkin, who wrote about air cargo for 70 years, we offer some comments on his passing from the great air cargo pioneer Bill Boesch.
Today Bill, happy to report, is still going strong and playing a critical role in getting vital supplies from Covid vaccines to you name it, via military airlift everywhere in the world.
"When I started in the air cargo business with Seaboard Word Airlines in the 60s," Bill writes, "Richard Malkin was already a legend.
"He used to come into SWA offices at JFK and interview our top brass.
"People like Richard Jackson, our CEO, John Mahoney, and Al Levinson were community figures Richard brought forward in features."
Simply put, looking back more than sixty years ago, the younger Bill Boesch thought that if Dick ever interviewed him, it would be the mark of having made it in the air cargo industry.

The Air Cargo Genius
"You see, when it came to reporting, thinking ahead, or for that matter reasoning what was happening and what it all meant to a fledgling industry, including what would happen tomorrow, Richard Malkin was the only voice out there.
"Now looking back at what he wrote, thought, and contributed leaves no doubt that our industry was walking with a shepherd of the air cargo form.
"Richard Malkin was by any measure a genius of air cargo.
"And then one day in the 70s it happened. My secretary told me Richard Malkin was on the line.
"He asked me if I would meet him for lunch at the Wings Club in New York City.
"I showed up at the Wings Club an hour early just so I wouldn't be late and waited for Dick in the lounge area outside of the dining room.
"The pictures on the wall of the past Presidents of the Wings Club and a framed note from Charles Lindbergh added to my apprehension over what the hell I was doing there, and I almost left.
"But just then, Dick walked in wearing his signature grey suit.
"We sat down and Dick took out his notebook where he had a series of questions already prepared.
"Thinking back over the years, parts of that day are still crystal clear and now will remain so for the rest of my life.
"I recall being OK when he asked me what was happening, but when he got into what might happen ahead, I had to admit I didn't have any answers.
"But that didn't faze Dick. He just nodded and went on with the next question.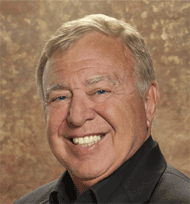 "But I swore to myself that I would never again be put into a position where I wasn't thinking about how we could make air cargo better. That one interview with Dick shaped the rest of my life in air cargo.
"How could we make air cargo better?
"I can only hope all the people coming up in this great air cargo industry can find the space, time, and sensibility to respect its founders and brilliant thinkers like Dick Malkin.
"So I remember Dick and he lives in my heart and in all the hearts of those who work finding the path to make air cargo better."