The China India Burma Hump (CBI), "The Hump" being the Himalaya Mountain Range—the tallest, most dangerous place on earth for flight. During the first half of the last century the CBI can be recalled as where modern air cargo was born.
CBI operations took off during the Summer of 1942 80 years ago.
If John Wayne had made the movie titled "The Flying Tigers" about the hundreds of cargo transport pilots based at Assam, who were flying Av-gas, bullets, tires and spare parts to the fighter pilots in Kunming, maybe air cargo would have been recognized as a vital force by the general public the way it is today after covid struck nearly eight decades later.
As it is, the U.S. military saw the benefits and saved the City of Berlin during the Soviet Russian blockade six years later in 1948 during "Operation Vittles" more popularly called The Berlin Airlift in 1948.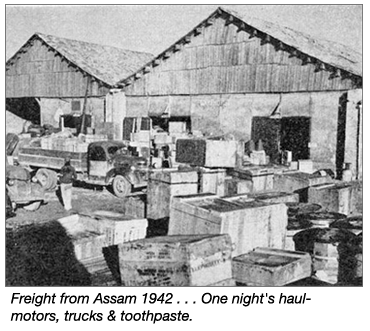 In fact, a movie starring Montgomery Clift and Paul Douglas titled "The Big Lift" about CBI can be found on YouTube.
I have often thought one meeting/break room at any cargo trade show should have this film on a loop running 24/7 ,with an open bar and a popcorn machine.
The founder of Flying Tigers Line, an air cargo company at LAX that dominated across the Pacific and eventually was merged into FedEx was a man named Robert Prescott.
Tigers P/R during the intro period of the B747F enjoyed distributing Bob's picture from WW II, sitting on the tail of a P-40, A2 jacket and all, when he served as a cargo transport pilot.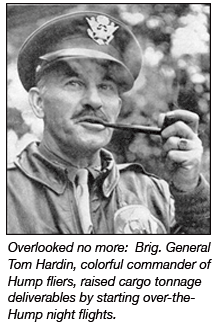 Bob, along with hundreds of others, humped cargo from Assam, India to Kunming, China when the Japanese closed the Burma Road in May 1942.
"The Forgotten War" was what happened during those early days of the AVG that fought and won because of brave frontline fighter pilots and equally courageous transport pilots.
The Himalayan Mountains claimed scores of Curtiss C46 "double bubble" early pressurized aircraft and their crews that were out there dodging 18,000 foot peaks that among other hazards often tossed these tiny 6,800 kg cargo capacity aircraft around as they tried to navigate ferocious downdrafts and other hazards.
As late as 2000, they were still recovering wreckage from CBI operations.
This Summer of '22 as we recall the true birth of the big air cargo movement in Summer of '42. a good place to learn more and celebrate aviation, spend a day looking at airplanes and also during July and August, a Car and Motorcycle Show is just about 45 minutes from LAX.
Lyon Air Museum, founded by Major General William Lyon is located on the west side of John Wayne Airport in Orange County, California.
Read some more about CBI and then go see a C-47 and some other war birds at Lyon.
Geoffrey