Once upon a time in 1994 I found myself in Taipei, Taiwan sitting at lunch with Peter Yap, who was the top cargo executive for China Airlines Cargo.
At one point, Peter looked at me and said:
"The trouble today is finding markets that offer great growth potential and also support from the local gateway.
"Very rare," Peter said.
"Taiwanese people love to eat fish and we cannot get enough of it, competing with Europe and elsewhere."
I looked at Peter, who was eager to do business, and thought about Miami.
Our company had personally served and followed the gateway since 1975 with distribution of our Air Cargo News publication. We delivered ACN to the cargo area at Miami, back when it was located in the part of the airport that served the U.S. Army during World War II.
The place was called Miami International Air Depot, or MIAD.
I also thought about the two detailed history books we created about the airport after Amaury Zuriarrain brought us in to meet General Manager Richard Judy.
Legendary Dick Judy green lit the first book and later an all-cargo book about MIA Cargo created for Miami Aviation Director Gary Dellapa.
I looked at Peter and said:
"Peter, come to Miami, bring a freighter into South Florida where all the fish you need will swim right into the airplane, and you will make history."
That is exactly what Mr. Yap did about three years later, and the rest, as they say, is history.
But before CAL could fly to MIA, they needed to get permissions and that meant overcoming objections from FedEx and others.
So for three years we wrote stories and tracked Peter's progress.
Every time he came to Washington to realize those flights, we created a story supporting CAL and Miami Dade.
Peter Yap was a most interesting character—an executive who was as colorful as you can imagine in air cargo.
He was a true pioneer who sized up opportunities and went for them.
He put his money where his mouth was, too.
Peter wanted to help build China Airlines Cargo into a world power and he needed airplanes, but the airline was not about to buy a fleet at that time.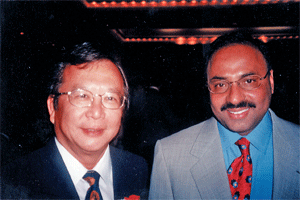 Peter Yap met Michael Chowdry, when Michael Chowdry (right) brought Golden, Colorado-based Atlas Air to the fore providing aircraft, crew, maintenance and insurance (ACMI) for cargo executives with better things to do. The very first customer for this new idea was China Airlines Peter Yap (left).
Atlas needed contracts for several airplanes, so Peter and Michael worked out a deal and China Airlines leased a fleet of B747Fs from Atlas.
Peter and Michael were quite a couple.
It was all straight business, of course, but in a unique coincidence both loved Jackie Chan movies, so occasionally when they could, it was not unusual for them to do a deal and then, with the pressure lifted, repair to a local movie theater to watch a movie and let the action speak for itself.
It's lovely to think that these Captains of Industry knew how to relax and enjoy each other's company!
We thought about Peter Yap as we celebrated the life of "Jazzy" Chowdry in the book, "No One's Son" created by his wife Linda detailed here as Atlas Air Worldwide marks 30 years of service.
As a great world resource, no doubt the red carpets will be rolled out as 2023 unfolds, but let's not forget the cargo guy who led the way for Miami Air Cargo To Asia as a customer for Atlas with an original idea, to deliver some fish to the home market.
Peter Yap started the ball rolling for Miami, delivering the gateway's first scheduled Asian flag carrier.
Although many great airlines followed, China Airlines Cargo was first, and Peter Yap made that happen.
One of the greatest aspects of what we do is in telling the story of the lives of air cargo's people.
We are, after all, messengers. To have been part of moving the industry forward, and to have lived long enough to share these stories is surely the sweetest reward anyone might imagine.
Geoffrey/Flossie