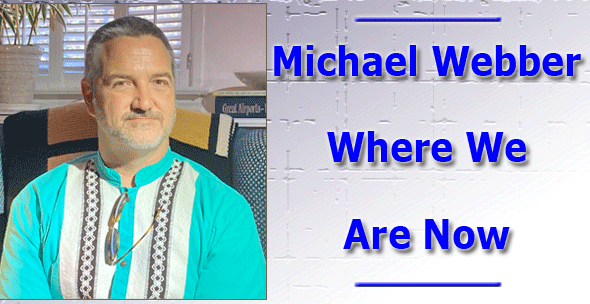 We recently caught up with friend and occasional contributor, Austin, TX-based air cargo consultant Michael (Mike) Webber who consults for international gateways in North America, and has completed projects in Latin America, Asia, Africa and the Middle East. Clients and journalists value his willingness to tell what they need to know, rather than simply what they want to hear.

FlyingTypers: We hear you have been consulting for various airports. Anything you can share? What are you seeing generally at U.S. airports?
MW: The number and scale of cargo development opportunities in the U.S. pipeline are unprecedented. Near-comprehensive redevelopment at LAX and JFK, ongoing cargo efforts at DFW, ATL, PHL, ORD and MIA. Five of those rank in the U.S. top ten cargo airports. All seven rank in the top twenty!

FT: It wasn't always like this!
MW: Between 2001 and 2015, much of the cargo facilities development at U.S. airports was replacement, not expansion. A lot of obsolete surplus capacity was created by closures of BAX Global, Emery Worldwide, Kitty Hawk and others. DHL acquired Airborne Express, leading to many more redundancies. And the demand that e-commerce created in recent years was not for 40–50-year-old legacy facilities.

FT: Do the old planning approaches still apply?
MW: In some cases. Where enough land exists that cargo facilities improvements can proceed while all tenants operate in-place, agreeable alternatives can be considered. At legacy gateways where capacity is full and available land is scarce to nonexistent, the principal objective is to sequence development to interfere with existing operations as little as possible. As an airport planner and for our airport clients, it can feel a little like triage. One just tries to make communications as timely and be as responsive as possible. Even when we must tell people what they don't want to hear, the sooner cargo operators know it, the better. At legacy hubs, that may mean infuriating dozens of airlines and handlers.
Most legacy hubs are not going to get more land and are approaching absolute ceilings on operations. Therefore, they must do more with capacity that remains. This means replacing outdated facilities that often are fully capitalized with state-of-the-art construction. The emphasis is value, rather than cost. More throughput is required to pay for 21st century construction. Operations must be much more efficient. Technology can help but it's not a magic bullet. It can be surprising how little some airport operators and their tenants understand about the other side's business models. I can't make everyone happy, but I am committed to having each side understand the impacts of their actions and decisions.

FT: Where else are you working?
MW: I'm consulting for Denver International Airport (DEN) and Milwaukee's General Mitchell International Airport (MKE). Earlier in the year, I subbed with InterVISTAS to complete a study for Halifax Stanfield International Airport (YHZ).

FT: If you've seen one airport . . .
MW: You've seen one airport. These three airports and markets are different from one another and from the gateways we've been discussing. DEN is an international gateway and among the biggest passenger airports in the world but relatively light on freighters, apart from integrators and Amazon. DEN has thousands of acres of greenfield sites available for development, so relatively few constraints.
Halifax could be a case study for how local communities support international service – freighters to both Asia and Europe – based on a niche which happens to be North America's finest lobster exports. The Province (Nova Scotia), the local community and airport operator have collaborated beautifully to make sensible investments toward its goals.
Like my native Kansas City, Milwaukee has a familiar Midwestern spirit. Challenging market area that overlaps with two top twenty cargo airports - Chicago and Rockford - but Milwaukee has a solid O&D (origin and destination) market of its own. FedEx uses it as a mini-hub to serve smaller markets with regional feeder flights to markets like Green Bay.

FT: You've been doing this for decades but still seem to enjoy yourself.
MW: I am! The pandemic limited what I typically enjoy most, which is visiting the cargo facilities and listening to carriers, handlers and forwarders all day and then in the evenings, finding live music clubs to hear local talent. I find locally-owned restaurants and book stores. I used to talk to Chris Foyle about that. I don't play golf, so at conferences, I have my own thing going. As you well know, having participated in my outings.

FT: What events have you been attending?
MW: I just spoke on a panel for the Airforwarders Association at an event hosted by American Airlines in their relatively new headquarters at DFW. I've done some planning in the past for DFW and that airport has consistently had one of the most entrepreneurial management teams – through multiple directors.
They're doing a cargo redevelopment at the location where DFW's original cargo buildings were built in the 1970s. Airport management is doing a lot more for themselves, but they have unusual assets. Before joining DFW, Al Kalmbach previously worked for (air cargo facilities developers) Aeroterm and Prologis and even earlier, for American Airlines' properties. So, he's a "ringer" in terms of commercial real estate. DFW's not a client of mine anymore but I'm always interested in past clients too.
Of course, Brandon Fried was the panel moderator. I first met Brandon about twenty years ago when we were on the air cargo security working groups established by Homeland Security after 9/11. Not many Beltway trade associations are led by individuals who worked in that industry, but Brandon was a forwarder and retains all that experience while leading that organization. I am a paying member of the Airforwarders Association, although unlike Brandon, I, myself, have never been a forwarder.

FT: How did that happen then?
MW: I've always admired Brandon's leadership style. I've associated with other air cargo associations and have seen how well Brandon collaborates with others while ensuring that his members' priorities are served. Even before I joined the AfA, Brandon asked me to participate in their Airport Congestion Task Force, which demonstrated his commitment to simply gather the right mix of experiences.

FT: Do you work with any other trade associations?
MW: I moderated a session for TIACA at their meeting in San Francisco early this year. Glyn has done a magnificent job leading that organization. Of course, Steven Polmans has been a very effective Chairman, as well. They are the right people for that organization precisely when it needed them most. I always enjoyed Glyn at IATA, and I think he's taken the best of that experience to TIACA while blazing a path that is neither the same old TIACA nor IATA. I'm thoroughly impressed by what he's doing there.

FT: We saw your travelogue last summer as you bounced around Europe visiting airport operators. Anything you can tell us about that?
MW: That was a 3-week European vacation, but I took advantage of the opportunity to meet with the cargo teams from Amsterdam, Cologne, Liege and Brussels, as well as meet with NACO (Netherlands Airport Consultants) in The Hague, as well as Nallian whose Cargo Cloud platform helps coordinate cargo activities at BRU and numerous other airports.

FT: Did you pick up any business?
MW: No, and that wasn't the specific motivation either. I'd visited with the cargo teams from AMS and BRU, as well as the Nallian team, recently at cargo conferences at MIA and SFO, so was glad to continue those conversations on their home turfs. I'd never actually been to CGN or LGG but have read so much about those two airports over the years, so was delighted to see them in-person. I partner a lot with InterVISTAS which is a subsidiary of NACO. Everyone with whom I met was infallibly hospitable and I just still enjoy the opportunity to swap ideas and experiences with professional colleagues. I was very interested about the cargo community systems and also the cargo teams in Europe because at many U.S. airports, there may not even be a dedicated cargo professional, let alone a team.

FT: What's next?
MW: I am putting together a webinar series that I'll host – or possibly co-host – that will allow me to focus on a specific subject and guest to a degree that one simply can't otherwise. I am grateful for the opportunities I get to moderate or be a panelist at conferences, but organizers usually have to be somewhat broader in their subjects and have a slate of panelists. I have helped organize enough conferences to understand the challenges and I know why they're organized in that manner but what I want to do is just have a single guest and we'll talk in detail about narrow topics – like ULD storage – for most of an hour. It will be free, so we won't have to worry about whether listeners get their money's worth.
There are plenty of subjects in which many of my airport clients have very little visibility but will likely be making policy decisions in the near future regarding capacity management. This will be an opportunity for them to hear the impressions directly from the operators, rather than only through their consultant. Some of the individuals with whom I met in Europe will undoubtedly be guests. I am looking forward to it but it must wait until I am no longer involved with a couple of ongoing projects.

FT: After doing this for about thirty years, you sound like you're just getting started!
MW: No, I am winding down but there are a few things I want to do first that leverage my abilities and experiences. I am excited by the evolution of our industry and glad for some of the changes. I spoke last year at a global logistics conference hosted by the University of Southern California where I met so many college students studying logistics – often in tandem with studies in robotics and other disciplines. I was so invigorated by meeting them and seeing all that youthful enthusiasm. For all the talk about how to attract young people into our industry, I left that conference wondering "have you tried going where the young people are and talking to them?"

FT: None of this sounds at all like "winding it down".
MW: I am. I feel very grateful and fortunate to have had the experiences I've had and met so many people who've become dear to me. My 40th high school reunion is coming up in Kansas City and in some ways, going to recent conferences after the pandemic stirred the same emotions in me. It turns out that I care a lot more about professional colleagues than perhaps I'd realized before I'd lost access to them for a while. Growing up in a Kansas City suburb, I had no idea that I'd get to ride a camel in Cairo and do so many other things I've done. It's been great but it's approaching time for me to go do something else.

FT: Speaking of doing other things: When we checked a year ago, you were making a music documentary. How is that going?
MW: A documentary producer told me "When you're absolutely sure you're finished making a documentary, you're halfway there". We've worked on this for two years already and have over a hundred hours of interviews in the can but probably have another year to go. I'm not complaining. We've interviewed the coolest people any music (particularly 1970s Punk Rock) fan could hope to meet. It's taking so long precisely because the story is so rich that we just keep finding more angles that must be explored. Here's a link to the teaser. It's a 1970's Punk Rock band, so language may not be suitable for office environments.