Once hyped as Asia's largest airport and a dream project of Uttar Pradesh (a province bordering capital Delhi) Chief Minister Yogi Adityanath, the Greenfield Jewar Airport in Noida (roughly 90 km from the Indira Gandhi International Airport in Delhi), celebrated landing the IATA code recently 'DXN'.
The first phase – of four phases – is now projected to be completed by September 2024.
High hopes for cargo too.
Christoph Schnellmann, the Chief Executive Officer at Yamuna International Airport Private Limited (YIAPL), the subsidiary of Zurich Airport International AG brought on to design, build and operate Noida International Airport (NIA) said "cargo will get attention big time".

In May this year, Air India SATS Airport Services Private Limited (AISATS) and the Yamuna International Airport Private Limited (YIAPL), the special purpose vehicle formed by Noida Airport concessionaire Zurich AG, signed a concession agreement to build a state-of-the-art Multi-Modal Cargo Hub (MMCH) at Noida International Airport.
"The MMCH," Christoph Schnellmann said, "spanning across 87 acres, will comprise an Integrated Cargo Terminal (ICT) and an Integrated Warehousing & Logistics Zone (IWLZ).
"Our first-of-its-kind cargo hub will seamlessly connect multiple modes of transportation with consolidated ancillary and value-added services, establishing a highly efficient route for cargo throughput across India and abroad. AISATS is designing, building, financing and operating the MMCH.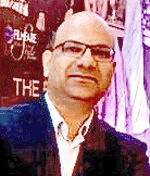 "AISATS will provide India's logistics sector with a world-beating cargo processing and transportation grid through the MMCH will help reduce logistics costs significantly, streamline processes for seamless coordination, and bring speed and transparency to the country's supply chain."
Nipun Aggarwal, (left) Chairman of AISATS, pointed out that the "MMCH at Noida would play an integral part in providing just-in-time cargo facilities for the North India region. The state-of-the-art infrastructure, value-added services and improved cost efficiency, he said, would have a "knock-on effect" and help increase India's trade and ease the movement of goods across the country."
MMCH could act as a catalyst for the proposed economic corridor linking India, the UAE, and Europe.
The MMCH, according to CEO Schnellmann will have "smart and connected" cargo facilities using IoT, AI, and ML.