When Building 151 on Hangar Road JFK International Airport opened in early 1991, Rudy Auslander having been involved earlier with Japan Airlines Cargo moved to Japan Airlines Systems that built and operated the first vertical logistics transfer facility on an airport anywhere.
JAL 151, located behind the old Pan Am Maintenance Hangar 14 (now JFK HQ The Port Authority of New York & New Jersey) featured an 11-story container storage/retrieval system, and offices for several companies. The tower is an airport landmark, seen in the rear of the aerial photograph.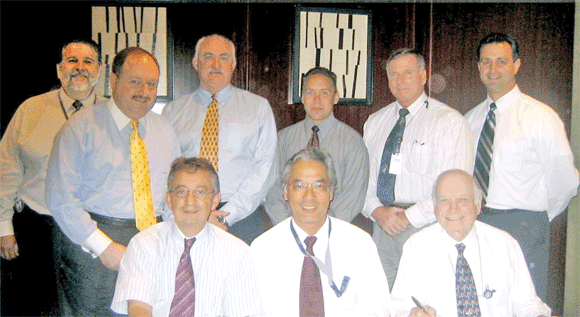 In New York City on September 28, 2004, Olivier Bijaoui, president and chief executive officer of Worldwide Flight Services (WFS) sat down with Kazuto Yamamoto, Japan Airlines, vice president and general manager cargo the Americas, to sign the multi-year agreement of WFS take over handling and marketing of JAL Management Corp.'s huge building 151/Hangar 14 air cargo complex at JFK International Airport in New York, Mr. Yamamoto declared the event "a new beginning for both companies."
"We are very pleased at this new accord, our team is first rate. We eat sleep and drink air cargo with dedication to be the best," Olivier Bijaoui said.
At the signing—back row left to right, Dennis Esnes, Regional VP, New York region, WFS; Barry D. Nassberg, Executive VP & CEO, WFS; John Gemmell, Senior VP Sales WFS; Michael Duffy, Senior VP No. America WFS; Mike Buckley, Staff VP & Regional Manager Freight & Mail Eastern Region No. America, Japan Airlines and Guido DiGiandomenico, VP Airline Sales, WFS.
Front Row seated left to right, Olivier P. Bijaoui, President & CEO, WFS; Kazuto Yamamoto, VP & General Manager, Cargo The Americas, Japan Airlines and Rudy Auslander, President, Japan Airlines Management Corp.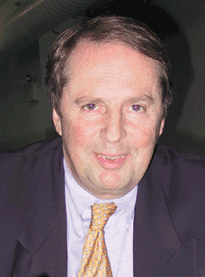 Imagination and will to succeed coupled with the tenacious drive of Japan Airlines Management Corp.'s Rudy Auslander resulted in changing old Pan American Hangar 14 into a cargo and office complex colossus at JFK International Airport, New York.
Have some lovely memories of our dear friend Vincent Chabrol who for longer than you might have thought possible served as U.S. Cargo Chief for Royal Air Maroc.
Vince, a former Seaboard World Airways Cargo pro also was a charter tenant of Building 151 along with his service partner, Marie at Royal Air Maroc.
Vince is OK, these days living in the Wilds of Manhattan.
In 2004 Building 151/Hangar 14 handled upward of 200,000 tons annually, about 20% of the gateway's total throughput with room to go to an excess of 250,000 tons.
Worldwide Flight Services (WFS) just completed a very successful year-long ACS Truck Slot Management proving program teaming up with Kale Logistics Solutions, (see Donna Mullins story below).
Now with land scarce, especially at airports, vertical logistics facilities, although slow to develop in USA, after becoming a fact of life in Europe & Asia, are trending up at locations like New York, Chicago, Miami and Seattle and elsewhere.
For the record, New York has several projects underway including in Brooklyn, The Bronx, off airport at JFK, and elsewhere.
A New York-based real estate services firm Jones Lang LaSalle Incorporated (JLL Inc.) that sells and rents verticals just published a report titled "Multi-Story Warehouses and Their Towering Future," available here.
While we leave it to you, dear reader to decide if "Warehouse" or "Verticals" is the best way to describe these buildings, our take is that the word "Warehouse" should be ditched when referring to anything at an airport.
"Warehouse" has always sounded to us in air cargo like "Neverland" for a business that thrives on speed.
How about "Transfer Facilities or maybe Vertical Transfer to describe?