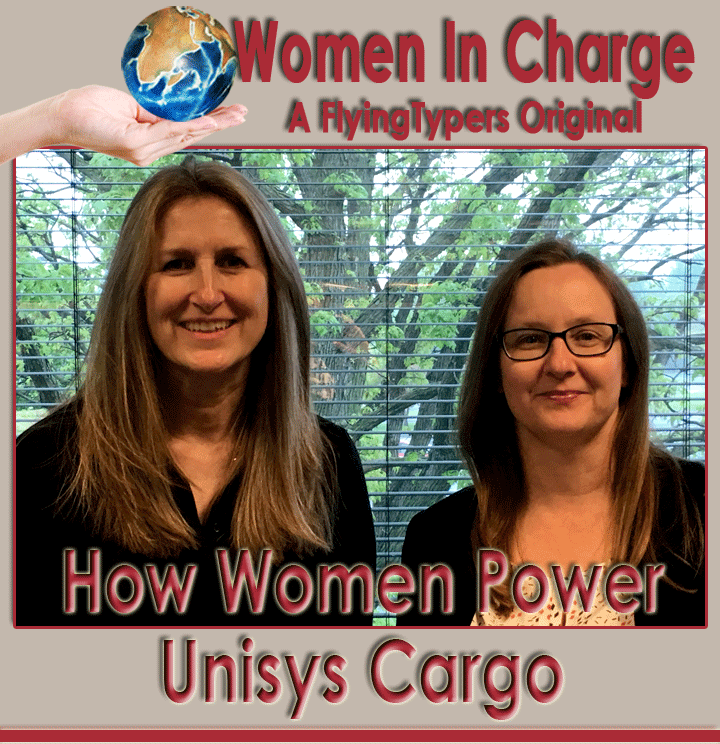 Exclusive – And now for something completely different, here are some outstanding examples of women leaders currently at work at Unisys.
Our journey starts in the United States with Kris Wilmunen and Sue Dohm.

Leading The Way

Carriers, ground handlers, and forwarders use Unisys technology services to move about 20 percent of the world's air cargo.
About two hundred people are engaged at Unisys supporting solution management, product development, and service delivery of the cargo solutions. They are mainly based in centers in the U.S. and India, but also close to clients in many other countries.
The Unisys group are highly skilled professionals, and about half are women.
Unisys migrated its air cargo solutions to the cloud delivery model almost twenty years ago. That approach is now first choice for some carriers as it frees them to focus on delivering their business while Unisys manages the technology to very high service levels.
The approach also delivers extra value through economies of scale across multiple clients and by delivering new functionality to all clients every month.
While Unisys has several services, most clients use the Unisys Logistics Management System (LMS).
An enterprise-wide system, LMS covers everything from inventory control, pricing, and sales through operations, customs, and links to accounting.

Kris Goes Critical

Effectively, Kris Wilmunen, Logistics Cloud Service Delivery Leader, delivers Unisys air cargo clients' most business-critical system 24/7 and the monthly application updates they all receive.
Kris has a strong focus on process control and improvement as is required for such a mission-critical role.
In that, she draws on technology best practices, but also on the airline industry's well-known focus on monitoring tied to process improvement to minimize the impact of any failure.
Given the key importance Kris plays in clients' businesses, she spends much time discussing best practices with existing and prospective clients.
Prior to her current role, Kris was the Senior Engineering Project Manager responsible for the $20m development of the latest version of the Unisys Logistics Management System, which is probably the most advanced air cargo system in the industry.
In that role, she led over 100 staff members for several years, most of which were based in India.
Kris is certified as a Project Management Professional and is a Certified Scrum Master.
Dear reader, as you read this story you may notice that Kris often refers to a "she" when referencing the go-to person who handles service delivery challenges.
It's a rare pronoun flip, and it certainly works for us . . .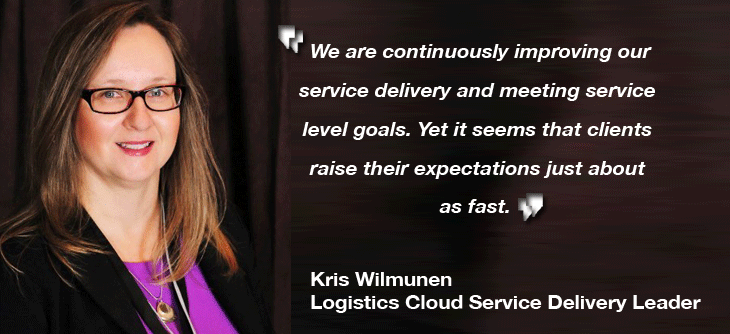 Kris Is In The Cloud

"Cloud Service works to keep the service up and running on a 24/7 basis," Kris said.
"The service is our clients' cargo system. Without it, they are not able to run their business.
"We have a process to follow when an incident occurs.
"Once we are alerted to an interruption in service, the LMS Cloud Service operations team is engaged to triage the problem.
"If a major component of the service is out, the service delivery manager is brought into the incident management.
"She notifies the impacted clients to let them know we are working on the issue and provides an estimate of the time it will take to resolve the problem.
"She will also open a teleconference bridge that clients can join if they want live updates on the resolution.
"She will send email updates as needed to keep the clients informed of the progress.
"Depending on the type of problem, major incident management may be engaged to assemble any additional resources outside of the LMS Cloud Service team that are needed to resolve the problem in the fastest time possible.
"The goal during an incident is to get the system back as soon as possible.
"The team is very good at minimizing the time our system is down during an incident."

Exceeding The Need

"Frankly, our biggest challenge is meeting clients' expectations in turning around answers to questions regarding the LMS solution, and resolving defects they report in the software.
"We are continuously improving our service delivery and meeting service level goals. Yet it seems that clients raise their expectations just about as fast."

Why Is LMS Best?

"The LMS solution is the functionally rich solution in the logistics market. That makes delivering the LMS Cloud Service very rewarding. We can meet the needs of both our largest and smallest clients with the same solution. The solution is highly configurable to meet the requirements of clients around the globe. The team that delivers the LMS Cloud Service is also best in class and very dedicated in the work they do. We have hundreds of years of logistics experience within the team, and that enables us to provide top-notch service."

Keeping Things Straight

"Often times we are questioned on how we are able to run LMS in a Software as a Service (SaaS) or cloud model.
"We run one code base of the application for all of our clients.
"Also we update the production version of the application on a monthly basis without an outage to our clients in nearly all cases. "We have well-tuned processes to pull this off successfully," she said.

Why An IT Career?

Kris confesses :
"I chose an IT career kind of by accident.
"I chose to major in computer science when a friend of mine mentioned that's what he was thinking of majoring in.
"I thought it sounded interesting even though I had never touched a computer until I got to college.
"I stuck with it. My friend ended up being a history major.
"What are the pluses?
"The career opportunities are wide and varied in IT.
"I've been able to work in all facets of the software development life cycle including requirements, design, coding, testing, and project management.
"Today in IT you can focus on the areas of most interest.
"For me, that is requirements management and project management with an overall interest in the software development process.
"I enjoy helping teams deliver faster, and with good quality."

Maintaining The Balance

Kris is a great professional, but she is also a wife and mom.
"It's a difficult balance as there is always more work to do than hours in the day.
"When my children were young, I was able to work from home, so that was a big help in maintaining a healthy work/life balance.
"Now that they are grown, the challenge is to find the balance between work and making time to take care of myself.
"It's a work in progress."

IT Wide Open To Women

"I've never found a challenge specific to being a woman in the IT industry.
"I know that women are underrepresented in IT.
"Still, I've never stopped to think I was in a minority in any way, nor was I ever treated that way.
"IT is a great career and is open to both women and men.
"Simply put, the career opportunities are great.
"You can work as a business analyst, solution designer, code developer, tester, project manager—the list goes on.
"The unemployment rate in IT is very low in the state of Minnesota.
"There are many IT companies looking to increase the number of women in their workforce.
"So if the interest is there, male or female, I'd recommend a career in IT."

If I Could Change One Thing

"It would be great to reduce the complexity of the services we deliver.
"There are many moving parts in the infrastructure and in the application.
"Many different technologies are involved. It's a lot to stay on top of and keep up and running every day.
"We do a great job at delivering the service, but it could be simplified. We're working on that," Kris Wilmunen said.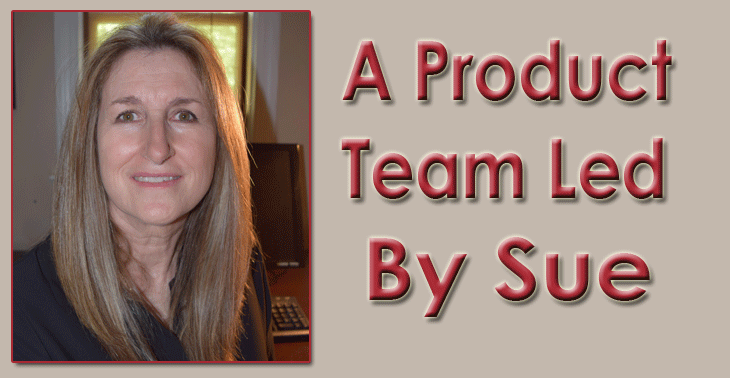 Sue Dohm manages the team that develops and supports the Logistics Management System (LMS).
With the application used by over a dozen carriers to manage their businesses, the team has a continuous stream of new developments to meet both business and regulatory changes.
Sue's team delivers about five significant functional enhancements every month, some of which are relatively small while others are complex and take months to build.
The team also provides fixes and code updates to LMS in order to leverage technology developments.
Sue earned a Masters of Science in mathematics, focusing on computer science, from Northeastern University in Boston. Since then she has received a wide range of professional training.

Big Ideas, Delivered

"The big ideas for product development come from the Unisys services team and from our clients, the airlines that we host.
"Much of what we develop is to support challenges and opportunities in an industry that is constantly changing.
"The AIRCARE program is a cooperative venture between Unisys and our clients. Twice a year, AIRCARE members convene at Unisys Cargo User Group (UCUG) meetings.
"Each member submits new features it would like to see added to LMS, and the entire AIRCARE community votes on which ones should be implemented," said Sue.

Why Work At Unisys?

"My husband and I moved to Minneapolis after graduation because there were a lot of tech opportunities in the area for mathematics and computer science.
"We applied to several interesting companies in the area and both were offered jobs at Unisys in the growing airlines division—I on the Cargo side and he on the Passenger side.
"We both joined, excited to be working in the airline industry for a well-respected company with travel opportunities and a lot of growth potential."

Hands Across The Water

"There is a lot of coordination involved with development, and having the team split between the U.S. and India is a challenge.
"We manage it with a lot of emails and with calls during the least inconvenient times.
"There are times when travel for meetings is required, but those are rare."

Sue Is Proud

"Unisys offers so many unique products, but the Logistics Management System (LMS) is what I am most proud of because I have been part of its development for my entire 28 year career at Unisys. LMS provides more than just core logistics capabilities. It goes beyond the scope of typical logistics applications to provide a comprehensive and flexible solution that can be integrated with other applications to empower our clients to lead in a rapidly changing industry.

Unisys Landing Women

"There are a lot of women at Unisys because there are so many different roles at Unisys that appeal to both men and women.
"Unisys does an excellent job recruiting and retaining the most talented people for the job, regardless of their gender.

The Best Surprise

"The thing that surprises me most about product development is the ability of the team to satisfy the constant demand for quicker and cheaper solutions.
"I have been doing product development for 30 years, and the pace has increased substantially with the frequently changing industry and customer needs.
"With new tools and improved processes introduced regularly, and with the ability to interface quickly with other applications, we have been able to deliver faster and cheaper solutions.
"But the need for innovation never stops as we're continuously looking for new ways to improve."

Can We Change One Thing?

"I would welcome a way to reduce the number of emails I get without losing sight of what I need to be aware of.
"Working with an international team, I typically start my workday with at least 50 new emails.
"That number grows quickly throughout the day, with new emails coming in during times when I am in meetings and unable to provide quick responses."

Working With Women Versus Men

"In my experience, I have found no difference in working with women or men.
"Most of the North American team that I work with today are the same people I have worked with for 20+ years and we all work extremely well together.
"Even with the newer members of our team, I continue to find no difference in working with the women or men."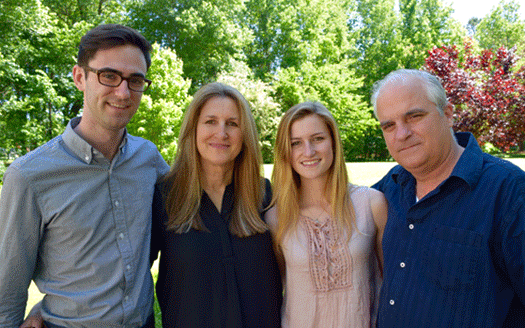 Sue Family Time—left to right, son Ian, revenue forecasting at Delta Air Lines; Sue; daughter Zoe, student at University of North Carolina; and husband Phil Dohm, Implementation Design Lead at DHL Supply Chain.
The Balancing Act

"I have to admit that my life is heavily weighed down on the work side. I work a lot of long hours.
"My husband does too. To relax, we try to get away for short trips when we can.
"I also enjoy games (especially cards) and cooking.
"And when I know that my inbox is below 200 emails, I reward myself by watching a good Netflix series, usually a British one.
"All that said, I would absolutely recommend what I do to a sister or daughter who is interested in cargo application development (mine are not).
"It's a fast paced and exciting industry with abundant opportunities worldwide for both men and women."
Geoffrey/Flossie/Sabiha