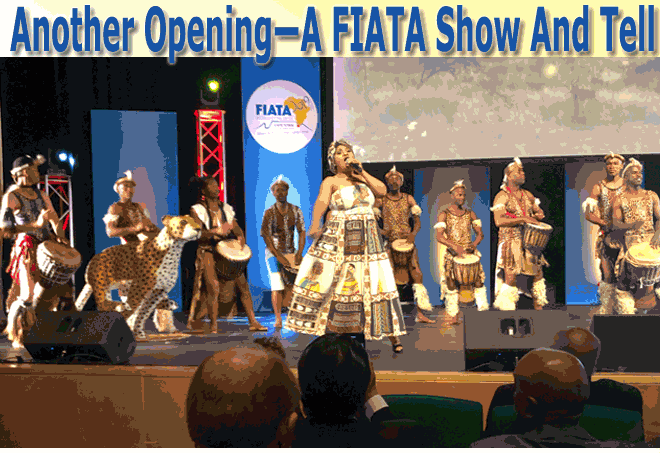 Stirring Beginning . . . . Early morning high step at FIATA World Congress in Cape Town Wednesday October 2 included a gathering of costumed performance artists who were joined in song by children serenading the gathering with the national anthem of South Africa in three languages.
Welcoming delegates, current FIATA President Babar Badat, thanking the South African Association of Freight Forwarders said that he departs his term in office amidst what amounts to major changes underway on several fronts at the organization.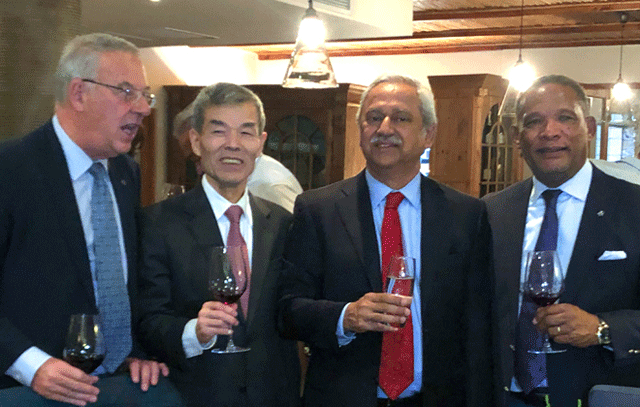 Four Presidents for FIATA—Having served, ex-Presidents Francesco S. Parisi and Huxiang Zhao greet current President Babar Badat and President elect Basil Petersen.

Top of the list is an expected move of FIATA headquarters from Zurich to Geneva.
"FIATA needs a re-set and moving our offices will amplify our advocacy and place us within reach of many of the headquarters of the world trade, finance and business organizations," Mr. Badat said.
"FIATA needs to modernize its approach and keep up with the technological changes taking place in the supply chain logistics sector," Mr. Badat added.
"We plan to institutionalize and update our vocational training by merging the FIATA Logistics Institute & The Advisory Body Vocational Training into a single entity," Mr. Badat said.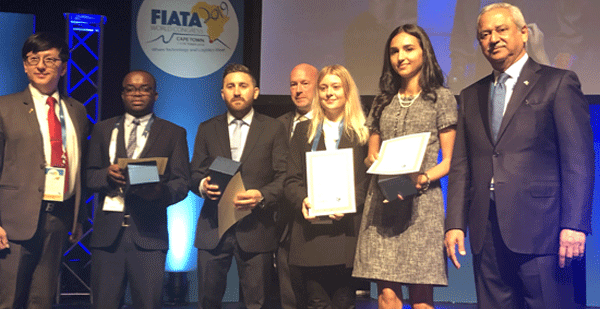 Young International Freight Fowarder of the Year (YIFFY) Award is the premier example of bringing forward the youth factor in transportation. While everybody else talks about it, FIATA does it.
The YIFFY award has been sponsored by the TT Club since its inception in 1999. Each year young people worldwide submit a logitstics dissertation with the hope of securing valuable training and mentoring opportunities. Winners are picked from each of the four FIATA geographic regions, Americas; Europe; Africa and Middle East; Asia Pacific. The overall YIFFY award is bestowed at the FIATA event finale.
Pictured from left to right at the FIATA opening event are, Thomas Sim, Chairman of FIATA ABVT, (Advisory Body Vocational Training); Enos Chapara of Zimbabwe, winner-Africa and Middle East; Phillip Burgess of New Zealand, winner-Asia Pacific; Michael Yarwood, TT Club Senior Loss Prevention Executive; Evgeniya of Russia, winner-Europe; Ms. Rachel van Harmelen of Canada, winner-The Americas, and Babar Badat, FIATA President.

"One of our main goals is to prioritize the engagement of young professional by encouraging more participation in our events," he added.
"FIATA is nearly 100-years old with 120 national associations and over 40,000 members.
"Put another way, FIATA is, above all, the world's largest organization representing the logistics and transportation industry.
"I see a bright and growing future ahead for FIATA," Mr. Badat concluded.
Geoffrey/Sabiha